Out Now
Out Now: The Stallion
 From today (21st March 2018) you can download The Stallion for £0.99 from Amazon Kindle For Amazon.co.uk http://www.amazon.co.uk/dp/B07BHRWKR5 or buy the print version directly from this website for £2.99 + postage and packing, via Paypal. There will also shortly be a list of local independent bookshops which stock the book.
Here's the background to the story:
WHEN HUMANS DISCOVERED THARGOS IV, it seemed the perfect place for a colony of desert-dwelling tribes: an arid planet, deserted but for the native leafless grasses and trees – named Calibans for their squat, ugly appearance – and a few animals. Terran grass and plants grew there with little persuasion. So the colonists came, and built a settlement, and farmed crops.
But the colony was going under. Promised supplies and equipment had never arrived to help the colonists establish themselves on-planet. And the sandstorms had become worse and more frequent.
14-year-old Bashir didn't expect what happened when he went to help his father at the souk one day. First, a tale of horses living as a wild desert her; then a vision of a beautiful white stallion; and then he learned that the trees were not at all what they seemed as he watched them thresh their limbs from his prayer mat…
'I enjoyed this…a very assured style…tidy prose…a sound piece of writing.' – Graham Joyce.
Click here to read an extract from The Stallion.
Pay via PayPal – sorry, UK mainland only at present.
Click this button for 2nd class postage:
Price £3.99 (includes £1.00 P + P – 2nd class postage)
*
Out now on Kindle: Matthew R Cash's 12Days horror anthology
I mention this because I have a short story in it, Avenging Angel. The anthology consists of 12 "countdown stories" based on the  song The Twelve Days of Christmas, plus a further cycle of stories with horror themes, again loosely based on various Christmas songs. My story is included in the wider anthology. All proceeds go to The Cystic Fibrosis Trust, which runs a helpline for sufferers and their families, conducts research into the disease and has campaigned for the indtroduction of a new drug which slows the progress of the disease if given to young children with this devastating genetic disorder.
The countdown stories are available on Kindle separately at £0.99 each; the wider anthology is available on Kindle at £1.99 (this excludes the countdown stories); and the paperback version includes both the countdown stories and the wider anthology, and is currently priced at £12.49.
Here's the video of me reading a short scene from the story:
And here's the link to the Amazon page for the 12Days anthology: https://www.amazon.co.uk/dp/1539056201/ref=sr_1_1?s=books&ie=UTF8&qid=1482144396&sr=1-1&keywords=12days+anthology
*
Now on Kindle – Helen Claire Gould's FLOODTIDE
THUNK!
Jordas blinked awake. The luminescent fungi's glow split the lava tube's darkness, and metres away a skylight filtered in grey rays from the surface. Chill air raised the hairs on his arm. He tucked it back under the sleeping bag, then noticed a scatter of rubble beneath the skylight. Surface water dripped on it.   
Rockfall. That's what woke me. But I was dreaming –
Fragments replayed. In the dream, he was two people at once. Jordas's hand scraped against lava as he, Yado and Soolkah crept forwards. He rubbed the rawness to ease it, and was surprised to see Yado frown and massage his own hand. And when Yado and Soolkah lay together nearby, it was the most passion Jordas had ever felt.
His turn.
Soolkah allowed him to pull her closer.
He opened his mouth to speak.
But she laid her finger against his lips and said, "Sshh, Jordas. It's because you and Yado are mindlinked that we're here together now…"
That's why I had that dream, he realised. To tell me that.
Kindle edition £3.49 
Release date: 13/10/14
---
ON ICY NAXADA, the Shiranu farm in lava tubes under a dormant volcano, avoiding hunter tribe the Sargussi. But the mutually-hostile tribes' world will soon be torn apart by natural forces.
Planetary geologist and astronomer Jordas Krata, part of a team observing an incoming asteroid, becomes telepathically linked with Yado, a Sargussi man, as he cements a relationship with the lovely Shiranu female runaway Soolkah. Jordas enters this precarious balance of nature to rescue both tribes from the destruction about to rain down on them and help resettle them on a safer planet.
But as a consequence of the brothers in each family group being telepathically linked, and a shortage of females, the social structure of both tribes forces them into polyandry. How can Jordas avoid emotional involvement when he and Yado also share the physical senses – including both painful and pleasurable sensations?
Paperback edition £9.99 from these stockists in your area:
Waterstones, Bridge St., Peterborough;
Peterborough Visitor Information Centre, Bridge St., Peterborough;
Bookmark Spalding, 20, the Crescent, Spalding;
Red Lion Books Ltd., 125, High St., Colchester, CO1 1SZ;
Beccles Books, 1, Exchange Ho., Exchange Sq., Beccles, NR34 9HH;
Oundle Bookshop,13 Market Place, Oundle PE8 4BA.
The Stallion will also be available from the Oundle Bookshop, Peterborough Visitor Information Centre, and Beccles Books. In addition, I will be selling my print books through Amazon soon as well – there will be an announcement soon.
Not in your area yet? The paperback edition is now also available mail order from this website.
Pay via PayPal – sorry, UK mainland only at present.
Click this button for 2nd class postage:
Price £13.49 (includes £3.50 P + P – 2nd class postage) 
Click this button for 1st class postage:
Price £13.99 
(includes £4.00 P + P – 1st class postage)
What readers say about Floodtide: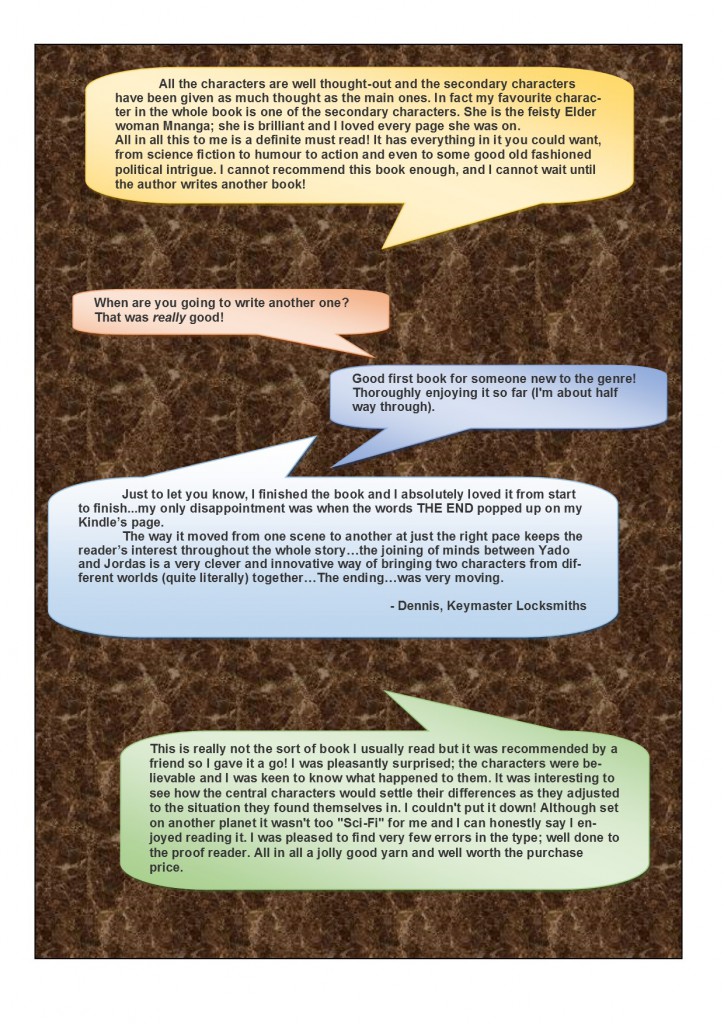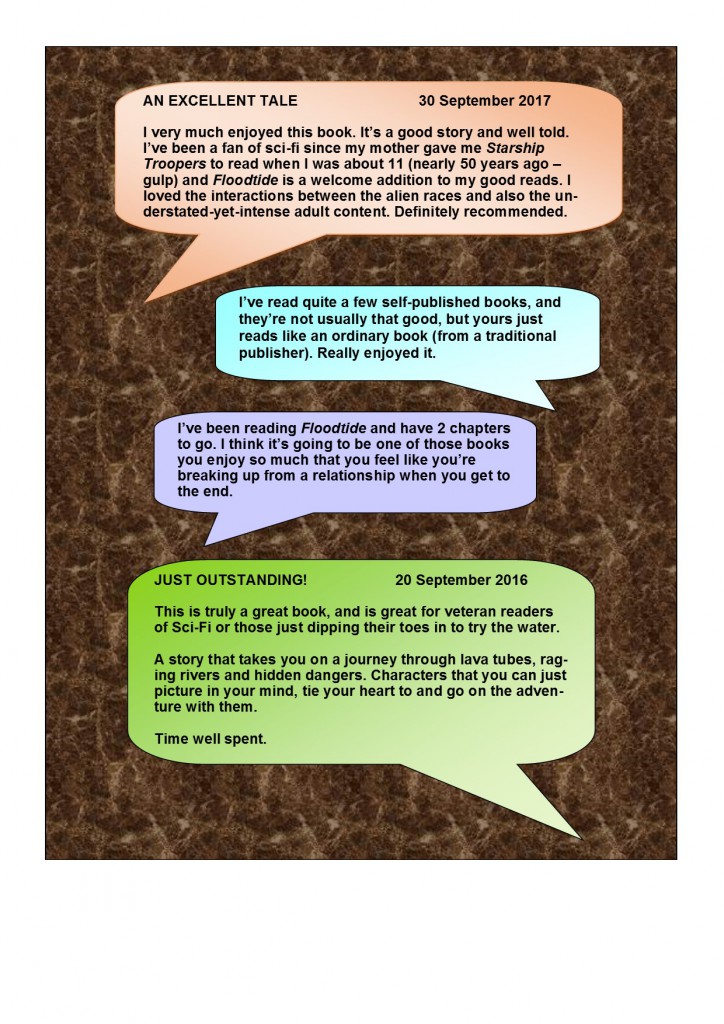 *
And look out for Helen's next novel: The Zarduth Imperative
THE ZARDUTH IMPERATIVE
Book One
Cast List
In approximate order of appearance
 (JSEP: Joint Space Exploration Programme, a body run on military lines, dedicated to the exploration of space for the colonisation and exploitation of resources, which draws its staff from all over Earth.)
Out Now

UPCOMING EVENTS

WORKSHOPS

Latest Blog

Starmap Quadrants