Blog
Latest News
Although you may not have heard much from me recently, I have been working away in the background, finishing off my next book, and The Old Copper Kettle Tea Room today becomes the latest addition to the retail outlets offering copies of my books.
This is a cafe in the town of Crowland, out on the fens. The tea room is close to the intriguing three-cornered bridge Crowland is well-known for, and my books are just the latest offerings from the local community to grace their shelves. Graham and Tracy and their staff are very welcoming and friendly, the cakes are home-made and utterly delicious, and I'm really pleased that we've made this arrangement!
Latest Releases from Sgt Frosty
Sgt Frosty's November releases include books by Joe Belanger and Andy Cooke. Joe's latest offering is part of his Pendragonling series, and is entitled The Grail Quest Twins, priced at £1.99, while Andy's latest story is Skyborn, also priced at £1.99.
A great gift idea for the kids! Sgt Frosty Publications has books in print and as e-books for the children in your life. November's offerings are shown on the poster below. (These are Kindle books, but there may be print versions later, as has happened with many of the previous Kindle offerings.) Check them out!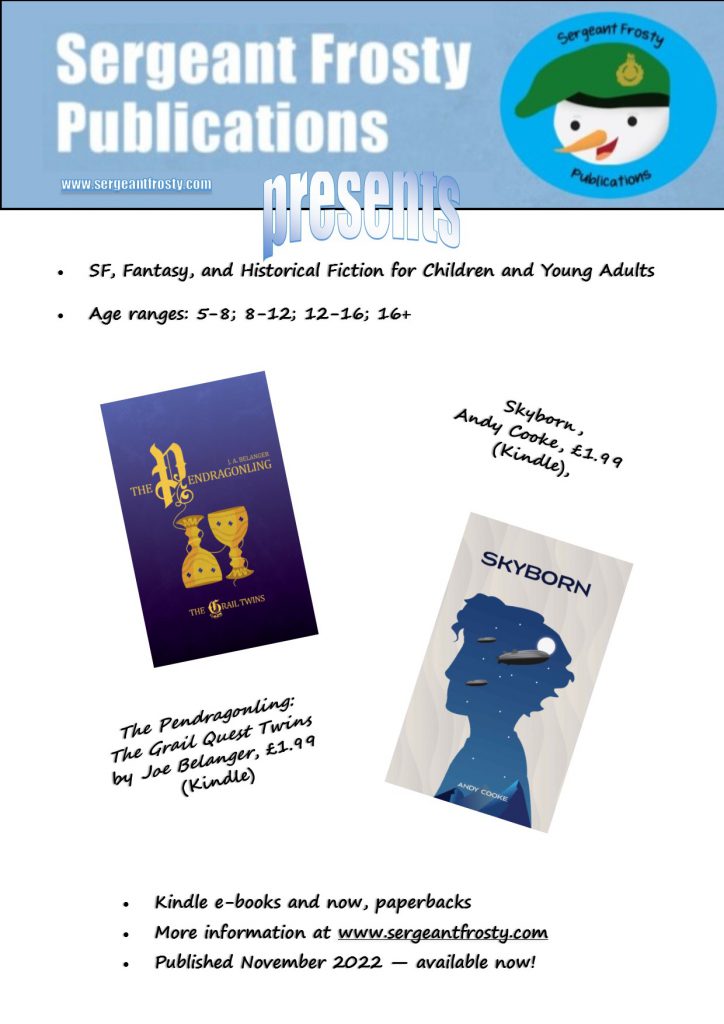 Eastercon, here I come!
On Friday morning I will be setting off for Eastercon. I'll be running a stall in the Dealers' Room, but will emerge from time to time to run a workshop (Person and Point of View) and be on The Solar Panel, and I'll also try to attend some of the other workshops, panels and events during the convention. If you're going, and you see this, please pop into the room and say hi – I'll be in Syndicate room 4. I gather there will be another dealer there, Zoe Foreman-Burgess, whom I know already, and there may be some fan tables in there as well. Hope to catch up with you, or meet you if we haven't already met.
Sgt. Frosty brings out paperback versions for 2022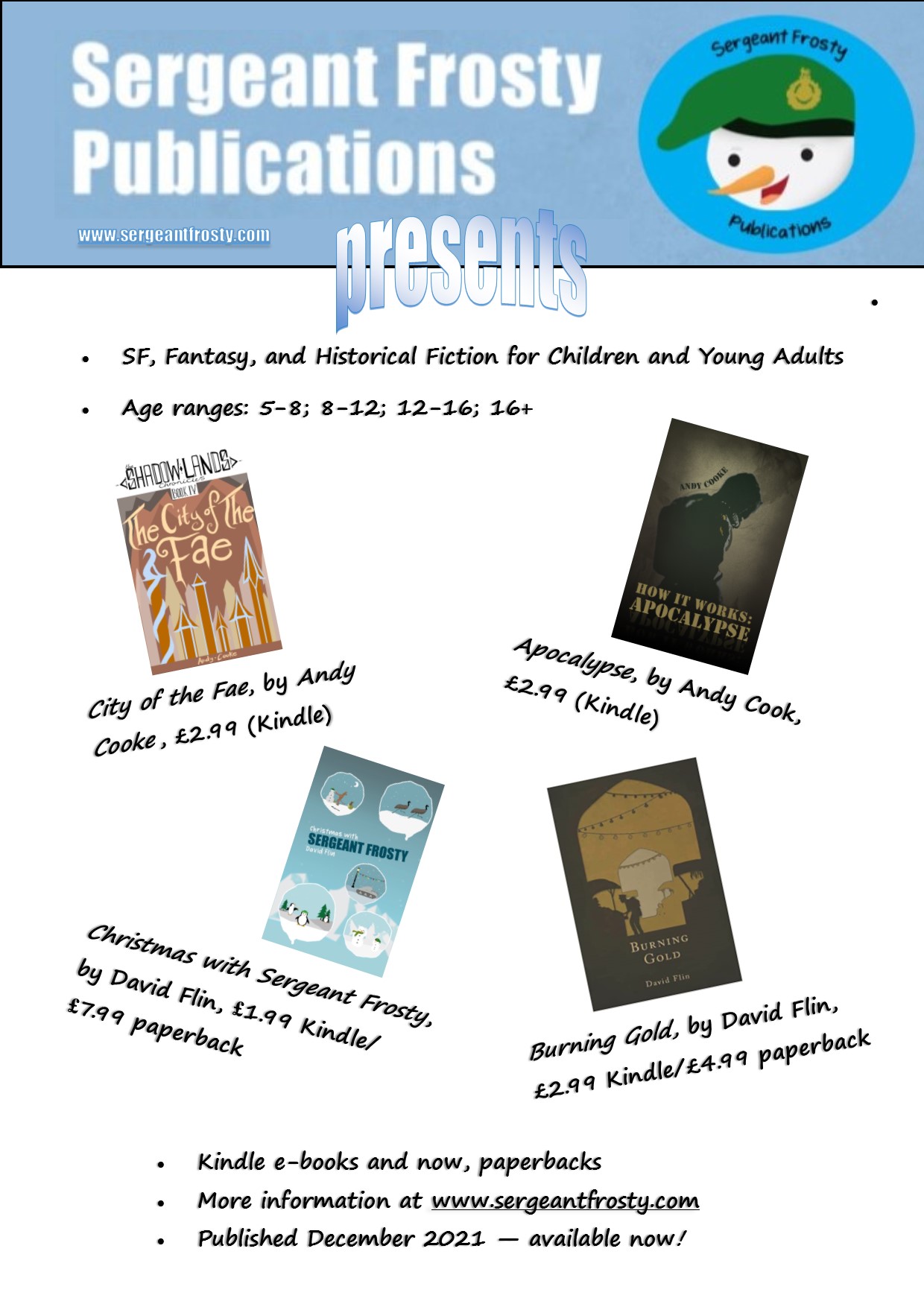 David Flin's Sgt. Frosty Publications have moved from Kindle-only publication to paperback versions of the most popular books in little over a year of publishing. The company publishes children's fiction from age 5 upwards to age 16 and beyond! 
The company now has a repertoire of fourteen paperbacks as well as fifteen e-books (not available as paperbacks). David hopes to expand further this year and the next three books to come out in paperback format will help with this. 
I first met David in the early 90s when I joined an SF orbiter, and we've been in touch ever since. David will be a guest reader in February, reading from his popular Walkies with Watson childrens' book. We welcome him back to the mic on 6th February!  
Authors in conversation, June 29, 2021
Here at Fiction Fix Online, we like to do a little trailer a few days before the main event each month. But this time we decided we'd do something different. We thought it would be a lot of fun to chat with some of our author friends old and new and put that conversation out as a gentle reminder that Fiction Fix Online is on again this Sunday afternoon! So please join us as we chat to Debbie Daley, Nigel Battley (who will both be joining us on Sunday to read), Leanne Rogers (who will be joining us again in a future edition), and Colin A Brett and myself, Helen Claire Gould, as we chat about our existing books and upcoming writing and publishing projects. And please also join us on Sunday for the next Fiction Fix Online, which will also feature Richie Billing and Marise Morland. We start at 4 pm, and continue until 5.10 pm, on Sunday 4th July. Welcome, and enjoy…  

January and February events, 2021
It's been an exciting month – when I wasn't doing my tax return! I've discovered that Zoom isn't quite as easy as having someone there to help with the tax return, I've been interviewed twice, and we have a fab edition of Fiction Fix up-and-coming — not to mention my Poetry Sandwich live-stream next Tuesday.
Next Zoom writing workshop
There will also be an online workshop, Person, POV and Characterisation II, which is on Tuesday 16th February, at 2 pm – 4.30 pm. Here's the poster:

Poster for Person, POV and Characterisation II
This workshop focuses on techniques for characterisation. As ever there will be a PowerPoint presentation, examples, handouts and writing assignments. I look forwards to seeing you there, but please let me know you're coming at
helen.gould7@ntlworld.com

.
Tuesday 9th February, 2021: Poetry Sandwich
Please join me for half an hour or so on Facebook as I live-stream a couple of poems and a reading from one of my upcoming novels. It would be great if you could be there! But if you can't, I will post the video on my YouTube channel on Wednesday, and will post the link here as well, and also on Facebook and LinkedIn. Enjoy!
Sunday 7th February, 2021: Fiction Fix Online for February.
This month's Fiction Fix Online, brings to your attention the writings of Debbie Daley, David Flin, Kevlin Henney, and Amanda Read, plus of course it will be topped by Colin Brett and tailed (and compered) by yours truly, Helen Claire Gould. Debbie writes YA fiction, David writes and publishes children's and historical fiction, Kevlin writes SF in the form of flash fiction and Amanda has a contemporary/historical speculative fiction novel out. I hope you can make it to watch Fiction Fix as we live-stream the readings to The Finger on the Pulse, the Facebook group for both writers and listeners of Fiction Fix and Fiction Fix Online; but if you can't be there for whatever reason, I will be uploading the video of our readings to my YouTube channel, Helen Claire Gould, the next day.
Guess who got an invite to appear on the first-ever podcast by the
Seattle Writers' Group

?
*
See below for a note of my appearance on Amanda Read's World to Write series of video interviews.
Tuesday 26th January, 2021.
Amanda Read

has been kind enough to invite me to appear on her

World to Write

series of video interviews. You can watch the results here:
https://youtu.be/OGc8p9f5cVw. 
Please feel free to subscribe to Amanda's YouTube channel while you're there – she's doing a fab job of publicising other writers with this series of interviews!
Sunday 3rd January, 2021. 
Sunday 6th December, 2020.
Fiction Fix Online this month features thriller writer Martin Tracey, Cathi Rae (better known for her poetry,) but she's also venturing into dystopian fiction these days), Louise Hallian (children's writer) and Andrew Dutton (fantasy writer), plus Colin Brett and myself. Hope to see you guys there, but if you can't make it, I will be posting the video on my YouTube channel, Helen Claire Gould, afterwards – probably tomorrow (Monday). Here's the poster:
Tuesday, 1st December, 2020.
My personal live-stream for December! Features Scenes Against the Sky (poem), plus a reading from The Invisible Dance, and closes with Sky Among the Mud.
Watch here:
Fiction Fix Online
Next meeting is on Sunday 6th December 2020. Here's the poster:
Hope to see you there!
4th October, 2020
A new small-press publisher is always a good thing, and here's the new kid on the block: Sergeant Frosty Publications, which will be publishing YA and children's fiction in the science fiction, fantasy and historical genres. Please do visit their website at www.sergeantfrosty.com for more information about this month's offerings. David Flin, whom I've known for many years from my time in the BFSA orbiters, is the man in the hot seat. All publications are available from Kindle at present, and the plan is to release four e-books each month. Congratulations to you, David, and I hope all goes well. 
28th June, 2020
I haven't really used this blog much – especially in the way it was intended – mainly because I don't always have much time to write a blog. But some time ago I did try writing a few articles about Floodtide, so I've decided to post them. Having started getting to grips with some new technology as a result of the pandemic, I figure I might start doing some things that have previously been pushed into the background. So here's the first article.
Incidentally, I'm not sure if anyone has twigged this, but on this website I operate a policy of blue-shifting (colouring the headings) new posts' headings and red-shifting old ones. So if the heading's a pinky-red colour it's not the latest one, but if it's the blue below, it is! It would seem to be in line with being a geologist and planetary scientist…
I invented a language for Floodtide
I hadn't intended to invent a language for Floodtide when I started writing it, and it wasn't until a later draft that there was one. But several things convinced me that I should introduce one.
In the later parts of the story, where there are interactions between the main hero, Jordas, and the tribes, he learns of various traditions common to both the Sargussi and the Shiranu tribes. One of these is the idea of status-debt: that if you did something wrong to someone else you would owe them some of whatever status you'd accrued within the tribe prior to that time. In a woman's case, she might have borne one or more daughters – because there's a shortage of females within the tribes. A man might show great courage or physical strength, or help other tribal members. I didn't have a name for this concept, or several others that could only be expressed in English as compound nouns, as in 'status-debt', or not at all. However, status-debt is a concept that it's vital for the reader to grasp, as it's how the tribes ensure good behaviour.
Around the time that I was writing the first draft of the novel, my husband Mike and I were invited by Carol-Ann Green, who was at the time the Orbiters Co-ordinator for the British Science Fiction Association (BSFA), to join the Hull Writers group, then based at Hull University where she'd been a student. The group wasn't just a work occasion, it was also a social one, with a lovely meal in a local restaurant on the Saturday evening as part of the programme. We spent Saturday morning working on world-building in small groups, and in the afternoon wrote some stories set in the world and societies we'd invented. The following day we did writing exercises in the morning. In the afternoon we workshopped personal projects; I worked on Floodtide.
So one of the things she said, when we got to the bit where Yado has had his circumcision with the ceremonial obsidian knife and met Soolkah whilst on his initiation quest, was that whenever she read 'his organ' or some similar phrase it made her think of church organs. Apart from setting me chuckling, this made me think about how we describe the anatomical parts of our heroes' bodies in sexual situations. (At university I was always amused by geologists referring to rock sequences as, e.g., the 'Peterborough member'!)
This led me to introduce a Naxadan language. It doesn't have a written form, but it's common to both tribes. I felt I was well-qualified to come up with such a thing, as I'd studied French and German to A level at school, and had actually changed schools to continue studying them. I'd also learned Latin at my previous school, and had worked as a Translations Assistant in my first job. I'd dabbled in various other languages, including learning Russian for a year – until my teacher had returned to Poland – and I'd learned Urdu for three years for my job at the time. I understood grammar well, and had also taught ESOL students English for 3+ years, important in this context because it had given me an awareness of word families, on which much of the Naxadan language is based. So I began developing the Naxadan language. Like many other people of my age, I don't remember learning much English grammar, just the usual parts of speech like nouns, verbs and adjectives; but grammar is largely similar in many European languages, since they all derive from Indo-Iranian, so the grammar I know is a bit of a hotch-potch of English, French, German, and Latin grammar. I also had a brilliant Latin teacher, Mr Thomas, who taught us how to work out where words originated. And it works as a basis for using the language to write, and I'm more than capable of looking up anything, as necessary.
And as I worked, it became important to me to build in the extra idea that men and women in the tribes would have their own words for their own and each other's 'naughty bits' – which they'd share with each other, but not the opposite sex. I guess this is an extension of what happens in English with some words – but taken to an extreme, so that sharing them with the opposite sex was forbidden, not just frowned on. And it got over that awkwardness around mentioning the more private body parts in the text.
The full notes on the Naxadan language and its pronunciation that I developed are available as a glossary on my website, www.Zarduth.com, but I also explained them in the text of Floodtide, since I knew that some readers dislike having to refer to the front or back of a book as they go along. Take a look. It might give you some ideas. In the meantime, here are a few examples to tickle your reading palate!
Amaaj: Family group. In the Sargussi and Shiranu tribes these consist of brothers, who are telepathically linked, their wife (they practice fraternal polyandry due to a shortage of females in the tribes) and their children.
Gare (pronounced 'gar-eh'): brother.
Maaj'gar: 'thought brother' – refers to the fact that in each family group, all the brothers are telepathically linked. Women aren't telepathically linked, though. The most basic level of linkage is the sharing of sense impressions, which cannot be shut off. Telepathic communication and the sharing of information are the other levels, and they do require a bit of effort. Brothers can also use the privacy shield to shut out unwanted contact.
Maaj'nag'ur: 'the sleep of brothers' – referring to the trance-like state brothers go into (for about a month) after one of them dies.
Acknowledgement: This post previously appeared as a guest post on Richie Billings' blog, quite a while ago – I'm not sure when, but I think it was a couple of years or so ago.
*
The December Fiction Fix meeting saw a small audience including a couple of young local writers, and an offering from local poet and personality, Pete "Cardinal" Cox, who read a ghost story. The Spalding Library workshop on the 10th December went off well in itself, though the attendance was down due to competing events and illness amongst the regular participants. The next workshop is Story-Telling for Writers II on Saturday 14th January. For more information see the Upcoming Events page. The Telling It group event at Huntingdon Library on 3rd December was most enjoyable. The group includes a lovely bunch of people, both authors and readers, and what was very nice was that we all trooped off upstairs for coffee together part-way through, so authors and audience could chat and relax together. I read a short children's story which has since had a couple of outings local to where I live, and which has gone down very well with the intended age group of 8-12 and even with some adults and older teenagers. There may be other stories about the characters for that age group later on. I have also had a very enjoyable online launch party for the 12Days charity anthology on 2nd December and I gather sales for that are going well. All proceeds go to charity. And over Christmas I was able to do quite a bit of writing, so as a result The Zarduth Imperative is nearing completion and therefore a little closer to publication.   
December meeting of Peterborough Fiction Fix
If you live locally (which goes out quite a long way!) and are a self-published author of any kind of fiction, or an unpublished author of same, and would like to read on the 4th December, please contact Helen at: helengould.zarduth@rocketmail.com.
November meeting of Peterborough Fiction Fix
Fiction Fix took place on Sunday at The Draper's Arms despite the cold and the rain and the lack of an audience this time – probably because of the aforementioned!
Readers this month were, in the self-published/independently-published section: Helen Claire Gould reading from her novel "Floodtide"; Paul G Jackson reading from his novel "Boomshot – Hunt for a Killer"; and Morgan Fitzsimon reading from her fantasy novel "The Last Enchanter". In the Fiction-in-the-Making section, Jilly Paddock opened with a reading from her upcoming novel "Warbird", and Helen read from her current work-in-progress, "The Zarduth Imperative".
Paul is a new contributor to the group but has lived in Peterborough for many years and has published a number of books. Check them out on Kindle at https://www.amazon.co.uk/Boomshot-Hunt-Killer-…/…/151158386X
Jilly has been writing SF for about as long as I have! She too has an impressive list of publications on Kindle: https://www.amazon.co.uk/Jilly-Paddock/e/B006XQQD06
She doesn't yet have a cover for her offering on Sunday night, so I've included the cover for her novel With Amber Tears, which she read from at the first fiction Fix.
Morgan has also a number of publications on Kindle, and in addition is a highly talented artist. Here she is: https://www.amazon.co.uk/morgan-fitzsimons/e/B002JTQ72U
My own novel, Floodtide, is available on Kindle as well, but I've not been publishing quite as long as the others!
https://www.amazon.co.uk/Helen-Claire-Gould/e/B00O14KXTE/

or for a companion to the world of Floodtide, www.Zarduth.com.
There was quite a discussion about writing and publishing in general as well. The next meeting is at 8 pm on Sunday 4th December, at the usual venue of The Draper's Arms.
Floodtide: My 40-year Journey to Publication
Something I get asked a lot, especially when I do a radio interview and reading, is how I came up with the idea for my novel Floodtide. The other thing I'm often asked is, "How long did it take you to write?"
The answer to the first question is easy. I had a dream. In the dream, I was two people at once, and it was the most emotional dream I have ever had. Specifically, I was two men at once (well, everything's fluid in dreams!) and both of the men loved the mysterious third person in the dream, a female. The dream took place underground, but in the caves where it happened, there was both heat and ice. And the emotion I felt was passion, and it was the most passion I have ever felt in my life. It was more than passion. It was everything.
When I woke up, the dream was so vivid that it stayed with me. I kept thinking about it through the commute to London, jotting down ideas as the train swayed and clacked over the rails. We didn't have a typewriter at home, so it was either handwrite everything or borrow someone else's. I went to work, and asked my boss, Chris, if I could use the typewriter at lunchtime to jot down some ideas. He was fine with that. So I used to type a little of the novel up each day after that, from my handwritten notes done at home the previous night. I didn't know why Jordas and Yado both loved the same woman (Soolkah), but it seemed like an important ingredient for the story, so I ran with it. It also seemed important that Yado was from a different, and opposing, tribe from Soolkah. As I worked on Chapter 1, it came to me that there had to be some important reason as to why Soolkah was risking her life away from her own tribe, and why Yado had left his tribe. Then I got it: Soolkah was being forced to marry someone she loathed, and no female in her tribe had ever stood up to her family and tribe before. As for Yado, he was on his initiation quest. The story developed, and I had a plan for what would happen, having just started writing to see where it would go. But I still didn't know why both Jordas and Yado loved Soolkah. Nor did I know why, or how, Jordas and Yado had become telepathically linked; but I'd reasoned that was why, in the dream, I'd been both of them at the same time.
In those days we didn't have computers in most homes, and even if that had been so, we wouldn't have had one because my mum was a single parent. Life was quite difficult, and I'd had to leave school and get a job, so as to help out with the housekeeping. I never finished anything that I started writing, so the story eventually got put aside and I got on with the business of earning a crust.
I was 21 when I had that dream. When I was 33 I met my husband Mike, and when I was 35 we got married. We'd been married for a couple of years before we thought of starting a family, and of course, the pressure was on because I was getting older. I remember often thinking of some lines from a poem by Andrew Marvell:
'"But at my back I always hear
Time's winged chariot hurrying near…"'
I ended up having four miscarriages before I eventually produced a live baby, my son Jason, at the ripe old age of 42. From October 1992 to September 1995 I was out of work and stayed at home, writing furiously on the first computer I ever actually owned. The pressure of time was as much for getting the writing done as it was for having a baby.
In 1993, having finished one novel, joined a BSFA orbiter and sent it round for feedback, I started a rewrite of Floodtide. I started by typing in that 23,000-word draft from when I was 21 – and proceeded to gradually throw most of it away! The novel moved onto a new footing, and started to work much better, once I found out why Jordas and Yado loved the same woman: the Naxadans' society, instead of being based on the nuclear family, was based on polyandry. I realised this after watching a TV programme on a tribe in either northern India or the Himalayas who practiced fraternal polyandry. The brothers in each family group were telepathically linked, and the link was so deep that they even experienced each other's sense impressions – constantly. Furthermore, they could share information if necessary, simply by opening their minds to each other. Also, the all-enveloping nature of their form of telepathy required that they have a built-in safety net, the privacy shield. And of course, Jordas doesn't have this at the start, despite (or perhaps because of) being highly empathic and sensitive to the emotions of others; though he does develop it later.
I also started doing a lot of research into geology and astronomy. I have always been interested in them, but first I did an evening class in geology and took the GCSE at the end of the year. I came out with an A*, the highest mark possible. By this time I knew I wanted to study geology at university (I'd never been due to not knowing what I wanted to do and the circumstances at home). Several of us wanted to do the A level, so the next year the college laid it on. I was actually the first person to do this course, and I became pregnant with my son during that time. I always say I must be the oldest person in the country to be a student and have a baby at the same time! Despite that and dyscalculia (the maths version of dyslexia), I passed my maths GCSE with a B, I came in the top 5 in the country for my English A level, and went to university on a raft of As and Bs to study geology. When I got to university I found I could study volcanology and planetary science, so that was just up my street! I came out of university with a 2:1, and came top in the dissertations. For that I compared volcano groups on Mars, Venus and the Moon with volcano groups on Earth.
Once I had introduced the idea of fraternal telepathy and polyandry, it affected the whole story. I developed a whole life system for the alien tribes: they lived in lava tubes, and the rock can be very sharp, so they needed tough skin, which evolved, making their initiation ceremonies for both males and females very necessary. The telepathic link between brothers is so deep that if one of them dies, the others feel it, and go through a trance-like state for about a month as they adapt: the maaj'nag'ur. And yes, I had to invent a language – English didn't have the words I needed to describe these new concepts. Sajamu is the Naxadan word for the sharing of the physical senses. Sometimes I had to use English words in a new way: day is represented, in an alien point of view, by 'lighttime', and night by 'darktime'. Although I explained such words in the text as needed, on my website I published a glossary of the language. Of course, the computer threw a wobbly every time I typed "her fathers" or some variation, but eventually I sorted that out. Now it was time to send this novel around one of the orbiters I was in. I had encouraging feedback, but also had quite a lot of suggestions, all of which were either useful per se or which started me off in a different direction and led to the book evolving again. I still had some problems to solve, but eventually did so, and in a way which felt as if it were in keeping with the internal logic of the story, as well as in a way which is satisfying for the reader.
So Floodtide is very much a novel of first contact, but Jordas's journey as he tries to rescue the tribespeople from their dire situation and safely rehome them elsewhere also parallels the journey I went on in writing it and publishing it. I had sent it off to various publishers in the 90s, (and received some useful feedback) and again when my health nosedived in 2008 due to me developing rheumatoid arthritis. The second time around there were fewer publishers and they all wanted submission via an agent. One of them kept the submission for a long time, but didn't bite in the end, and I was becoming too ill to work at a job outside the home, and there was another recession, so my husband suggested I stay at home and concentrate on my writing. I'm not sure if he expected me to publish Floodtide myself, though. I eventually realised I wasn't young enough or fit enough (at one point I could hardly walk) to wait for a publisher to take me up, and decided to publish the novel myself. As I began treatment and my health improved, I started looking into publishing on Kindle, and having done that I decided I needed a print version too.
The novel's title went through several changes. It started off, in 1975, as Survival of the Fittest. At that time I was going to kill Jordas off at the end of the story, because I figured that he would prove not to be the fittest to be with Soolkah. That was before the polyandry idea. David Gemmell, whom I went on a course with whilst writing draft 2 of the novel, suggested that it wouldn't be a good idea to kill Jordas off in case I wanted to bring him back later. Then later I toyed with the idea of calling it Calyx. The calyx in a flower is the outer part that protects the petals, so the idea was that as Jordas finds out more about the two tribes and their society each layer is stripped away. Then, because the approach of the asteroid to Naxada will eventually lead to the flooding of the underground tunnels they travel and caverns they live and farm in, I came up with the title Floodtide. I rejected Highwater Impact as too complex, although very much reflecting the alien point of view (the Naxadan term for a flood translates as "highwater") and Jordas's point of view (he is a geologist, astronomer and planetary scientist). Floodtide the book became, despite the fact that it's not a unique title. And because the tribes practice polyandry, I had a way of keeping Jordas alive, and the means to bring him some relief from the jealousy and discomfort he feels as a result of having to share the woman he loves with the man he is telepathically linked to.
Floodtide isn't just an SFF novel of first contact, it is also a story of mistaken jealousy, action adventure, a road movie, a disaster movie, and the alternative romance. If you think you'd enjoy all of these things rolled into one, you could take a look at it on www.Zarduth.com, my website, where it is currently being serialised. Chapters 6 – 8 are up there to read now. It is available to buy in print via Paypal from the website or on Kindle as an e-book. I felt the postage overseas would be prohibitive so suggest the Kindle version for anyone outside the UK wishing to read it.
So, how long did it take me to write Floodtide? A mere 40 years. I had the dream when I was 21 and I published the print version last September, when I was almost 61. I have lived, breathed, eaten and slept Floodtide for so many years that it is an irrevocable part of me. It has guided my life for a number of years, and I hope you enjoy reading it as much as I have enjoyed putting it together.
Novacon Geology Workshop
This was successful, although I thought the images were a bit small for people to see well on the screen – I think the projector was rather close to the screen, but it was how it was set up, and without removing a swathe of seating it couldn't be changed. But the thing that worked best of all was that I had mocked up a large copy of one of the slides and laid out the labelled rocks on it, and after the presentation, I got everyone to come over to where it was so that they could look at all the rocks. As I passed each one round, a hand lens went with it, so that whoever was looking at the rock at any one time always had a hand lens to use. Everyone seemed to really enjoy this part of it, perhaps more so than the presentation part, because it was practical geology and something they don't get a chance to do all the time.
Here are a few photos from the workshop: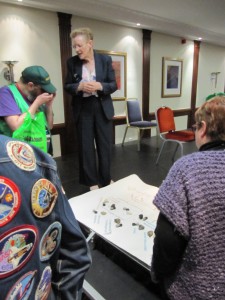 Something I was quite pleased about was that the timing worked out perfectly; I had a one-hour slot in which to deliver the workshop and we got everything to fit in just perfectly. My thanks to my husband, Mike, who acted as my assistant and learning support assistant. I also received useful feedback from Alex Storer and David Hardy – they suggested I might think of using illustrations, rather than text, to give details of the evidence for the existence of plate tectonics – and I know just how I can do that for when I next run that workshop!
Book Launch for Floodtide!
If you're local to Peterborough and the surrounding area, and not busy on Thursday evening, pop in to Waterstones, Bridge St., Peterborough, where my book launch for the print version of Floodtide is taking place from 7 pm to 8.30 pm. Refreshments will be available, there will be a display of rocks and minerals which could be found in the geological setting of the novel – the lava tubes of Naxada, and you'll be able to see the teaser, the trailer and the short promotional video, which gives an insight into the story. I will be giving a short talk, and then reading from the novel, and copies of the print version will be on sale. And whether you already have a copy or you buy one on the night, you'll be able to get it signed. Hope to see you there!
A Lovely Surprise
I had a fantastic day last Saturday at Peterborough Central Library, on Made in Peterborough: Authors' Day. I arrived about half an hour before the event was due to start and set up on my table. I had a display of rocks and minerals which might be encountered in the lava tubes on Naxada, (the hero, Jordas, is a geologist and the novel has a geological setting) and my laptop, open on my website so that I could show it to visitors, along with leaflets about Floodtide (an e-book isn't quite the same as a physical book!), and my iPad and Kindle so that I could show visitors.
One of the first people through the door was a lady who marched over to me and asked if I was Helen Gould. When I said yes, she said, "Oh good!" and proceeded to invite me to be a judge on a Creative Writing competition panel. It was a fantastic, but lovely, surprise. They wanted me because of my background in teaching creative writing.
The competition has been organised by Stamford Civic Society, The Burghley House Preservation Trust and Stamford Living Magazine. The two or three other judges are currently being finalised. The brief is for 14-16-year-olds living or at school in Stamford to write about what their town means to them – but in the most creative way possible. The winner will get £100-worth of book tokens and have their story (750 words maximum) published in Stamford Living Magazine, and the runner-up will get £50-worth of book tokens. There will be a prize-giving day at Burghley House in early May. The deadline for submissions is Friday the 27th March 2015.
As if that wasn't fantastic enough, in the afternoon my Formatting and Publishing on Kindle seminar brought 17 people through the door. Everyone said it was really helpful, so both the librarian and I were well chuffed. I have posted some photos to go with this.
As a result of the competition I am going on BBC Radio Cambridgeshire to publicise both the novel and the competition, plus all my usual radio contacts, so keep looking as I will post the dates and times of the various shows on the site. And do listen in!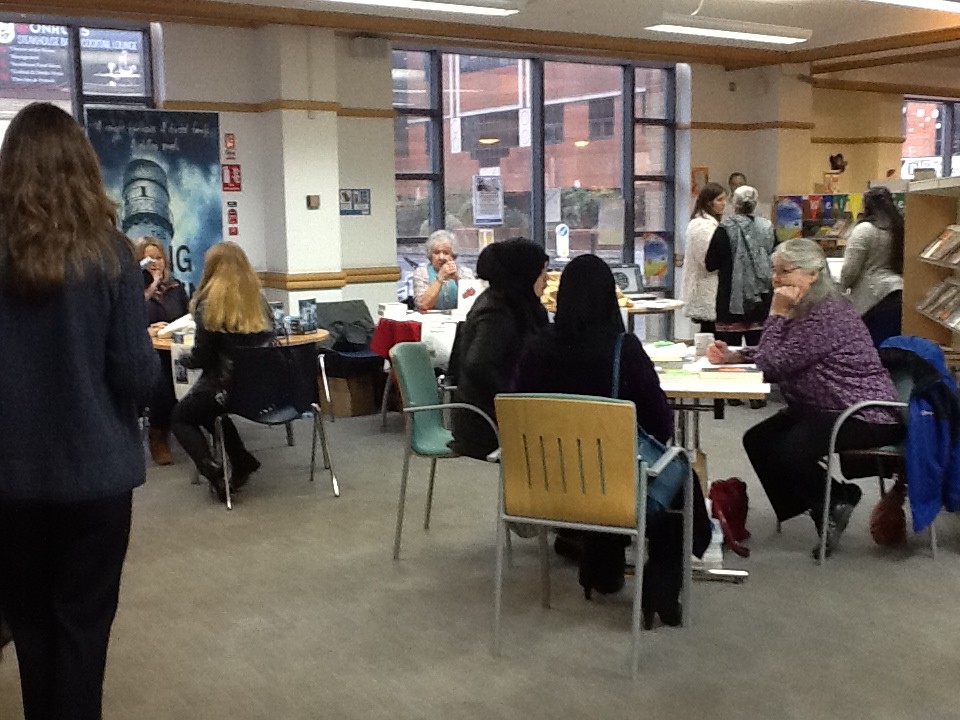 An overview.
Dave Brzeski, publisher extraordinaire!
*
Firstly, a Merry Christmas and a Happy New Year to all visitors to this site.
Secondly, if you're thinking of buying Floodtide, now is a good time to do so. Not only will you possibly have more time to read it over the Christmas period, but Amazon are hiking the price by a quid or so on the 1st of January, 2015.
When I first posted Floodtide on Amazon Kindle, I wanted to set the price at £4.99. It seemed a fair price to me; I could have made it higher, as it's a large book. A doorstep, in fact, at around 135,000 words. But every time I changed the price to £4.99, when I went back to check it, it had gone back to £5.14, and I didn't know why. I eventually contacted Amazon and asked them about it. As physical books do not attract VAT (they're considered an essential element of life), there was no reason to suspect any relation to that tax was behind it. But a member of their customer support service explained that e-books attract VAT at 3% in the EU, so if I wanted the price to be £4.99 I needed to take that into account. I duly adjusted my price to include the VAT as explained. No problemo.
But I've received several e-mails from Amazon recently, explaining that although previously VAT was based on the seller's country, from January 1st it will be based on the buyer's country. As VAT here is 20%, Amazon are adjusting the price to take account of that, and the price will rise by about £1. This has been prompted by changes in the laws relating to the sale of digital products; authors now have to include VAT in the prices they set. Amazon will be adjusting the price in this instance themselves, and I will update the price on this site as soon as I know what it is.
I hope this won't put readers off buying e-books, either Floodtide or e-books in general, as other EU authors will be affected in the same way. But I think that if you've got the reading habit, you'll just carry on in the usual way. I know I will.
Out Now

UPCOMING EVENTS

WORKSHOPS

Latest Blog

Starmap Quadrants