Workshops
Exciting news!
My popular writing and self-publishing workshops are moving online in response to the coronavirus outbreak. Starting with the "Dialogue" workshop in July, they will be delivered by Zoom. But all the popular features will remain; they'll just be delivered in a slightly different way from the face-to-face workshops. There will be an evening workshop and a Sunday morning workshop initially, which hopefully will provide a suitable range of times for learners. Anyone keen to attend but unable to make those times is invited to contact me by e-mail (cleargold1@gmail.com) or via my Facebook page, https://www.facebook.com/profile.php?id=100008555774010 and let me know. If I don't know, I can't do anything about it!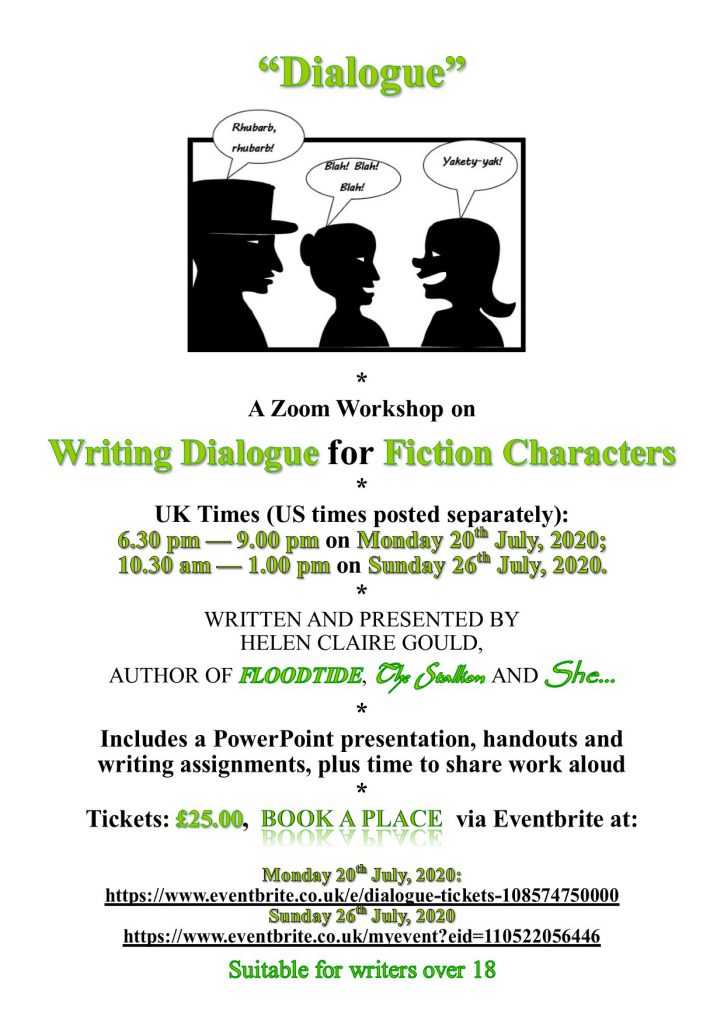 The handouts will be sent out at key points during the workshop by e-mail, and there will still be time to complete the writing and self-publishing exercises, and share work together. Ticketing will be through Eventbrite, and I will use the breakout rooms feature in Zoom to ensure that learners have the chance to work together in small groups to work out a storyline, which learners will then write individually before returning to the main room. As ever, I will only ask you to write one paragraph (up to about six lines) in the time allowed, but if you wish to and have time to write more, that's fine. We will share work at various points during the workshops.
The first workshop is a roundup of everything you need to know about writing dialogue, and should equip you to produce sparkling dialogue for your characters which will keep your readers turning the page. Topics covered include:
Types of "dialogue" and how to represent them on the page for readers, and the relationship with the reader;
Direct and reported speech, and the correct use of speech marks and quote marks;
What 'move the story on' and 'develop the characters' means;
The differences between speech and dialogue;
How the presentation of dialogue on the page can affect the reader's understanding of it;
The concepts behind subtext and context;
Use of contractions to advance characterisation in dialogue;
Info-dumping and how to avoid it;
speech tags and methods of replacing them.
I have been intending to offer some workshops online for some time, but the pandemic has made it imperative that I do so, as I am in 3 high-risk groups and won't be able to go out much until there's a vaccine. So I decided it was time to embrace the technology, and have been learning to use video-conferencing tools, live-streaming, and how to use Eventbrite. We're all, always, on a learning curve!
I am also offering workshops timed for those in the US in various time zones. I have decided to offer two workshops each month, a couple of days apart, the first suitably-timed for those living in the Eastern and Central time zones, the second for those in the Mountain and Pacific time zones. These workshops will be identical to those running to UK timings.
Out Now

UPCOMING EVENTS

WORKSHOPS

Latest Blog

Starmap Quadrants