Home
The big news this week!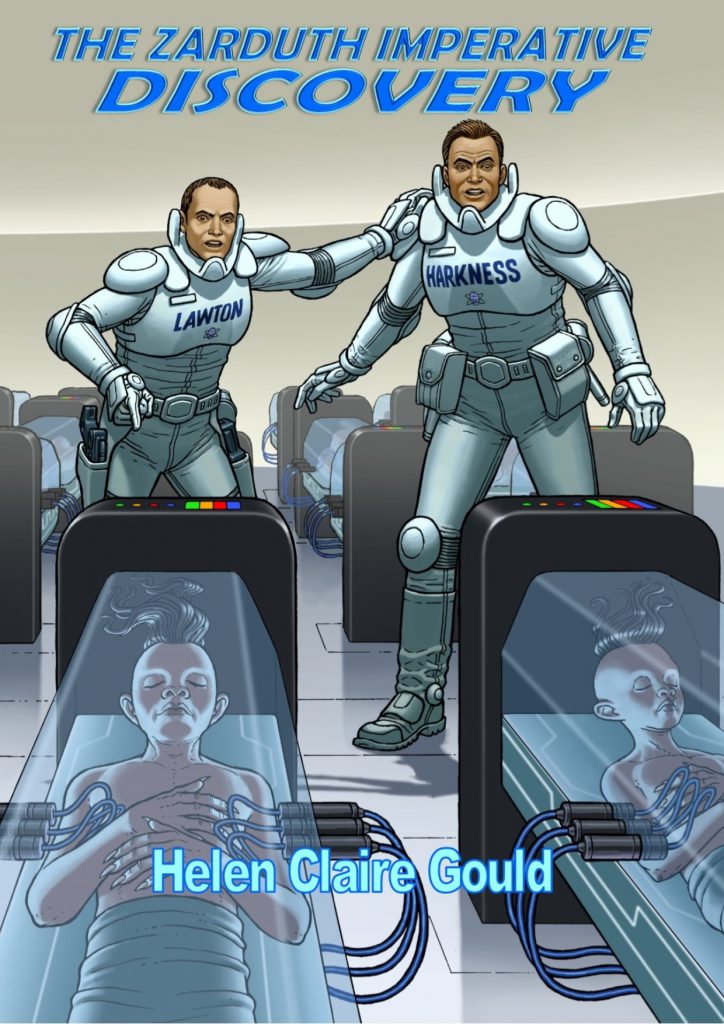 The Zarduth Imperative series kicks off with the publication of the first book, TZI Discovery. For a sneak peek at the book cover, visit the Out Now page, and from there you can also read the first eight chapters, updated to the latest version, by clicking the blue "here" button near the top of the page. Find out more >>
Latest offerings from Sgt Frosty Publications
To see what Sgt Frosty got up to in November, click here.
Fiction Fix Online November 2022 video now available to watch.
The video for 11th September's video is now available to watch – here or on YouTube. And it is still here; just because it's now pink instead of cobalt blue, it doesn't mean to say it's not still live! It's just a little code I use to let people see at first glance the most up-to-date material, which will always be in cobalt blue.
To watch, click here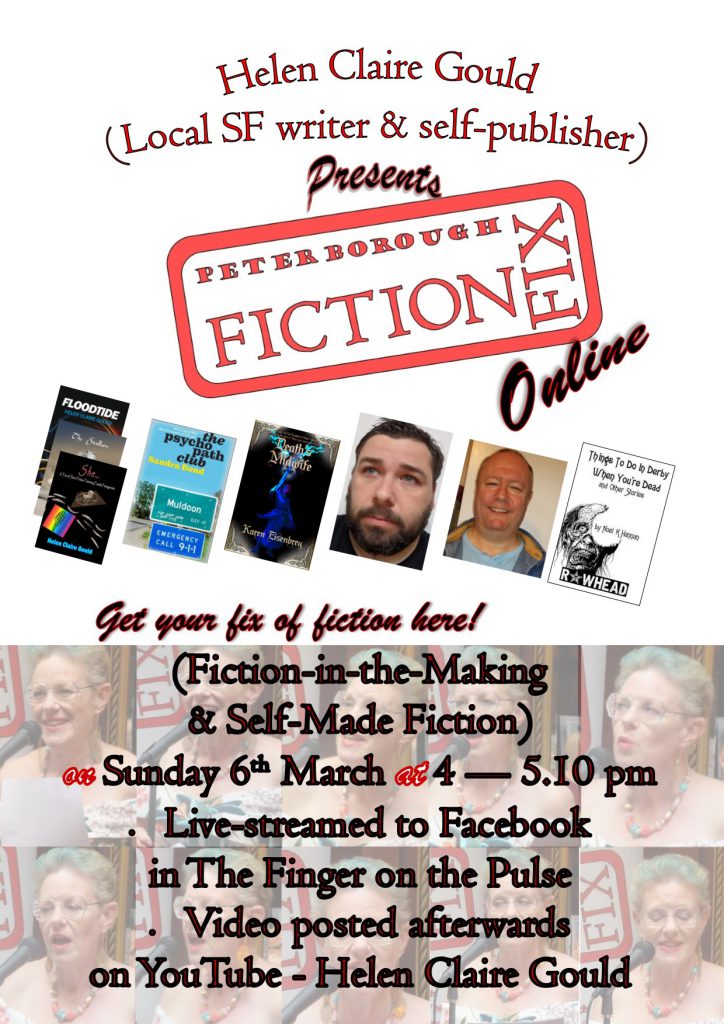 Fiction Fix Online September 2022 video now available to watch.
The video for 11th September's video is now available to watch – here or on YouTube.
To watch, click here
Fiction Fix Online returns
On September 11th, Fiction Fix Online returns for another 3-month season…
To find out more click here
Latest from Sgt Frosty Publications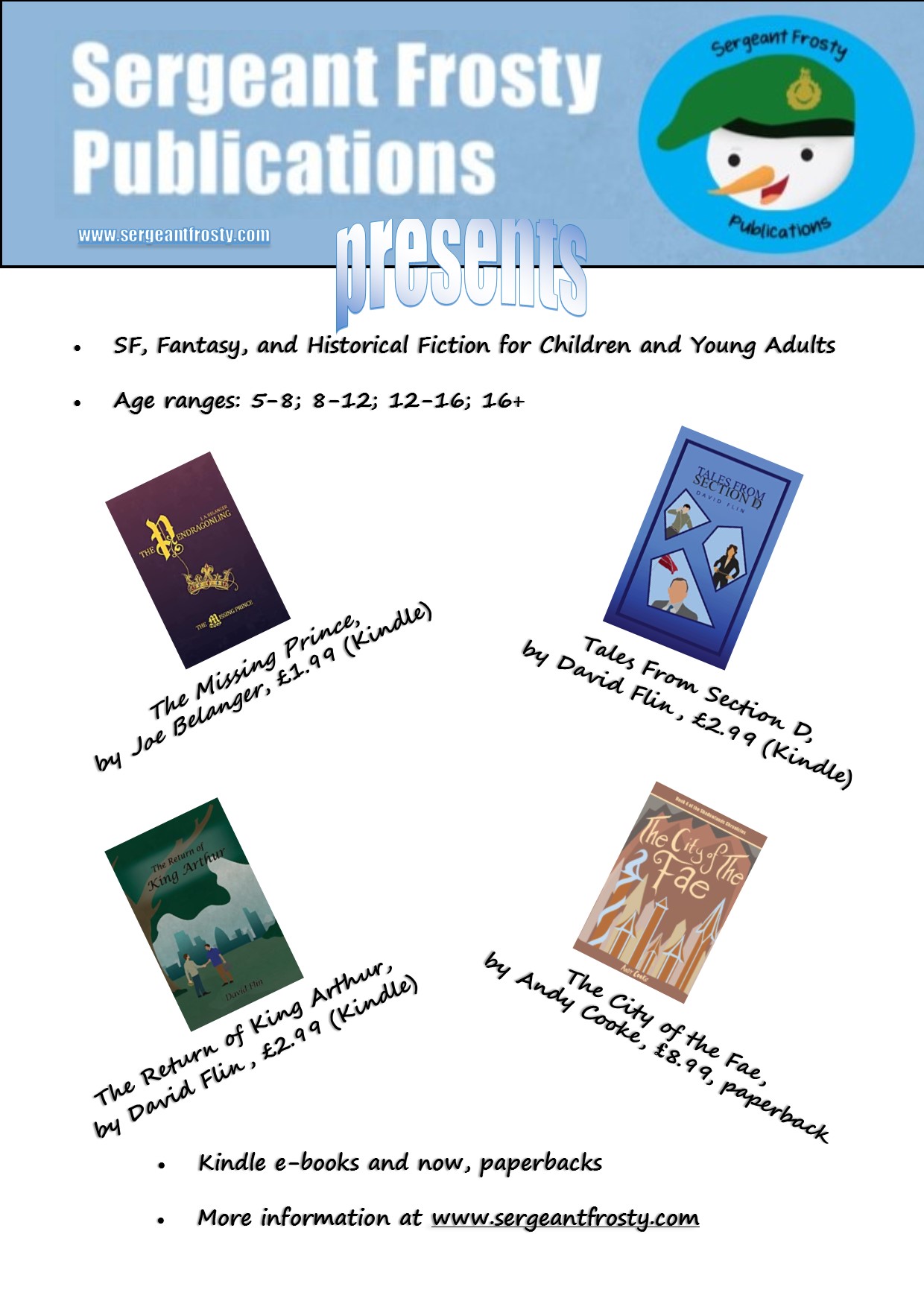 Read more >>http://www.zarduth.com/blog/upcoming-events/
New book review: Story of a Stolen Girl, by Pat Spencer
Read more >>http://www.zarduth.com/book-reviews-by-helen-claire-gould/
March Fiction Fix Online video now available
Check out the latest Fiction Fix video, featuring work by Sandra Bond, Noel K Hannan, Justin Wagner and Karen Eisenbrey, in addition to Colin and Helen, your hosts for this event. Watch the video and find out more here>>
Next workshop at Boston Library: Marketing Your Book
Find out how to book here>>http://www.zarduth.com/blog/upcoming-events/
Unfortunately this has had to be cancelled due to safety issues with the work taking place upstairs in the building, but we hope to bring you that workshop in May.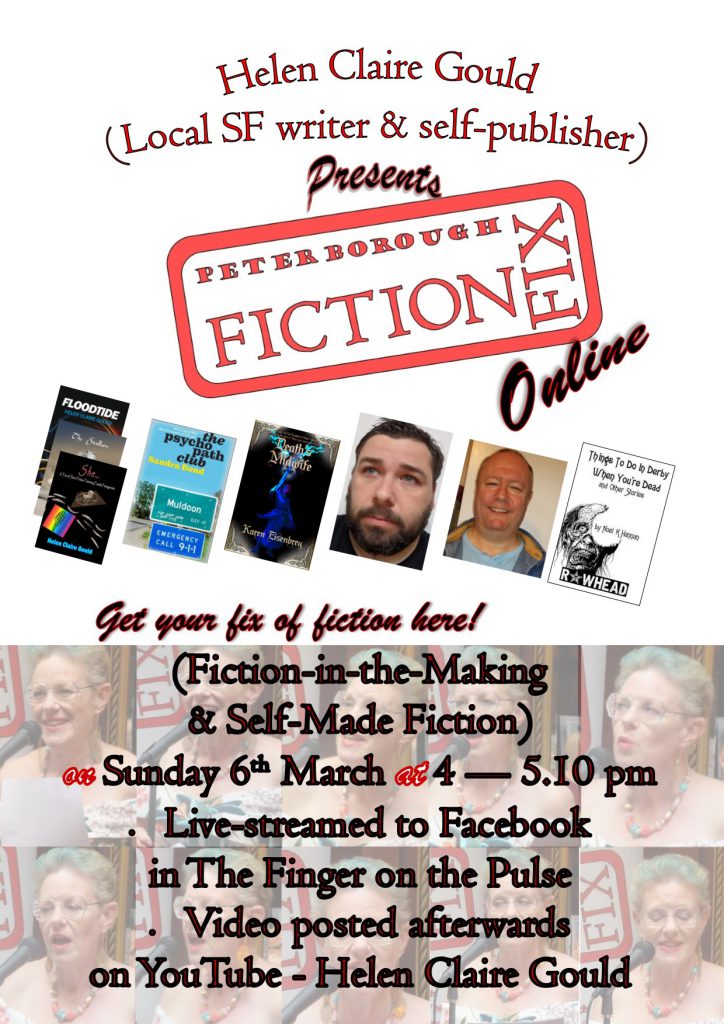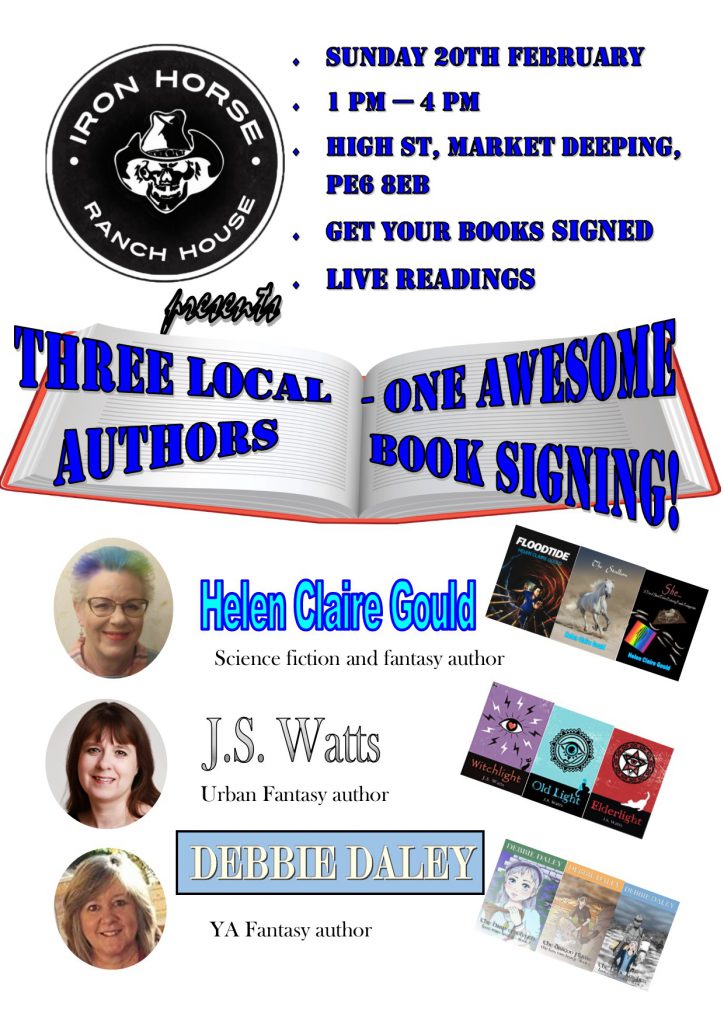 Don't miss next weekend's fantastic book signing at Iron Horse Ranch House in Market Deeping!
Find out more here>>
Latest Fiction Fix Online video now available to watch!
Watch the video here>>
New for 2022, paperbacks from Sgt. Frosty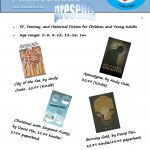 Pick up the story

here >>
Fiction Fix was last weekend, but don't worry if you missed it – you can watch it right here!
Read more here>>
Latest Fiction Fix Online is on January 9th, 2022!
You can now see the latest Fiction Fix Online from Sunday afternoon.
The next Fiction Fix Online is on Sunday 10th October, at the usual time of 4 pm – 5.10 pm.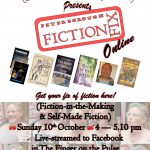 Next workshop in the Self-Publishing Series is Formatting and Publishing on Kindle I – on Tuesday 20th July.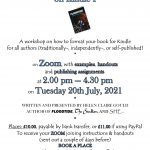 Have a book to upload to Kindle? Find out how to!
Fiction Fix Online authors in conversation – on video!
Read more
here>>
Next Fiction Fix Online will be on July 4th, please feel free to join us in The Finger on the Pulse group on Facebook for the live-stream, or catch up with this edition on my YouTube channel, Helen Claire Gould.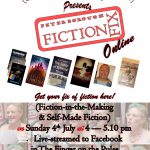 Next Fiction Fix will be on June 6th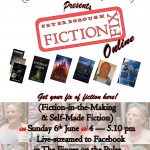 Next Fiction Fix will be on May 2nd
Interview on World to Write with Amanda Read
Guest appearance on Meet the Authors
I've been busy in January – and even busier in February –
but I have a link to my recent guest appearance with Guy Morris on Andrew Sweet's Meet the Authors podcast. Andrew runs the Greater Seattle Area Writers.

Check out the podcast at:

https://www.andrewsweetbooks.com/meet-the-authors
*
The next Fiction Fix Online was to be on Sunday 7th March 2021, however this had to be postponed till May thanks to my accident. The April Fiction Fix was postponed to June. However, both have taken place – see above! More details
here>>
Next Fiction Fix Online will be on Sunday 3rd January 2021, and will feature our first international reader. Read more
here>>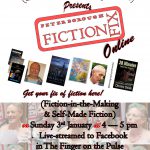 Next Fiction Fix Online will be on Sunday 6th December, from 4 – 5ish pm. Read more
here>>
Next personal live-stream by Helen Claire Gould was on Tuesday 1st December 2020. Watch the video

here >>
Next Fiction Fix Online was on Sunday Nov 8th, 4-5 pm. Read more

here>>

Fiction Fix Online video now available on my YouTube channel
Watch the video from Fiction Fix Online last weekend

here

on Zarduth.com, or on Helen Claire Gould's YouTube channel.
Guest post on WarpSpeedOdyssey.com
I'm very excited to tell you that my novel Floodtide has been featured in a guest blog post on warpspeedodyssey.com

!
#artsandentertainment #writing #books #blog #author #sciencefiction #fantasy #actionadventure #alternativeromance.
I've just added a new video: my book trailer for She…
Watch it

here

>>
Next workshop with
Helen Claire Gould:
Story-Telling for Writers I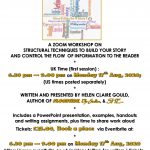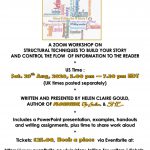 Read more
here>>
New blog post
Why I invented a language for the Naxadans.
Upcoming online workshops with Helen Claire Gould

Here's a new reading from She…: – enjoy this sneak peek

here

!
The Out Now page has a new video of me reading from Floodtide, why not check it out

here
?
Lockdown Promotion

is now finished, so my books are back to their usual prices. You can find out how and where to buy them, plus costs, on the Out Now page:

Read more here >>
Next Peterborough workshop and next Fiction Fix
The first full week in 2020 will be a busy one. I have the first
Fiction Fix

of the New Year on

Sunday January 5th

and the first

writers' workshop

of the New Year two days later, on the

Tuesday morning, January 7th

, both at

Samm's

. More details
Please note that the
Tuesday morning workshops

will now

start at 11.00 am

(not 10.30 am as previously stated) and also

finish half an hour later at 1.30 p

m instead of 1.00 pm. Hopefully this will work better for everyone. Learn more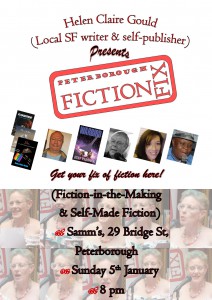 And to cap the month off I have
the next self-publishing workshop

at

Boston Library

on

Wednesday, January 29th 2020

, at

2 pm

. We'll finish around

4.30 pm

. Hope to see you there, and remember that

you can now book through this website

; for this, please visit the

Workshops page

.

(Poster to follow)
All that remains is for me to wish everyone
a very happy New Year

for

2020

!
Two more events in Peterborough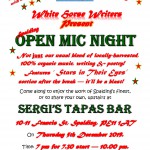 On
Thursday 28th November

I will be reading some of my poetry at the

Peterborough Rape Crisis Care Group

, for which a fund-raising gig has been organised by my very good friends

the Fyzz Wallis Band

. Do join us at

Samm's

from

7.30 pm

! More details.
And on
Thursday 5th December

I will be taking part in

Spalding Open Mic Night 5

, which is organised by learners from my Spalding workshops. This takes place in

Sergi's Tapas Bar

, a restaurant in Spalding, and is also a special night – a fundraiser for charity which includes a special second half of the night based around the format of Stars in their Eyes. Please join us for this event as well –

fancy dress is optional

! More details.
Upcoming events in Peterborough, Spalding and Boston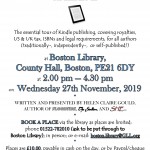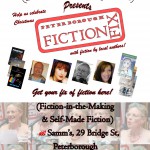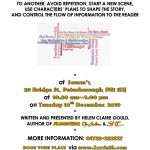 Upcoming Events in Spalding and Fenland: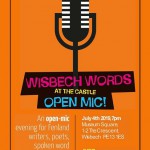 New run of workshops at Samm's, Peterborough and Spalding Library
A new run of workshops is starting this September at Samm's and Spalding Library. We'll be using the Performance Room downstairs at Samm's for this, and the Reference Library upstairs at Spalding Library as usual. I am also setting up some workshops at The Deepings Community Library in Market Deeping, but so far no dates have been agreed. This is likely to start in the new year. The Boston Library workshops are still running, and there are still places available on them, so please do come along and join us at any of these venues. We are just starting the run of Self-Publishing workshops in Boston. And remember that if you've missed a workshop at one venue, if you can get to a different one you are welcome to pick up that workshop there. Browse the workshop catalogue here.
Additionally, there are facilities for booking workshop places through this website and paying for them via Paypal. Workshops can be paid for individually or in a set, such as all the writing workshops, all the self-publishing workshops, or all the workshops in one go. Cheque payments will also be accepted, please make your cheque payable to Helen Gould and send it to me at 28 Bathurst, Orton Goldhay, Peterborough, PE2 5QH, in time for it to clear before the workshop. At the library venues in Spalding and Boston you can also pay cash on the day.
The poster for Getting Started at Samm's on Tuesday 10th September, the first workshop in the series of writing workshops, is below, followed by the poster for Getting Started at Spalding Library on Saturday 7th September. I look forwards to seeing you at Samm's or Spalding Library!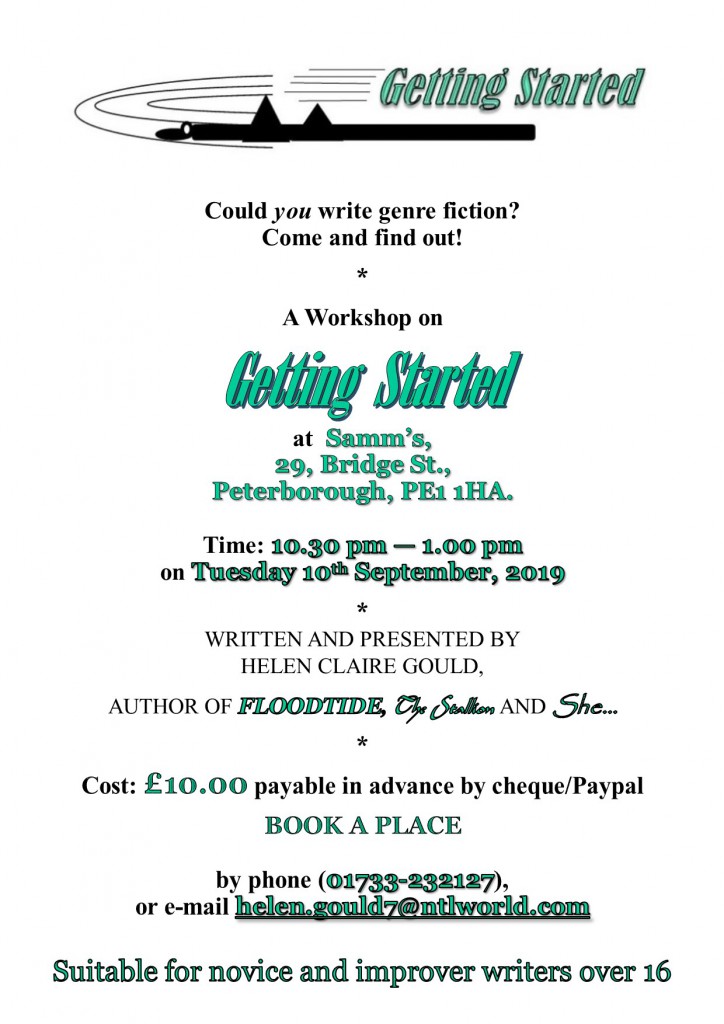 September Fiction Fix at Samm's!
The next Fiction Fix is at Samm's due to the renovations at the Draper's Arms. These are expected to continue for approximately 3 months.
Samm's is next door to the Town Hall in Bridge St. If you're driving, the nearest car park is the Haven Car Park, just off the roundabout, £2 to park all night.
We will be using the lovely performance room at Samm's on Sunday, though the bar is upstairs. However, please be assured that the welcome for authors and audience will be as warm as ever. In fact, it'll be a little warmer than usual, because not only is it our 3rd birthday, but we have a bumper edition with 10 readers to celebrate. Oh, and cake. Can't forget the cake, can we? That will happen at the break.
Colin and the usual gang will be there, along with some regular readers and some newbie readers. It will definitely be a Fab Night!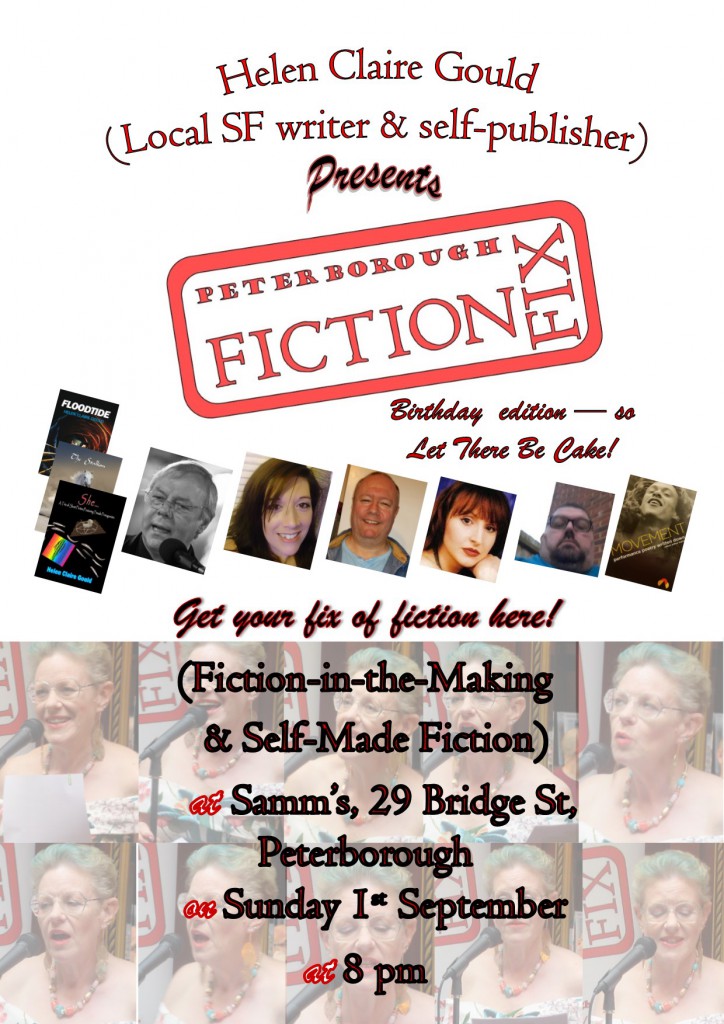 Book Launch for She…
There will be a book launch for my new book, She…, on
Wednesday 19th September

. The event takes place at

Puzzles? bar in Bridge St, Peterborough

, and will include readings, a fun game and competitions, and be topped off by a reading from yours truly from the new book. The book features 3 short stories, including two short horror stories and one longer time travel story. The launch will begin at 8.00 pm and end at around 10.00 pm, and I hope to see all of you there!

Two new runs of workshops at Libraries in Boston & Long Sutton
In this glorious month of September, I start a new series of workshops at
Boston and Long Sutton Libraries

. I'll be starting right back at the beginning, with Getting Started, which is basically a chance to have a stab at

writing genre fiction

and

learn several different ways to trigger a new story idea

. The first workshop at

Long Sutton Library

is on

Monday 24th September

, from

3.15 – 5.45 pm

, while the first workshop at

Boston Library

is

Wednesday 26th September

, from

2.00 – 4.30 pm

. The posters below contain all the information necessary to book a place at either of the libraries, for all you budding authors out there.

Places are limited, though, so do book.

I will be doing a pre-workshop reading at each of the libraries – more information on that later.
Book Reviews
At last I've had a bit of time to post these on my own site! For a look at what I've enjoyed reading, click here >>
It's here…The Stallion Book Launch!
At last it's the big day – the
Book Launch

for The Stallion is on

tonight

, at

Puzzles? bar

,

Bridge St., Peterborough

, from

8 pm -10 pm

. So come and join us for readings, an SF film quiz and other fun stuff, and to get your signed copy of the new book.
The book launch went down really well, with the
SF film quiz

a real hit. Not everything worked, and I've had some ideas on improvements for the next book launch, which will be in

August

, again at

Puzzles?

bar

on

Bridge St, Peterborough. But it was a fun evening, and I sold some books, so you can't say better than that – at least for a book launch. I enjoyed it too, and felt very confident as I compered the night.
I would just like to mention that attendees included
Khush

, a regular at

Fiction Fix

and

What the Thunder Said

– he won the Spiketail Dinosaur Easter Egg which was the prize for the film quiz – and Mel and Alun Williams

from

The Green Back Yard. This lovely couple are well-known around Peterborough, as they try to support a lot of events, and their presence is always welcome. They do their best to support many local events promoting the work of creators of all stripes. Many thanks to you guys for coming along and supporting the launch.
Guest readers were
Colin Brett

, a new local author of speculative fiction and a regular reader at

Fiction Fix

, and

Andrew Wilson

, who writes high fantasy as

ARD Wilson

. The three writing genres complemented each other as they represented different sub-genres of SF. Many thanks to both of you for your fabulous readings and support of the evening.
Matt

from

Puzzles?

says he's had some very favorable feedback about the evening – unfortunately he couldn't be there. We missed you, Matt!
Lovely to see Sarah, whom I originally met at the Huntingdon Library Workshops. Thanks for coming along and joining in!
And it was definitely a fab night.
New series of Workshops in Peterborough at Bretton Library
There will be a new series of writers' and self-publishers' workshops starting at Bretton Library in April. Leaflets for the whole series have been printed and are being distributed over the next few days – you will be able to pick them up at the library itself and other venues in Peterborough, so keep a look-out for them! To find out more or pay by PayPal, go to the Workshops page. Continue reading here >>.
Next Spalding Library Workshop
The next
writers' workshop

to be held at

Spalding Library

will be

Story-Telling for Writers II

, on

Saturday 14th April

, starting at the usual time of

10.00 am

. To view the poster, find out more here >>
Fiction Fix celebrates International Women's Day
Due to the bad weather and the fact that I was poorly, we have had to move Fiction Fix for this month. We are still celebrating International Women's Day, so continue reading >> to find out how you can help us do this.

The Stallion Book Launch
The
book launch

for my new book The Stallion will be held at

Puzzles? Bar

in

Bridge St., Peterborough

, on

Wednesday 21st March

, at

8 pm

. Continue reading here >>
Latest round of Fiction Fix and Workshops
After an incredibly busy few months things have gone back to normal (sort of!) I have started a new series of workshops at Spalding Library, which began in January with the Getting Started workshop. We also had a fab night at Fiction Fix on 7th January. I was so busy trying to get my tax return finished that I didn't have time to put any posters up here. But the pressure's off now, so here's the poster for February's "Dialogue" workshop (10th Feb), and the poster for Fiction Fix this weekend (Sunday 4th Feb.)
Floodtide Christmas/New Year promotion
I am running a promotion on the Floodtide e-book of £0.99 in the UK and $0.99 in the US (I've just changed the price on Amazon, but it will take up to a couple of days for the new price to appear). This will run up to and including the New Year, so all the prices will be cheaper around the world. So if you've been thinking of buying a copy of the e-book, in a couple of days' time is the right time to do so! As soon as I know the prices have been changed on Amazon, I'll post them on here and do a post on Amazon and Twitter.
Floodtide New Lower Price
As of today the Floodtide e-book will be priced at £3.49 in the UK. There is a bit of a query over the US price at present. I'm pretty sure I typed in $4.49, but it's showing as £4.68 – probably a tax addition is my guess, but I won't know for certain until they get back to me. My intention wasn't to charge more than that price I chose, so if you're in the US and thinking of buying, hang on for a few days and I'll sort it – I do apologise, especially as the rest of the world is based on the US price. The new lower prices will apply from now on, unless I choose to run it at a lower price again – in which case I'll let you know!
Update: I did query the change with Amazon, and it took them several days to get back to me. They also weren't very clear about why the price difference, but I was right in that it is related to tax. Last time this happened I got some help to update it to the price I wanted, but I'm afraid I have had several onerous things to deal with this autumn, including a broken wrist, and haven't kept on at them to sort it. But there's good news on the horizon for any prospective buyers (see above).
Further update: The price of Floodtide shows as the correct price on Amazon.com if you are viewing it from inside America. It shows as a slightly higher price if you are viewing it from outside the USA. I guess the assumption is that you would buy from inside the USA if you lived there…
Floodtide Price Change
I've been reviewing the price of Floodtide. The result is that it will be 0.99p (or 99 cents in the USA) from today till the Monday after Fantasycon (2nd October), at which time it will go back up, but to a new, lower price of £3.49. This celebrates the fact that we have a science fiction/fantasy/horror convention in the city – and it's going to be a fab weekend!
Fiction Fix will be part of the convention – we're on at 5 pm on Saturday 30th October, with guest reader Theresa Derwin joining us. Other confirmed readers include Jilly Paddock and myself. The identity of the fourth reader is to be confirmed nearer the time. But we're also having our regular 1st-Sunday of the month night as usual, and have invited a host of independently- and self-published guest readers to come and join us. The event is still free to the public to come and listen, and free to convention-goers who want to join the audience. So whether you're a local person who enjoys having stories read to them or a convention member – come on down! Boy, have we got a bumper SF/fantasy/horror night for you! Here's the poster:
Fiction Fix last Sunday was awesome, if somewhat different from usual…because it was a year ago this month that the event started, we had cake at break-time, which seemed to go down rather well, if you'l excuse the expression! There were a couple of last minute changes to the readers in the Self-Made Fiction section. Gary Francis-Williams had been scheduled to read after my reading from Floodtide but found himself unavailable and Chris Donaldson was also otherwise engaged. Undeterred, Gary's slot was taken up by Colin Brett, who read the next instalment of his ghost story Is There Anybody There?, and Pete Cardinal Cox read a story originally entitled Trans, which was published in the Noughties as Morpho. To finish that section Mark Fryday read from his latest novel, Another English Civil War (Tales from the Red Lion Part 2). After the break, new reader Mary Hagger, writing as Mary Leen Hagger, read from her novel British, Belgian, Blue in the Fiction-in-the-Making section and gave a very polished performance. Next up, Brian Jones wasn't able to read his work and come along, so Colin read two of Brian's short stories, Rubbish and A Bolt from the Blue, and I finished the slot off on Brian's behalf with My Friend Jack. Then another new reader, the second of my proteges from the Spalding Library group, Terry Roberts, entertained us with an extract from his novel Ward 27B, and had us all giggling and laughing with his wry observations. Well done, Terry and Mary! You see? There was no need to be nervous! I finished the evening's entertainment off with a reading from The Zarduth Imperative: Discovery. In fact, well done to all the readers, and welcome to new member Yasmin. It was a fab night, and we all enjoyed it. See you next month!
Next Events in September: Fiction Fix is One Year Old!
There are quite a few things happening in September! Firstly, the September meeting is on the Sunday 3rd September and celebrates our first birthday with cake at the break, as well as introducing readers new and old. In the Self-Made Fiction section, Gary Francis-Williams, Chris Donaldson and Mark Fryday return to delight us with their wordsmithing, and in the Fiction-in-the-Making section, new readers Mary Leen Hagger and Terry Roberts will share some of their work in progress with us, while Brian Jones will read three of his short speculative fiction stories. Here's the poster:
If you like being read to, or would like to read yourself, why not come along to Fiction Fix? It's a monthly meeting of local (but 'local' goes out a long way) authors in any genre who get together in The Draper's Arms on Cowgate and read their work out loud. An audience is always welcome, so come along and listen to the hottest authors around! There is also a Facebook group for both authors and audience, The Finger on the Pulse.
Reading Celebration of Work by Spalding Library Writing Learners
Regrettably, due to an accident 10 days ago, this has had to be cancelled. There's another in November, to be notified later.
On Thursday September 7th, learners on my writing workshops at Spalding Library get the chance to share their fiction with the public. From 3.30 – 5.30 pm, the public are welcome to drop in to hear them, have some refreshments and stay as long as they want (and can) to listen. Do try to make a date for this in your diary! If you live in the Spalding area you can pop into the Library to pick up leaflets about this event in advance of it.
Next Spalding Library Workshop: Formatting and Publishing on Kindle I
Please note that this workshop has regrettably, due to an accident 10 days ago, had to be cancelled. It will be rescheduled for October.
Saturday 9th September sees a slightly shorter workshop on how to format your novel or short story for Kindle. The shorter time is reflected in the £4 price, but there will still be a friendly and supportive atmosphere, with refreshments available. Being dyslexic, I had some difficulty with the instructions Kindle provide for formatting and uploading your work, so I simplified them for myself for ease of use. On that basis, we will look at how to upload novels and short stories. The next workshop deals with the more administrative part of the process.
Next Writers' Community Coffee Meet
The next meeting is confirmed as Sunday 17th September, between 2.00 and 4.00 pm, at Bewiched coffee shop in Peterborough's Bridge St. A great place for coffee and super-comfy for meetings as well. Anyone who has been to a previous workshop run by Helen Claire Gould or read at Fiction Fix is welcome to come and join us. The last one was small but perfectly-formed!
Workshops start at Huntingdon Library in September as well
Wednesday 20th September is the date of the first of a run of three workshops at Huntingdon Library. Starting at 10.30 am and finishing at 1 pm, they are designed to get you writing even if you've never done any wordsmithing before!
These workshops are offered under the newly-pioneered Engage Extra programme of art and literature workshops at Cambridgeshire Libraries.
Next-but-one Spalding Library Workshop: Formatting and Publishing on Kindle II
Actually, there are not one but two shorter workshops this month. A couple of weeks ago (9th September) we learned how to format work ready for upload to Amazon. On Saturday 23rd September you can learn about the rest of the process of uploading your e-book to Amazon – now that it's correctly formatted!
As with all these workshops, you can book for them at the Library and pay on the day, or book at the end of the workshop for next time and either pay then to reserve your place or on the day. There is no charge for Fiction Fix, the coffee meet, or the reading celebrations. Hope to see you there!
July Events
Next workshop at Spalding Library:
Well, we've certainly passed the half-way mark in the workshops; there are just 5 to go, all on self-publishing. However, if you're a new author, they provide an overview of modern publishing methods. The first one's on contrasting print publication and e-book publication. Here's the poster: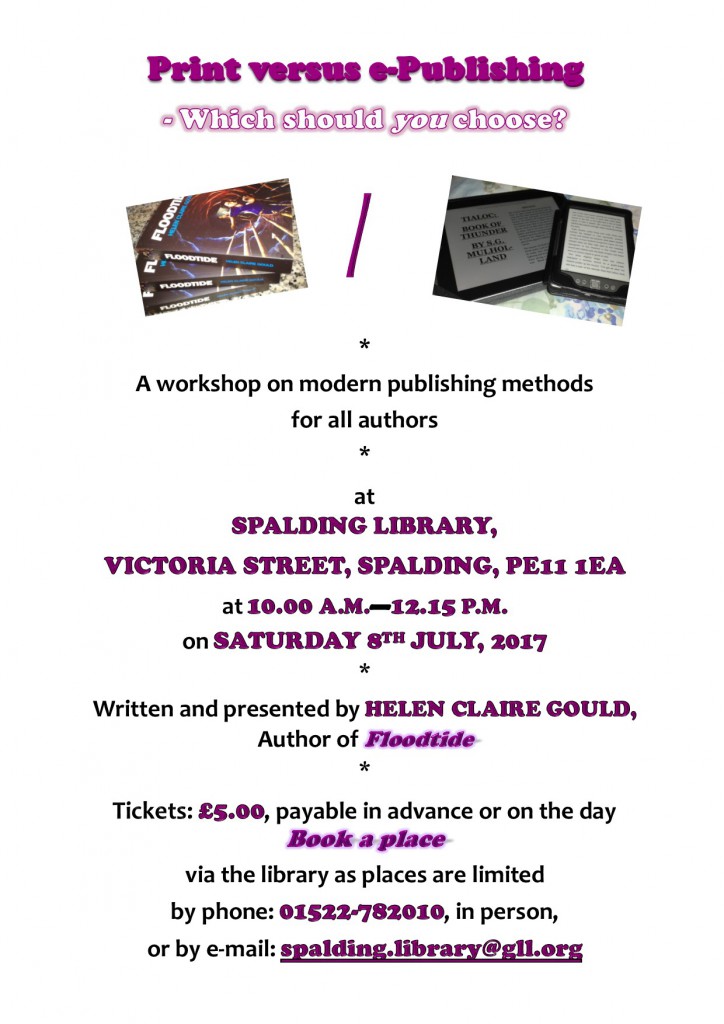 As well as the self-publishing workshops, there are a couple of celebrations of work produced by the group at Spalding Library. At these, learners will read their work aloud, and the public are invited to come and listen. It's on a drop-in basis. More information nearer the time.
Before the workshop, there's Fiction Fix. This is a monthly dip into local writing in any genre, so do come along and join us at The Draper's Arms, Cowgate, Peterborough, whether you like to listen or would like to read yourself. Here's the poster for this one:

June Events
June has now red-shifted into the past, at least in terms of upcoming workshops and Fiction Fixes – hence the colour change! But there is one more June event to come: a coffee meet at Bewiched Coffee Shop on Sunday June 26th, between 2 and 4 pm. This is for anyone who's read at Fiction Fix or attended any of my workshops in the past. The idea is, writing is a very solitary occupation, so why not make a social occasion where people involved in writing can just come and relax and chat to other like-minded people. So if you're reading this, and have been to one of my workshops or read at Fiction Fix, I hope you can make it on Sunday! Helen 🙂
Next workshop at Spalding Library:
The next writers' workshop at Spalding Library will be the last in the series of writing workshops for the time being, but next month we begin a series of workshops on self-publishing. This time, we'll be focusing on proof-reading and editing your work, and generally polishing it prior to publishing it. Bring your work with you, as you'll need something to work on! And as always, places can be booked via the library, contact details on the poster below. Hope to see you!
Next Fiction Fix:
Expect something a little different at this meeting! There will however be the usual multi-genre eclection of self-published, independently-published and unpublished local writers, along with an open mic session. Come and join us for a free evening's entertainment – it'll be fun!
Events in May
Next Spalding Workshop
The next workshop topic at Spalding Library, on the 13th May, will be Building a Believable World II. We'll be looking at some tools writers can use to make their worlds more real, and some writing techniques for this.
This event was very successful and the participants have told me how much they enjoyed it. I enjoyed running it as well!
It was regrettable that I had to cancel yesterday's Fiction Fix, but my hay-fever has been bad all week. It's nothing to do with hay, really – just that ghastly yellow stuff that they grow in the fields around here! I'm a bit better now, but although I'll be reading at my usual venues I do need to avoid over-use of my voice still. Anyway, we will be back next month, with something a little different in terms of performance reading. See you soon – keep an eye out for the next poster!
May Fiction Fix
The May Fiction Fix is at the usual location, The Draper's Arms, at 8 pm on May 7th. This is a free night out, with local authors reading from their work. Please come along and support it.
Unfortunately this event had to be cancelled due to unforeseen circumstances, but we will be back bigger and better next month.
Author Event at Oundle Literature Festival
Stop press! I will be part of the Oundle Literature Festival, at a local author event on Friday May 5th. The fun starts at 7.30 pm, at St Peter's Church, Church St., Oundle, when I and 2 other local authors will be interviewed by Helen Shair, who started and runs the Oundle Literature Festival. tickets are just £5, and after each of us are interviewed there will be time for questions from the audience and the chance to buy signed copies of our books.
Regrettably this event was cancelled due to circumstances beyond the control of the organiser.
April events:
The next workshop topic at Spalding Library is world-building. Whatever genre you write in, be it SF/fantasy or horror, spy thrillers, murder mysteries or historical romance, you'll need to make your setting believable as part of your campaign to keep the reader turning the page. Here's how!
Fiction Fix returns on 2nd April with a new local author among the regular contributors to this event. Will Stebbings reads from his novel Off the Mark, along with regular readers Jilly, Morgan and Helen. Other readers still to be confirmed.
March events:
Next writers' workshop at Spalding Library:
Next Fiction Fix at The Draper's Arms, Cowgate, Peterborough, on Sunday 5th March:
The final chapters of Floodtide are now available to read – sorry for the delay!
(I'll leave them up a bit longer to make up for it!)
Upcoming Events in February
The latest writers' workshop at Spalding Library is on Saturday, 11th February:
Sunday night's Fiction Fix brought a cancellation, a new reader, and a rather chilly night to Peterborough!
We opened with local SF writer Jilly Paddock Paddock reading from her short story The Third Worst Thing that can Happen on Mars, followed by poet and artist Graham Ward reading his short story Rocket Man. Helen Gould then read a selection from her novel Floodtide which followed Chixi, one of the two villains in the story.
After the break Jilly read from her novel Starchild (in the Anna and Zenni series which also includes With Amber Tears). Ron Graves sent his apologies so new reader Sean McCann stepped in with his story Mothrolites, and read with enormous passion and energy! Helen finished with a couple of scenes from the second part of her upcoming novel The Zarduth Imperative.
It was a cool and rather dreary night, but we had fun, and it was warm in the pub, mostly, and had the great atmosphere of a British local which is an essential background ingredient of this type of event.
Peterborough Fiction Fix now has a Facebook group: The Finger on the Pulse. If you're on Facebook and are interested in being part of Fiction Fix, PM me and I'll add you as a member of the group – that way you'll get up-to-date information about this monthly event as it gets posted.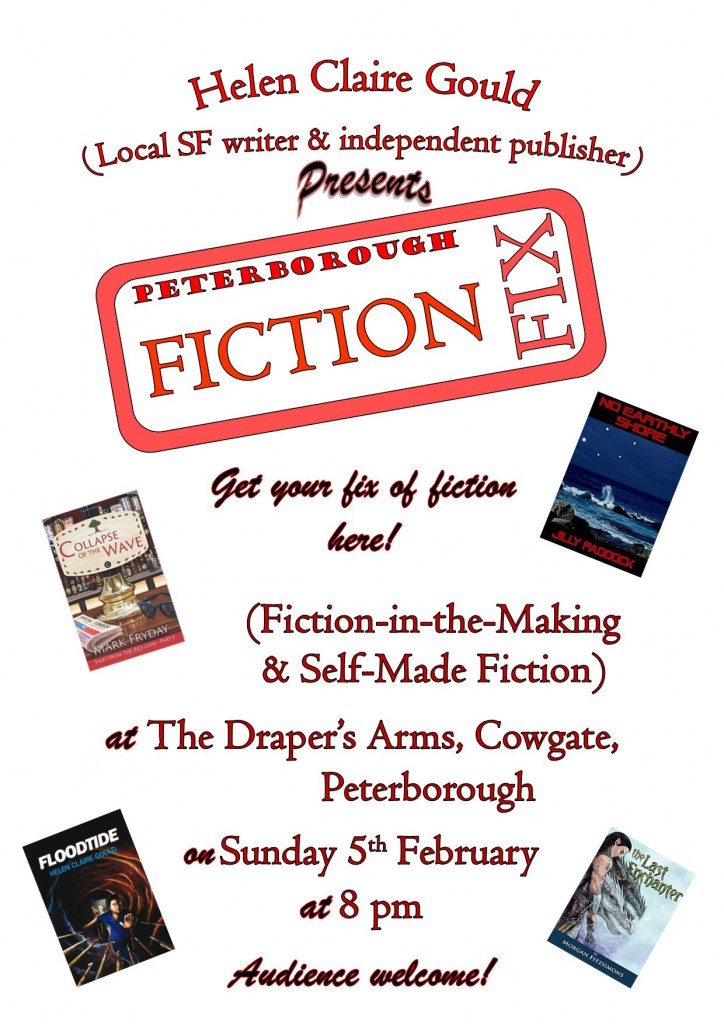 Poster for Fiction Fix meeting, February 2017
What a great night at the Draper's Arms last night! Many thanks to all the people who turned up and either read or listened. I managed to speak to most people…Read more here>>
The local January events are as follows:
Next workshop at Spalding Library:
January Fiction Fix meeting: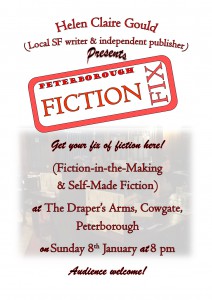 Interested in these? Then find out more about them: Read more here >>
Read what other readers have said about Floodtide on the OUT NOW PAGE, and read chapters 27 – 29 for free here>>
Out now on Kindle: Matthew R Cash's
12Days
horror anthology
I mention this because I have a short story in it, Avenging Angel. The anthology consists of 12 "countdown stories" based on the song The Twelve Days of Christmas, plus a further cycle of stories with horror themes, again loosely based on various Christmas songs. My story is included in the wider anthology…
Christmas Floodtide e-book price promotion
Hi everyone, just to let you know that I am running a price promotion on the Floodtide e-book from now until December 24th. Find out more>>
Latest events – read all about it!
As well as the December meeting below, there is a
free workshop

at

The Deepings Library

on

Monday 28th November

, and a very reasonably-priced one at

Spalding Library

on

Saturday 10th December

. Helen will also be appearing as part of the

Telling It group

at

Huntingdon Author Festival

on

3rd December

. Continue reading here >>
December Peterborough Fiction Fix meeting:
November Peterborough Fiction Fix meeting
Fiction Fix took place on Sunday at The Draper's Arms despite the cold and the rain and the lack of an audience this time – probably because of the aforementioned!
Readers this month were, in the self-published/independently-published section: Helen Claire Gould reading from her novel "Floodtide"; Paul G Jackson reading from his novel "Boomshot – Hunt for a Killer"; and Morgan Fitzsimon reading from her fantasy novel "The Last Enchanter". In the Fiction-in-the-Making section, Jilly Paddock opened with a reading from her upcoming novel "Warbird", and Helen read from her current work-in-progress, "The Zarduth Imperative".

The Premiere of Peterborough Fiction Fix
We (I'm talking collectively here!) held the first Peterborough Fiction Fix on Sunday 4th September, at The Draper's Arms on Cowgate in Peterborough. "We" consisted of myself (and my husband Mike came along to help), guest author Mark Fryday, local author Jilly Paddock, Ron Graves, poet extraordinaire and the founder of The Draper's Arms Sunday night Poetry Gig, and Pete "Cardinal" Cox. A further contributing author was Brian Jones, but as Brian was unable to read – he had to look after his wife who was poorly, but did pop in briefly before we got going – Ron and I each read one of his short stories.
The idea is that each author will get a 20-minute slot, either in the Self-Made Fiction section (self-published fiction) or in the Fiction-in-the-Making section (unpublished fiction). Twenty minutes is about the length an author would get to read at a science fiction convention, or at an author event, so it allows unpublished and self-published authors…
Fiction Fix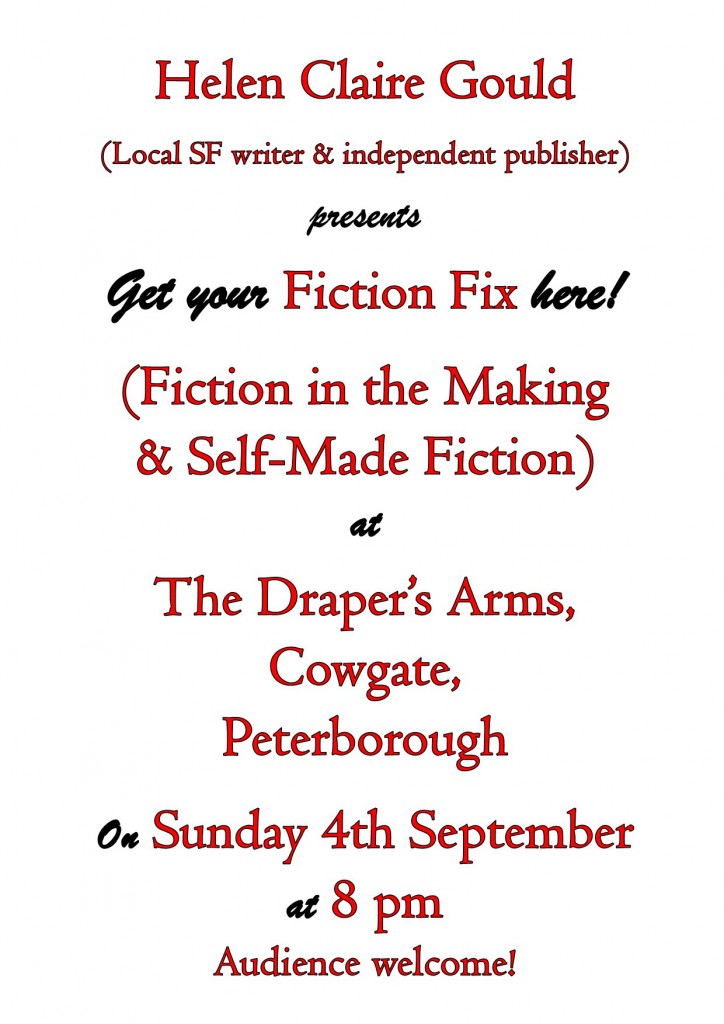 Calling all Writers Living in Peterborough
Are you a writer living or working in Peterborough?
Have you self-published your novel(s) or short fiction?
Are you not yet published, either traditionally or independently?
I self-published my science fiction fantasy novel Floodtide on Kindle in 2014 and as a print book in 2015. I've been on local radio, and done readings at science fiction conventions, but it wasn't long before I realised that there's very little in the way of public exposure for fiction writers in the Peterborough area, so I decided to do something about it.
Floodtide: My 40-year Journey to Publication
Something I get asked a lot, especially when I do a radio interview and reading, is how I came up with the idea for my novel Floodtide. The other thing I'm often asked is, "How long did it take you to write?"
The answer to the first question is easy. I had a dream. In the dream, I was two people at once, and it was the most emotional dream I have ever had. Specifically, I was two men at once (well, everything's fluid in dreams!) and both of the men loved the mysterious third person in the dream, a female. The dream took place underground, but in the caves where it happened, there was both heat and ice. And the emotion I felt was passion, and it was the most passion I have ever felt in my life. It was more than passion. It was everything.
Floodtide book trailer
Read my new blog post about how I came to write Floodtide here.
You can buy the print version of Floodtide from this site by going to the PayPal buttons on the Out Now Page.
Read what other readers have said about Floodtide on the OUT NOW PAGE, and read chapters 1 – 3 for free here.
Serialisation of Floodtide – Update
If you've been eagerly awaiting the latest chapters, I'm so sorry. We got back quite late yesterday from Lincoln, where we went to a music festival which included sets by Julie Felix and Lindisfarne. But I have updated the serial today, so the new chapters are Chapters 12-14. Enjoy…and I'll try not to be late with the next 3 chapters next time!
Serialisation of

Floodtide
Starting today (1st May 2016), Floodtide will be serialised on this website. Throughout May you can read the first 5 chapters, and from then on the chapters will change on the 1st of each month. In June chapters 6 – 8 will be put up instead of the first 5 chapters, and in July chapters 9 – 11 will replace them, and so on until the serialisation finishes on the 28th February 2017. At that point, the first three chapters will go back up on www.Zarduth.com.
So tell all your SFF-reading friends about this opportunity to follow Jordas, Yado and Soolkah's adventures both on Naxada and off-planet, and encourage them to follow the serial!
Incidentally, if you can't wait to read Floodtide on this site, you could consider borrowing it from either Peterborough Central Library or Stamford Library – it's already on the shelf there (science fiction and fantasy section).
Enjoy…
Story-Telling for Writers workshop, Saturday 28th November
This Saturday's writers' workshop at Peterborough Central Library was very successful. I actually had to turn one person away because we were over-subscribed for the number of people who wanted to attend, and the general feeling was that it was a helpful summary of story-telling techniques which would make writing more interesting to readers and help writers to avoid common pitfalls. I have been in contact with everyone who
Update

on Stockists of Floodtide/Novacon report.
I haven't been idle while the website was down for maintenance. I've been contacting shops, carrying out various events, and I've even been on TV, promoting the book, talking about writing and doing a bit of geology. That should be released later on, but in the meantime you can catch up with me on Cambridge TV on their website at: www.cambridge-tv.co.uk/The-Mac-episode-4/ This will take you directly to the programme I was in, although I was on right at the end of it, and it was heavily edited.
I have also run a workshop on Plate Tectonics and the Rock Cycle at Novacon, the SF convention which is run every November, which included a PowerPoint showing the relationship between plate tectonics, the rock cycle, the atmosphere and surface processes of the Earth, and a possible connection between the Moon and the origin of plate tectonics. The session was for just an hour, but also included was a selection of rocks, and I was able to show how they fitted into the various rock types on Earth, and show workshop participants how to use a hand lens to view rocks up close and personal. As the hero of Floodtide, Jordas, is a geologist, rocks are a major feature of the promotion of the novel, so it seemed logical to run a workshop as part of the convention.
Floodtide is published today!
Today (Monday 14th September) is the official publication date of the print version of Floodtide, and it will be available to buy, priced £9.99, from:
Waterstones, Bridge St., Peterborough, PE8 4BA;
The Oundle Bookshop, 13, Market Place, Oundle, Nr. Peterborough, PE8 4BA;
Close Encounters comics shop, at 59, Midland Road, Bedford, Bedfordshire, MK40 1PW.
Other stockists will be added in the near future. In the meantime, the e-book version of Floodtide is still available from Amazon Kindle.
Furthermore, Floodtide will be available to order on-line soon, directly from the website.
To support all this, there is currently a teaser out on YouTube, which has been joined today by a book trailer – a little insight into the elements which give the book its twists and turns. The links are on the right-hand side of this page.
Book launch for Floodtide
In addition, a book launch is being held at Waterstones in Peterborough, at 7 – 8.30 pm on October 1st. This is a Thursday night, and also happens to be the late shopping night in Peterborough. So come along and get your copy, get it signed at the same time, and there will be a display of rocks that would be encountered in the lava tubes of Naxada. If you haven't visited the website before, or seen the teaser or trailer, you'll also be able to see all of them.
TV head!
Can I have that? Well, other people seem to invent neologisms all the time…and on Friday morning I was a guest on Cambridge TV's arts and entertainments show. I was interviewed by Sophie Blount, during which time we discussed how Floodtide came about and other similar questions. I also took along my signature rocks and minerals, which were a great hit with Sophie and the production team. I was really happy with how the interview went, and enjoyed it very much. It's possible that I'll be invited back to follow up on the geology at some point. It aired on Friday evening on Cambridge TV, which is available in the Cambridge area, but can also be viewed on the internet. As soon as I have the link I'll post it here.
Radiohead!
This week I've been on two local radio stations, Rutland Radio and BBC Radio Cambridgeshire.
Rutland Radio is on 107.2 FM & 97.4 FM and serves the Oakham and Stamford areas. I recorded an interview at the studio with Rob Persani, and it will be on his show at some point over the next week. Rob is on air between 6 and 11 am on weekdays, and between 11 am and 1 pm on Saturdays (his day off is Sunday!)
My host at Radio Cambridgeshire yesterday was Sue Dougan, whose show is on from 12 noon to 3 pm on weekdays. I felt it went really well, and enjoyed the interview very much. If you missed the show, you can listen on i-Player.
A Lovely Surprise
I had a fantastic day last Saturday at Peterborough Central Library, on Made in Peterborough: Authors' Day. I arrived about half an hour before the event was due to start and set up on my table. I had a display of rocks and minerals which might be encountered in the lava tubes on Naxada, (the hero, Jordas, is a geologist and the novel has a geological setting) and my laptop, open on my website so that I could show it to visitors, along with leaflets about Floodtide (an e-book isn't quite the same as a physical book!), and my iPad and Kindle so that I could show visitors.
Made in Peterborough: Authors' Day
On Saturday 7th February, coinciding with National Libraries' Day, an author event featuring local talent will be held at Peterborough Central Library. I will be there all day: from 10 am to 12 noon I will have a table in the library, on the ground floor, and will have information about my e-book Floodtide, and will be speaking to the public, reading from the novel, and will have a display of rocks related to those mentioned in the novel, or related to the environment described, as my degree is in Geology and Planetary Science.
Arts Festival Writers' Workshops a success!
How did I get into SF and writing?
Writing: My Thoughts
I believe that readers want to suffer with the characters, but from the comfort of their armchairs. So I made it my mission to make my writing as believable as possible. This includes using the multiple shifting viewpoint, sometimes with just two characters, often gathering information from many to build the story.
So Sorry to Hear Graham Joyce is No Longer With Us
I've been very focused in on getting my novel ready for publication and have only just heard that Graham Joyce died of cancer back in September. I met him a few times, mostly on writers' workshops or at conventions. What a lovely guy! I always felt that if I met him I could ask his advice or opinion. I'll miss you, Graham. Thank you so much for your encouragement to me as a writer.
Out Now

UPCOMING EVENTS

WORKSHOPS

Latest Blog

Starmap Quadrants