Book Reviews by Helen Claire Gould
Book Reviews
Yes, it's true! I do write book reviews as well. I don't do it very often, simply because my dyslexia/dyscalculia/dyspraxia means I have to read every word, and I don't get a huge amount of time for that. But I've done various reviews in the past and will continue to do them in the future, mainly for books I've enjoyed reading and want to let other readers know about. They are posted in date order, going back quite a way.
*
Review of Story of a Stolen Girl
by Pat Spencer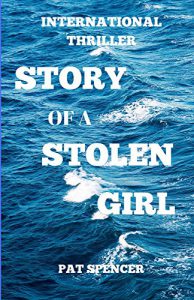 This has been on my list of books to read for a while. The book pulsates with a feverish energy. I can imagine the author writing the first draft in an absolute stew of impatience to get the story told. The urgency comes over very clearly. Why? Because the central characters, seventeen-year-old Darby and her mother Nina Richards, are the victims of a kidnapping by international human trafficking criminals.
Out for a night at an exclusive gambling establishment, college freshmen Darby and her roommate Esma, become separated by the machinations of the sinister Professor Balik. Esma returns to her room to discover that Darby hasn't come back, calls Nina and confesses that their night out has gone drastically wrong, and Darby is missing. The trafficking gang kidnap Darby at the beginning of the book, where the linear energy of the story stops, then starts again as the Los Angeles Police begin their investigation. Meanwhile, a call to her partner at the architects' practice where she works achieves compassionate leave for Nina and a claim via the company's insurance which covers such incidents – which brings in an experienced investigative team who will negotiate with the kidnappers to get Darby back.
The real power is always with the women; it's a women's problem and demands a woman's solution.
This sets them up in an oblique opposition to the police investigators, headed by Detective Wasden. Although the two teams share information about Darby's whereabouts, their collaboration doesn't produce many results beyond an investigation into the Dark Web –both teams independently discover the same information. It reveals where Darby is advertised for sale. Darby is blonde so is considered a high-value "commodity", as compared to the darker-haired women from around the world who are also held captive.
Early on in the narrative, Detective Wasden and his team discover the criminal gang have used a drug called Devil's Breath (from a member of the nightshade family) to render their victims willing slaves. The author doesn't dwell overly on the abuse that the women suffer, and the reason she can avoid some of the excesses other authors might feel compelled to include is that the traffickers use the drug to put their victims into a suggestible state. Darby is very feisty when alert and not under the influence of the drug, so the gang uses it to make her compliant. There are the three generations of Nina's family, and with only days to find Darby before she's abused or (potentially) killed, Nina needs the presence of her mother Sally to support her. However, Nina isn't convinced that either team will bring her daughter back alive…
This is a book about women in a man's world, and is a testament to the spirit of independence women who lived during and after the Second World War found and took to their hearts, and it's the one in which I was brought up – before the brash modern world was forged. It's the spirit that says, "I don't have something important that I need, so I'll go out and buy it, and if I can't do that I'll damn well make it myself to finish the job." Ever since the throwaway economy came along and swamped people's ingenuity that attitude has been eroded. But it's back in spades in this book. I really like the emphasis on the support women can give to each other throughout the story. And there are the women Darby meets eventually during her imprisonment. There are also a couple of women in both teams working on recovering Darby who are willing to help Nina separately from their day jobs. This produces a strong feminist streak in the novel, and makes it a must-read for anyone who regards themself as a writer with feminist interests.
The book is written in a very distinctive way – the chapter headings are locations and dates, almost like a diary – and the story is delivered via the medium of multiple shifting viewpoints – so I enjoyed that aspect of it and found it an accessible read, as that's my favourite format too. This delivery involves the use of dramatic irony, whereby the reader has more information about the story than the individual characters, and uses it to reconstruct the story – like a jigsaw puzzle. And that fabulous energy? Once the investigation gets going in earnest, it accelerates continuously, whereas it falters at the start in time with various setbacks that occur.
The central characters, seventeen-year-old Darby and her mother Nina Richards, are the victims of a kidnapping by international human trafficking criminals
So Story of a Stolen Girl is as much social commentary as it is thriller and life-affirming feminine support system. The sense is always that the women will get the problem solved by co-operating with each other, rather than waiting for the men to rescue Darby, though none of the male characters are cyphers, and all are keen to help. But the real power is always with the women; it's a women's problem and demands a woman's solution.
And that urgency, that pulsating power is what kept me reading this tale on a day when I had very little energy to do anything else. From the point when the distraught Nina seeks help from the women in the recovery teams, the pace winds up and up, like a graph of acceleration representing the relationship between speed and arrival.
Through writing this book, the author has become a vociferous campaigner on behalf of the women and children trafficked around the world every day.
*
Review of Lost and Waiting
by Amanda Read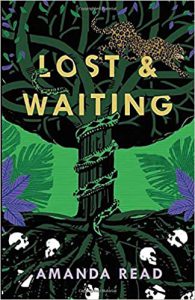 Part road movie, part speculative fiction, part mythological journey, part dream trip, Lost and Waiting is the tale of heroine Evangeline's journey from botanist, to ecowarrior-woman, to discoverer of the World Tree. Myths and folk tales from around the world bear traces of this story of an ancient tree which protects and nurtures, and is an integral part of, the world. The events of the twenty-first century world parallel those of the nineteenth-century one, as Evangeline and her companion Jesús meet up in Argentina and travel to Chile and the Atacama Desert, one of the driest locations on Earth.
The journal of legendary plant-hunter, Edwin 'Chile' Morgan has by chance come into Evangeline's possession, and she is determined to find the World Tree, which he discovered nearly two centuries ago. Evangeline has made a contract with Big Pharma company Asklepion, on the back of the promise of new medications becoming available on the discovery of the World Tree. And simultaneously the Trans-Andean Pipeline (TAP) is about to be built through the forested areas of Chile, which poses a threat to the World Tree itself, since its exact location is unknown. At the start of the book, Evangeline discovers that partner Asklepion has backed out of what she thought was a watertight contract due to a scandal. What should she do? She is already in Argentina, about to meet up with her contact Jesús.
[Local people should be] guardians of the forests,
to curate the bounty 
evolved 
to keep us safe
Naturally, she decides she must search for the World Tree herself, following in the footsteps of explorer and plan-hunter Morgan, and Jesús supports her decision. On the way, following two attempts on their lives by the mysterious Big Pharma company Asklepion, Evangeline encounters Victor, a collector of women, art, and other beautiful things. At Victor's home, a sprawling mansion with a garden containing many beautiful plants and magnificent sculptures, reminiscent of the Las Pozas Surrealist garden at Xilitla in Mexico, built by Edward James, Evangeline's purpose becomes blunted by his machinations, but eventually she realises what is happening and sets off again, this time with just her faithful dog Florito, to complete her mission.
Evangeline discovers her partner Asklepion [Big Pharma] has backed out of their contract
But in all this, there is a serious message, as well as the fun of the chase and the various perils on the way. And that message is one of allowing local people to be the guardians of the forests, to curate the wonderful bounty that has evolved to keep us safe from sickness and harm, and the balance of nature in harmony. Amanda Read is one seriously talented writer, with an interest in local solutions to whole-Earth problems.
The writing is rich and fluid, and the double time-level story is delivered through the medium of the epistolary style. But don't imagine that it's just another fantasy story, or just another set of car chases and ninja females out to trip the heroine up. It's all of those things, a many-faceted story which will keep you reading to the end with its many twists and turns.
Enjoy…
*
Review of Silversands,
by Gareth L Powell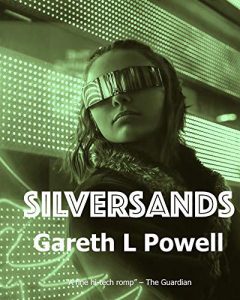 This was the first of Gareth L Powell's novels to be published, and it's the first one I've read. And from a slow start which didn't totally engage me, I have to confess, I thoroughly enjoyed it.
In the 90s and noughties I stopped reading science fiction; I didn't like the way it was going. A lot of the new novels that came along focused on near-future settings with computers as the main characters – at least, that's how it seemed to me at the time. Those novels totally failed to make me want to jump onboard and run with them. I always want to really connect with story characters – that's what has always excited me as a reader. But twenty years on, I'm finding that there are novels that really make me want to get reading again. And this is one of the novels that have restored my faith in the ability of science fiction authors to deliver great stories with sympathetic characters.
…The Anastasia has been docked (and in limbo, in terms of further development and exploration) at one of the Freewheels (space stations) for the past 60 years
Silversands is a planet discovered in the first wave of exploration by one of the first starships to leave Earth, the Anastasia, a starship created from an asteroid fitted with engines. Inside the hollowed- out asteroid is an organically-created living space resembling a natural place on Earth. It is beautiful in an untouched way, yet there are all the benefits of a fully-developed society- and a t least some of the downsides that go with them. But the Anastasia has been docked (and in limbo, in terms of further development and exploration) at one of the Freewheels (space stations) for the past 60 years. Other craft featured in the story are the Dragonfly, a space freight yacht, and the Pathfinder, a ship which has just arrived from Earth via the local wormhole.
One of the main viewpoint characters, Cale Christie is a member of the local law enforcement. Cale was married to Patricia Lear for some years, but his infidelity with Madelyn Walker put an end to that. Madelyn died some time ago, so Cale is surprised to see her, and realises that elements of her personality now inhabit an android body; but he also meets Avril Bradley, Communications Officer of the Pathfinder, who thinks he is her father. The two of them spend time together, and Cale soon determines that Avril is a clone of Madelyn, while he has to disappoint her with the news that he is not her father. The set-up develops as a meeting with Madelyn reveals that the current version of her carries sealed files that she cannot access. The same files are also stored in the operating system of the Anastasia as a sealed cache of information, and while Madelyn doesn't know what they contain, she's determined to find out.
Other plot elements include a system of wormholes, the cosmic litter of a previous civilisation of space-going aliens nobody knows much about. The wormholes themselves are dangerous to enter; their results, in terms of navigation, are unreliable, so entry is discouraged – but there's an entrance to one of them close to Silversands.
The wormholes themselves are dangerous to enter
The world-building is excellent, the action pounding and breathless, especially at the book's climax. To my surprise, I found that I really enjoyed all the little details of applications of technology – many of them seemed sensible and believable. I found the story a bit slow at the start, but that isn't unusual in a novel as that's the portion where the scene-setting usually takes place. The characterisation can be a bit sketchy, and there are quite a few characters; this is definitely a plot-driven story, but I have no quibbles with that. Silversands is a great yarn, and one of several recent reads that have helped me to fall back in love with SF again! Check it out – it's now available as a Kindle e-book.
*
Here's a departure from the book reviews:
Review of the short dystopian film Green Glass Doors by Thomas Goff et al
There has been a kidnapping. The victim is an older man, who through this crime is brought to the realisation of how culpable he has been – as an oil executive – of murdering millions of people by poisoning the Earth's atmosphere. Our addiction to fossil fuels has disturbed the balance of the carbon cycle, and someone wants revenge for the deaths of his family…
The atmosphere is tense and dark, the themes ultra-topical
A brief ten minutes is enough to tell the back-story of this short science fiction fantasy movie, and it's so much more than just a man imprisoned in a room in an old industrial building. It's also a film that catches the imagination and keeps you thinking about it well after you've watched it. The atmosphere is tense and dark, and the themes are ultra-topical.
Michael Schaefer, the man trapped in the room at the abandoned oil factory, with polluted air seeping in from outside, is alone apart from a voice speaking to him through a very obviously new and recently-fitted intercom wired up to a post. The back-story is revealed through their conversation, which also tells the viewer about Michael's character – particularly when he starts blustering in response to his kidnapper's accusations. Michael is a weak character under threat, and he doesn't like it at all when the threat is focused on him in revenge for the harm he and his company has done – to the Earth's atmosphere and its denizens. We never get to discover the name of the kidnapper, but we learn his dead daughters' names, and he has a riddle for Michael: 'What may enter the valley of the Green Glass Doors?' The digital air purity gauge superimposed on the frames and clicking down to critical, and the fact that the unseen watcher is recording his revenge as Michael tries to decipher the answer, builds the atmosphere and tension.
The film makes the very best of minimal resources, with an atmospheric setting. The old Frogmore Paper Mill in Hemel Hempstead plays its own role, much as Blake's Jerusalem tells of the grim reality of the industrialisation of paradise. Other players, unseen but hinted at by the dialogue, are the laboured breathing of the actor as his oxygen runs short, and an old gas mask on a chain. But it's the final irony at the end of the film that delivers the denouement: a conundrum that turns on its head everything that has happened up till now.
The unintended parallels with the current pandemic and lockdown were not lost on me as I watched. Yet the film is a powerful piece of dystopian cinematography – enough to have already picked up an award: it was a winner at the London international short film festival in 2019, well before any news of the discovery of a new virus came out of China. Give it a look – you will not be disappointed, and the fantastic thing about this polished and professional movie is, it was made by film and TV students at the University of Hertfordshire at Hatfield as part of their course.
…unintended parallels with the current pandemic and lockdown were not lost on me …
The idea for the film came from producer Thomas Goff. For other credits please visit the film's website at https://www.glassdoorsfilm.co.uk/. Watch the 10-minute film here: https://www.facebook.com/profile.php?id=100009905147000 or directly on Vimeo at: https://vimeo.com/419849317?ref=fb-share&1&fbclid=IwAR0-F7gWgXDrKtyWwM2nQ-RPdulClsrmKjomoRZon8-fIT4cTielHKAQugw.
I hope you enjoy it!
*
And here is Richie Billing's latest fiction offering:
Review of Flying on the Ground by Richie Billing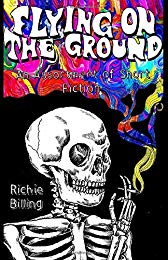 As the author explains, this book is a collection of various pieces of shorter fiction previously published in a selection of magazines and anthologies. Hence their subject matter is quite diverse, and their genre varies from one story to another.
Fantasy section
Some of the stories in this section are linked in setting if not subject matter. In Noodlin', Edaw, a fisherman all his life, sees his career coming to an end. After a visit to the pub he guddles for fish and gets more than he bargains for. The topical theme of water pollution threatening the fishing trade could perhaps have been emphasised further, though word limits always govern short fiction. But the characters' accents establish the setting and distinguish between them, a necessity when introducing several characters one after another in a single situation, and the tale sucks the reader in. Follies of the Proud introduces Jyn, too proud to accept help from his friends and neighbours when he falls on hard times, who fishes at a lake away from his home in an attempt to feed his family. Two Oryks, aggressive monstrous fighters who've raided local villages, attack him as he takes home his prized monster fish. At home, he discovers his wife has in his absence worked for their neighbours to earn money to feed the family. There is a clear moral to this story: pride can lead you into an impossible position. Jyn now faces the possibility that his actions will bring disaster to their village. The action balances the introspection in this story. In The Pigeon Catchers, a brother and sister go in search of pigeons to sell to raise cash for medicine for their sick mother. This starts off slowly but builds to a crescendo of action and adventure as the children take risks to achieve their aim. The General leads his men through a sweaty forest, and discovers a huge tree growing out of a massive hole in the ground, providing a home not just for epiphytes, ferns and its own ecosystem, but also a previously-unknown race of fighters. This action-packed story ultimately champions the theme of the futility of war.
…a collection of
shorter fiction
previously published in
…magazines and anthologies
Forgotten is another visit to the environs of the Forest of Shedun, the setting of most of the action in The General. I like it when stories overlap! This story focuses on the nomadic River Folk – equivalent in this society to gypsies –specifically on a 90-year-old woman who takes action when the soldiers make contract with the River Folk to convey prisoners to the King, but behave badly towards the River Folk women. I especially like the theme of the validation of life. It's well-written, with good use of foreshadowing, and while the ending is downbeat, paradoxically it still manages to end on a high. In Ducks a young girl falls into the river as she returns home from interacting with a family of ducks, and is captured for sale as a slave. This is part of a cycle of stories centring on the same society as the previous two stories. Finally, The Monster of Grug mainly takes place inside the Barrow of the Forgotten King mentioned elsewhere in this volume. With children disappearing from the town of Grug, and Gregor and his companion Jak seek to discover their fate, in an action-packed tale that introduces the Magpies, a warrior group, and the Dakyra, who are definitely the enemy. Gregor falls into and explores the barrow, and comes face to face with one of the dread Dakyra.
Mixed fiction section
Death of the Empress is the story of a crew lost on a sinking ship. The action, while not the fantasy worlds Billing and I usually inhabit, focuses on the experience of one of the crew, providing a more intense read than some of the other stories. But I enjoyed the message of hope and adaptation to change. In Soap, a man helps an associate by fixing up an interview for him, but his assistance is repaid by ingratitude.
A homeless man, who has been squatting in a disused building for some time, one day hears people moving about below in The White of the Canvas. Fearing discovery and eviction, he's too afraid to venture out for food thrown out by shops, but wanders round the building at night and discovers it has become an art gallery. This was probably my favourite story of all, for the hope it conveys to the reader. Again, the characterisation was interesting, because the story explored what would happen if ingenuity was substituted for a survivor's hope – in a hopeless situation. In The Pit, a dog walker loses his puppy as he crosses a wooded area. He eventually discovers the dog in a deep hole between the roots of a tree, and is then pushed in himself. He finds the dog at the bottom of the pit trap. The last story is The Culler, in which a vigilante/serial killer justifies his actions to himself and his latest victim. This story explores a response to the revelation that some of our most well-known public figures have turned out to have perpetrated some terrible crimes on some of the most vulnerable people – especially young people – in our society. Again, very topical.
…an action-packed tale that introduces
the Magpies and the Dakyra…
I have to confess that I wasn't previously aware that Richie Billing wrote fiction in any genre other than fantasy, but I always say one should write what comes, and this collection has opened my eyes to his versatility and engagement with various fiction genres. Many of the stories balance introspection with action to facilitate discussion of the various situations between the characters and the reader. It covers a lot of ground in one short volume, with many ideas and themes. It's an enjoyable read and a great introduction to the land of Tervia.
Why not try it? You won't regret it.
Beside reading fiction, I do read quite a bit of non-fiction! Here's a self-help book for writers I've just read.
Review of A Fantasy Writer's Handbook by Richie Billin

g
(Writing)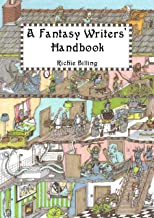 Much of the content of this book started off as blog articles, which has allowed Richie Billing to research people's views on a range of subjects related to writing. The book is laid out in three sections: The Pillars of Storytelling; Writing in the Fantasy Genre; and When the Writing is Done.
Billing starts off with a look at the factors that would make readers abandon a book. This is an analysis which should help writers look closely at their work and ask themselves pertinent questions, and is potentially one of the most useful parts of the book. To write it, he researched the responses of book bloggers to books they'd laid aside. To give a flavour of their responses, there were three major reasons for putting books down: poor characterisation, a confusing plot, and too much infodumping, with unedited manuscript coming in fourth. Other major considerations include a 'slow plot or nothing to keep you invested' and a lack of proof-reading. I draw readers' attention to this because as well as stopping me from persevering with a book, they are things which indicate that writers have not bothered to learn their craft. Additionally they give an insight into the research that underpins this self-help manual for writers. This attention to detail makes this book very useful, particularly to new writers.
…a look at the factors
that would make readers abandon a book.
From there on, Billing covers many topics, especially characterisation, and plotting, dialogue, world-building and writing fight scenes. These sections will appeal to writers in any genre. His references and examples show how widely read in criticism he is. He's done his homework, and learned to write well, though I'd have liked to see his own examples, rather than those quoted from other books.
The second section is skewed more towards the fantasy genre and how to make it real and exciting for readers, which is still useful whatever your favourite genre is for writing in. Billing covers the structure and features of castles and their function; and how to draw convincing maps for the world you're writing about. This is a great example of his attention to detail, and made me keen to read his forthcoming fantasy publication.
The third section is, like the first, aimed at writers in general. When running workshops, I often encounter learners who will say, "I can't draw a map," or "I haven't got time to write a blog." Sure, but while you may not be able to do all of them, just pick the ones you can do, and/or acquire more skills. Billing's point is that without having at least a couple of the methods of spreading the word about yourself and your work as he has, nobody will know you're there. The more you have, the quicker you'll get yourself known. I thought this was very useful for new writers.
…sections on industry standard book/short story lengths, … lists of Facebook groups
to join for feedback…even a…list of publishers of fantasy fiction.
There are sections on industry standard book/short story lengths, and others on lists of Facebook groups to join for feedback and other delights of the writer's life, and even a much-touted list of publishers of fantasy fiction. The scope of this book is wide, and while some of it relates exclusively to writing fantasy, most of it can also be applied to other fiction genres. It represents an enormous achievement – and part of that is the wish to help bring on newer writers. It never hurts to be generous with your time and encouragement to other writers; that comes over strongly in the book. Search it out, read it, think about it…and see how you can follow this example.
Review of Living Like a Vampire by Jackie Dahlhaus
(Horror/vampirism)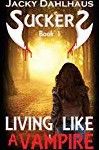 Mike and I picked this series up at The Darker Side of Fiction author event at the Bull Hotel in Peterborough in October. It's taken me a while to get round to reading it, thanks to my accident a couple of weeks later. But I'm so pleased I read it.
There are vampire stories and then there are – er – vampire-plus stories, in my experience. These are where the author has an alternative explanation for the vampire myth. Living Like a Vampire falls into this category. I read Dracula around the time that I explored Chelsea Quinn Yarbro's St Germain series and enjoyed that, and it was then that I realised that every vampire writer seems to have their own "take" on the classic vampire mythos, an interpretational plasticity of the parameters within which vampires operate. Lynsay Sands is another author who offers a different view of vampirism, with her vampires actual Atlanteans, super-strong and immortal, and whose DNA is different from the human equivalent. The writer's view of the condition varies according to the needs of the story – as in a plot-driven story.
There are vampire stories and then there are – er – 
vampire-plus stories, in my experience
So it is with Jacky Dahlhaus; her view of vampire origins is different again. A virus has mutated and escaped into the everyday world of humans. Exposure to the UVA component of sunlight causes the vampires to have seizures, so they can only attack humans at night for the blood supplies they feed on. The humans call them "suckers", the irony being that it's actually the humans that are the suckers! Some people get "turned" when the vampires feed; some are fully exsanguinated and die. Society breaks down as Kate, the heroine, escapes from the small town she lives in with fellow teachers Sue and Charlie. But at the campsite where they hide, they're attacked and Sue is killed. Kate and Charlie now go on the run from the suckers, but there's a catch: Kate has fallen for the leader of one of the local sucker packs, the sexy and romantic-seeming Caleb, and to further complicate matters, Charlie seems to like her as well. How can she choose between them, and at the same time, retain her humanity?
How can Kate choose between Caleb and Charlie,
and at the same time, retain her humanity?
Unlike some vampire stories, this is quite a gentle introduction to the vampire mythos, and takes a while to get going, mainly because this book is the start of a series, and Ms Dahlhaus is setting the scene and establishing the rules of her form of vampirism. The style is easy-reading and accessible. There's quite a bit of introspection, presented as Kate's thoughts, and acting as a kind of dialogue with the reader, or a voiceover, though it has none of the self-pitying melancholia and intransigence of Anne Rice's unsympathetic Lestat. And I was also quite a way into the book before I realised the significance of the title, in all its full technicolour glory. But it wasn't until near the climax of the story that the action suddenly ramped up in time with the stakes (if you'll excuse the pun) – which is probably how a story should be structured. At this point it really grabbed and pulled me aboard. This is also when the various plotlines tighten around the heroine, giving her multiple insights, and not least, a few oops moments.
I did like the scientific approach the author took with this story. She's done her research and used it to turn out a plausible story. But she's also turned the myth into something she can work with, in the process creating a series of books set in her own universe, governed by its own laws. And because she dips into Kate's thoughts as the story proceeds, we see the character change and mature throughout the novel – and I'm sure she'll develop further as the series progresses.
Review of The Wrong Box by Andrew C Ferguson
(Humour: lawyers & criminals)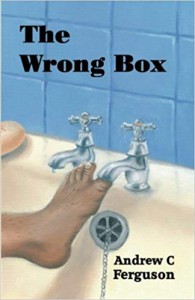 It's a good job there's no copyright in titles, or Andrew C Ferguson would have had to find a different one. As it is, this one has already been used by a certain Robert L Stevenson. However, I'm bound to say that this is one fabulous read.
Simon English has been sent to his company's office in Edinburgh, on pretty much an exchange visit, after an indiscretion at work. Coincidentally his disabled brother Tom lives with their mum in Scotland. Simon is a property (the bricks and mortar type) lawyer, and tends to see everything in terms of negotiation. However, he's not been in the city long before he ends up in trouble; specifically, having been asked to look after an associate, Jimmy Ahmed, on a tour of the night life of the city, he wakes up the next morning after a skinful and some to find Jimmy dead in the bath in his flat, with his toe stuck up the tap.
Simon is a property (the bricks and mortar type) lawyer,
and tends to see everything in terms of negotiation
Caught between the machinations of local criminal gangs, bent policemen, and some enterprising crooks in the Edinburgh branch of his own company, he tries to work out what's going on. His colleagues-at-arms in this endeavour are Jim Martin, a policeman who's as straight as a die, and Karen Clamp, a social housing tenant and single parent who takes in sewing alterations to boost her benefits, and who's been trying to get the council to rehouse her and daughter Candice for 5 years.
This is a fast-paced novel, and once I got reading it I literally couldn't stop until I'd finished it. The story-telling is finely-balanced, with the resolution coming at just the right moment. The viewpoint characters are Simon and Karen, with the language and accents so well-reproduced that the reader is never in doubt who's the chief story-teller at any point in the book. Yet the action is mostly shown, rather than told. It adds up to a powerful insight into both the actions and motivations of the main characters and snapshots of the supporting characters.
The language and accents [are] so well-reproduced that the reader
is never in doubt who's the chief story-teller at any point in the book
Published by ThunderPoint Publishing Ltd., I can thoroughly recommend this novel. It has everything: humour, a complex plot with many twists and turns, insights into the minds of a believable pair of main characters, plus thumbnail sketches of a host of would-be villains, and a contrast via speech of the two main characters. Such a good read – do check this out!
November 2018
Review of 183 Times a Year by Eva Jordan
(Chick lit)
This is the first of two novels by Eva Jordan, and the e-book is self-published through Matador. The print version is published by Urbane Publications, as is the sequel, All the Colours in Between. The plot centres around a middle-aged mum and her extended family, consisting of a teenaged daughter and son, plus a new man in her life and his daughter. The amusing style it's written in had me laughing aloud on the train to Weymouth as I read. The central theme concerns the relationship between mum Lizzie and daughter Cassie and step-daughter Maisie. I immediately found a parallel between myself and Lizzie; it's not just me that has found parenthood a minefield, then!
The amusing style it's written in had me
laughing aloud on the train to Weymouth as I read
Towards the beginning of the novel, I did get somewhat confused about who was who. This is probably because there appear to be not just two but three generations covered by the story, with Lizzie and her daughters all referring to the previous generation as 'Mum' and 'Dad'. This improved drastically once I got into the body of the novel, and realised that each section is prefaced by the name of the viewpoint character.
The thing that's really cool about this book is the way Jordan has managed to think her way into the psyches of both a teenage girl and her middle-aged mum. The viewpoints are distinct from one another and relatively strict about keeping to the vocabularies they use, and have clean transitions clearly marked. The opinions are appropriate for the characters and expressed in different "voices". I enjoyed this aspect of the book particularly, as it mirrors what I do in my own writing.
The character-writing is very strong, though the plotting is less obvious. There are various minor events, for example, the teenaged daughter taking an exam, various minor life events such as the family going on holiday, and a major one concerning friendship, but little hint of an actual plot until a major event a long way in. But in this, the novel follows the structure of such classics as The Mill on the Floss (George Eliot), where the story is constructed around life events and the characters' own actions. It's therefore not a bad thing, just a rarity in a publishing world based on the plot-driven – rather than the character-driven – novel.
The opinions are appropriate for the characters
and expressed in different "voices"
The characters are reactive, rather than proactive, but in this type of fiction that's all to the good, as it makes them more believable and sympathetic as characters. The situations are very every-day and credible, though, and one thing Jordan is adept at is controlling the flow of information to the reader. It was probably this, along with that enjoyable quirky perspective, that kept me reading. I feel no hesitation in recommending this meandering, enjoyable trawl through the flotsam and jetsam of life, whether or not you like chick lit.
Now I need to get cracking on the sequel!
August 2018
Review of AHNN by TE Mark
(Humorous fantasy)
WHAT IF A SUPERCOMPUTER was running the world, and had been for approaching a thousand years? What if the crazy, noisy, creative, chaotic world of humanity had mysteriously become quieter, less chaotic, and more organised? What if birth rates and productivity had fallen too?
In a world where everyone is connected to each other via brain implants, and that supercomputer controls everything about their lives, it could be seen as inevitable that the world would fall quiet. But AHNN registers disquiet about this situation. So…what if it decided to reintroduce a little conflict into the world it had controlled for so long? And how would that affect the people concerned?
This is the premise behind AHNN. When I first read the synopsis, I wondered what I'd let myself in for, as I've only begun to read new SF and fantasy again in the last few years, after a gap of 15 or so years. I'd come to dislike the way SF was going, dominated as it was by near-future stories in which computers are more important than the characters. If you haven't got good characters, whatever the genre, it's not worth reading; likewise if they don't interact in an interesting way.
What if AHNN decided to reintroduce a little conflict
into the world it had controlled for so long?
But AHNN isn't really about near-future computers, though they do appear anachronistically in the book; nor is it a Terminator rip-off. It's an expose of how those characters are affected as they "come back to life" after having their emotions, sex lives, interactions and intellectual lives put on ice by the supercomputer that connects them and makes them super-intelligent as well. It's that that made it interesting for me.
The subtext is that going down that route of inter-connectedness and world domination by a supercomputer would be a stupid move. This is also something I'm very concerned about, so I whole-heartedly agree with the sentiments and viewpoints expressed. I myself have written about the disadvantages of telepathic communication – the lack of privacy in the main, unless you have safeguards to maintain privacy. TE Mark has dealt with this by making his human computers completely unemotional, to the point that they don't even remember having feelings. Consequently they are ill-equipped to deal with them as AHNN proceeds to disconnect more and more of the population, having decided that this is the solution to the problem of the Earth's quietness – and its own consequent disquiet.
The subsequent discovery of some ancient (2016!) computers reinforced the anachronistic tendencies of the story for me, and I wasn't convinced that they'd even be working a thousand or so years later, bearing in mind that 'a computer's main enemy is dust' – as my IT tutor used to say.
A couple of terms [in the book] express incomplete assumption by AHNN: 
cog-deaf (…'cognitively deaf') and transitional dissociatives
Although I had the impression that this story was posted on Kindle before it was really ready, there were some things I really enjoyed about it. One of them was the use of 'AHNN' as an expletive. In this future, the police are known as TSAPs (from To Serve and Protect). There are a couple of terms which Mark has coined which express incomplete assumption by AHNN: cog-deaf (which I assume is an abbreviation of 'cognitively deaf') and transitional dissociatives. I found this mildly amusing, but also saw it as an attempt at world-building which worked quite well – as well as a plot pivot. The unfortunate unassimilated people are kept, effectively, in mental institutions. (It's also a neat way to comment on our own society and "civilisation", where in the past women who had illegitimate babies were treated in the same way.) It's not clear why they hadn't been assimilated, except that for some reason they weren't compatible, but it worked. I note that the TSAP chief, Rudi Click, is cog-deaf, and also that the Glock pistol is standard TSAP issue, so Glick carries a Glock. (However I did find that a bit clunky!) Again, this is an anachronism – at least, if the author made it clear they were modern weapons for that time instead of ancient ones from now, I didn't pick that up.
It is a story that doesn't take itself too seriously, though, so if that's what you like – take a look!
July 2018
*
Review of The Mons Connection by Janine Pestel
(Space opera)
THE MONS CONNECTION is a novella by Arizona-based author Janine Pestel, who has written and published several short stories or collections of short stories in various genres.
The premise for the story is fairly generic: aliens visited ancient Egypt. That established, the way the story has been handled and developed is original and interesting. A group of four astronauts are on a mission to Mars, on the basis that, on a dig in Egypt, a shard of pottery has been found which appears to link ancient Egyptian civilisation to Mars; specifically, to Olympus Mons, the largest volcano in the solar system.
On a dig in Egypt, a shard of pottery has been found
which appears to link ancient Egyptian civilisation to Mars
The four main characters are: Jon Carson, ship's captain and expedition leader; Doug Johnson, archaeologist, AKA "Digger"; Dr Katherine Doolan, medic; and Mikhail Borznekhov, a Russian military man with a specialism in biology who is also the ship's navigator. Their mission is to explore Olympus Mons and try to find any information which will verify a link between Egyptian civilisation and the volcano. Any such link would be proof of the Earth having been visited by aliens in the past, and by default, proof of life elsewhere in not just the universe, but our own solar system. This links the story into our here and now, since our planetary scientists and cosmologists are presently trying to find any evidence of extra-terrestrial life. But what the four of them find exceeds their expectations…
Their mission is to explore Olympus Mons and try to find…
a link between Egyptian civilisation and the volcano
The story follows the logical fruition of this scenario, and is fairly action-packed. The style is accessible and easy to read while also having the ring of truth; the author has done her research into ancient Egypt. Overall, this is an enjoyable read, and one which will keep readers turning the pages.
October 2015
*
Review of No Earthly Shore by Jilly Paddock
(Science Fiction/Fantasy)
THE CENTRAL PREMISE of this story is: how do you handle the discovery of an intelligent life-form on an exoplanet you've previously categorised as uninhabited, and have suddenly discovered that your terraforming and colonisation of that world is based on incorrect information?
On Calvados, a world settled about 30 years ago, young colonist Boodie is rescued from drowning by three sea-quilts – the mat-like denizens of the world-ocean there. She claims they talk to her.
Young colonist Boodie is rescued from drowning
by three sea-quilts – she claims they talk to her
Dr Zuzana Aron-Jones, a marine biologist, is one of a group of scientists and others sent to investigate this and other similar claims – of which, she learns, there have been quite a few over the years. Working with the mysterious Mooney, she begins to look into Boodie's strange experience. Nobody could have foreseen the results of her investigations…
But there are some tenser passages. The interaction between the aliens and the human protagonists is paralleled by the growing relationship between marine biologist Dr Aron-Jones and the survivalist Mooney. The interplay between the human characters forms one source of conflict for the story; the characterisation is rich and uses contrasting and showing, as its main methods; and the dialogue sparkles as the characters play off against and attempt to manipulate one another.
This short novella…reads like a trip on marijuana, the sense impressions
are so vivid they amount to synaesthesia
This short novella has no chapter structure, and reads like a trip on marijuana, the sense impressions are so vivid. They amount to synaesthesia, with mingling of sight with sound or smell or taste or touch. The feel of the story is idyllic, lazy, like the swash of the sea on a beach. The reader learns about the characters (alien and human) as the main protagonist, Dr Aron-Jones, does, and the story is shown rather than told. Written in a flowing style which perfectly balances the oceanic setting, information is sprayed out bit by bit – perfect information-flow control by the author.
September 2016
*
Book review of Timeslip by NM Kirby
(Historical Fantasy)
THIS IS QUITE A GENTLE STORY, although the main characters, Jude and Susie, certainly come up against the rough edges and seamy underbelly of Victorian life! Jude and Susie are history students at a college, and are whisked back in time to the Victorian era during their break-time. Over a period of two or three weeks they have various adventures whilst managing to soak up the atmosphere of the time, having arrived with no valid currency, just a silver charm bracelet. Susie pawns the charms, not realising that they are very different from the jewellery of the era, so that people soon start to think they are forgers or counterfeiters – especially as Jude is observed by a suspicious servant to have a modern pound coin on him. The story makes a virtue out of anachronism – as their behaviour is also very different, and they are a bit naïve with regard to Victorian etiquette. Even their speech gives them away, and eventually they are chased by upper class Londoners and the police alike.
Jude and Susie are history students…
whisked back to the Victorian era at break-time
The story is quite episodic; each event happens separately over the period that they are in Victorian times. They happen to be there when The Great Exhibition is on in London, so of course they have to go to that, and they meet quite a lot of people who later became famous, including the French chef, Alexis Soyer, a Victorian equivalent of Jamie Oliver, and Millais, the painter, to name but two. The wealth of detail in the descriptions is fantastic. A great deal of research has obviously gone into this story.
The interesting thing is that in their own social setting, they are reasonably well-equipped (bearing in mind they're students) to function; but in the Victorian setting, they just aren't. This isn't just to do with their youth. It's the fact that they are fish out of water, despite having studied the period.
They meet the French chef Alexis Soyer
and Millais, the painter
The story is a circular story, where the end comes at the point where it started, though it actually continues slightly to accommodate the witty ending. The style is very easy to read, so I finished it in about 4 hours – a quick read for me as I'm dyslexic and can't skim or scan – I have to read every word. But I enjoyed reading about Jude and Susie's adventures very much, and became quite invested in them as characters.
August 2016
*
Review of Aftermath by Joe Reyes
(Dystopian SF)
IN THIS NEAR-FUTURE DYSTOPIA, bombs have fallen, the countryside appears undamaged but civilisation is broken, and society has been completely dislocated. It reminded me somewhat of Golding's Lord of the Flies: certainly some factions in this post-apocalyptic America have abandoned morality and adopted a kill-or-be-killed attitude. The major utilities have failed. People have no means of washing, and very little to eat, yet in the towns survivors try to keep a near-normal lifestyle going.
Some factions in this post-apocalyptic America
have abandoned morality and adopted a kill-or-be-killed attitude
There are five main factions: ordinary people living in the towns, and trying to eke out a living; the Savages, a group of motorbike-riders reminiscent of Hell's Angels, who practice cannibalism to assuage their hunger for meat; Cortez' men, based in Liberty, which still has running water; the Foresters, whose main fighting style is archery; and the US Army. A gaggle of characters, including Ian and Carmen from the town, Penny and Sara, who escape from the Savages (who captured them several years ago); Ron, a teenaged boy who's managed to survive on his own for five years; and Justin and Amy, also townies, end up being captured first by one band, then escape and get captured by another. At first none of the characters are particularly sympathetic. But as I read on, I began to care about them. I thought they would all meet up at the end, but that didn't happen, though some switched companions. Instead it ends abruptly, suggesting this is the first in a series. And new characters were introduced as the story proceeded, including Alice, who works for the US Army as a spy. Badly burned when her husband was killed, she's sought revenge for years. A potent brew.
The structure of this book is interesting: there are no actual chapters but each scene is from a different viewpoint. However, Reyes occasionally, as the story progresses, switches viewpoint within the scene, and for me this is an authorial intrusion which disturbs the flow of the story. It would work better if he were stricter with himself about this. The main narrative is in the present tense which is great for immediacy in a short story, but in a novel can be quite annoying and can feel turgid and lack pace. But after a while I understood why Reyes had done this: the various characters' backstories (from five years ago when the bombs fell) are in the past tense – quite a clever ploy. These glimpses of the past become more frequent as the story nears its climax.
Overall: a good yarn. I enjoyed it, though I think there should have been a little more attention to proof-reading, writing technique and continuity. But these were not enough to spoil my reading pleasure. The style is clear, clean and uncluttered, making it very easy to read. I liked the multiple shifting viewpoint delivery, and the story-telling was in general effective. The author avoids infodumping by spraying information out in tiny pieces – a good technique.
And if there is a moral to this tale, it's that tit for tat is not the way to defuse a war.
I like the fact that every chapter is from a different viewpoint, though occasionally, as the story progresses, the author switches viewpoint (authorial glitch – not strict enough with himself!) but always remains in the same situation, with the same main viewpoint character. I'm not sure, but I think he's done away with chapters in favour of scenes. Some new characters were introduced as the story proceeded. Eventually people start to meet up – If they aren't eliminated by one faction or another.
Something has happened which has completely dislocated society. At first you don't know what that is. The major utilities have failed, and people have no means of washing. The first person we meet is Ian, and to be honest, he's no more sympathetic than any of the other characters. It's totally written in the first person, and mostly in the present tense, which is great for immediacy in a short story, but in a novel can become a little annoying after a while. I assume there's some point to that. OK it was a nuclear war that put everyone in this situation. The author sprays the information out in tiny pieces – good technique.
OK, that's clever. The main narrative is in the present tense (though it often feels turgid and lacks pace) and the backstories of the various characters are in the past tense. The style is clear, clean and simple, most of the time, which makes it very easy to read.
I expected all the various protagonists to meet up at the end, but although some switch companions, they don't all meet up. The book instead ends very abruptly, which makes me think that the author will probably continue this at some point.
The main narrative is in the present tense, with
the backstories of the various characters in the past tense
Overall: a good yarn. I enjoyed it, though I think there should have been a little more attention to proof-reading, writing technique and continuity. But these observations were not enough to spoil my reading pleasure. I like the way the multiple shifting viewpoints are delivered and the story-telling was in general effective. It was just the ending that I felt could have been better-executed. It was as if the author hadn't really worked out what he wanted to happen at the end and decided to just leave it hanging. But having established the dire situation of the characters and made the reader care about them, he just abandons them.
If there is a moral to this tale, it's that tit for tat is not the way to defuse a war. There could be many parallels in our modern society, not least the situation many Arab nations now find themselves in, particularly in Syria or Iraq.
August 2016
*
Review of Crossways by Jacey Bedford
(Space opera/fantasy)
CROSSWAYS IS A MASSIVE space station. In Bedford's universe, spaceships enter foldspace via a jump gate to cross interstellar space. Psi-Tech navigators have brain implants which enable them to communicate telepathically with each other and help them to do their job of navigating folded spatial dimensions. And in foldspace, strange beings appear, slithering away into nothingness when Psi-Tech navigators perceive them, to the point that hero Ben Benjamin questions whether or not they are real. It took me a while to realise that jumps are in slo-mo, written in the present tense, to signify the difference between existence in realspace, and the strange experience of foldspace, where time runs at a different rate from the real world.
In foldspace, strange beings appear, slithering away
into nothingness when Psi-Tech navigators perceive them
Jumps are catalysed by platinum, which is energetically, and often lethally, sought by the major corporations that run space exploration and planetary colonisation. Crossways is run by criminal gangs, with which Ben makes a deal. In exchange for sanctuary from the corporations, he gives up the mining rights he's claimed for Olyanda, a planet incredibly rich in platinum. Ranged against Ben and his friends, including lover Cara Carlinni, are two rival corporations, Alphacorp and the Trust, which isolate the space station by spreading false rumours, effectively putting them under siege and forcing them to trade only with independent colonies. And just for good measure, the settlers from Olyanda have to be rehomed, while a missing shipful of colonists left over from the prequel, Empire of Dust, have yet to even be found. Throughout the story, this is one of Ben's aims. Add in threats to some of Ben's family members from the corporations and you have yet another dimension to the story.
The enmity between master manipulator Crowder and the Ben/Cara partnership runs through the novel like a thread, following on from plotlines established in the prequel. Another thread, and the one I found the most intriguing overall, concerns the beings which populate foldspace.
Particularly at the start, the novel is very pacey – I felt breathless reading it…


the headlong rush only slowed at about chapter 5
This densely-plotted novel abounds with various factions, set on a broad stage with a huge cast. It's also a novel which is sometimes told, rather than shown; however, in view of its size, I understand why. I do think I was at a disadvantage by not having read the first story in the series, although I soon picked up the background as I read on.
Particularly at the start the novel is very pacey – more because things simply keep happening, one after the other, than through the use of classical pacing techniques. I felt breathless reading it, and the headlong rush only slowed at about chapter 5. Although the section of the book from chapter 5 onwards settles down to introduce threats and new ideas at a steadier pace, the story really hots up during the last five chapters again, and this is the part of the book I enjoyed most. It draws together and resolves all the earlier plotlines in a satisfying way, leaving just enough threads dangling to offer a tantalising glimpse of a further sequel.
February 2016
*
Review of Pelquin's Comet by Ian Whates
(Space opera)
I ENJOYED THIS A LOT. It's been a while since I actually read any science fiction, as during the nineties and noughties I completely went off reading SF due to the fact that it all seemed to be related to computers and near-future settings. That didn't interest me at all – it wasn't what I signed up for!
But with this book I re-entered the genre. Sure, it has a character who has some kinky machine-based implants, but we don't really know what they are or what they can help her do, at least at the start of the book, and as this is a series I'm guessing we'll find out more and more throughout. Leesa's actually an interesting and sympathetic character, because it soon becomes evident that she's forgotten a large part of her life and how she ended up where she comes into contact with the rest of the protagonists. The other main characters are all guys, but women are by no means ignored, as the original pilot of the Comet is also female.
Pelquin himself, the captain of the Comet, is a
colourful character with a background to match
Pelquin himself, the captain of the Comet, is a colourful character with a background to match. Together with his one-time partner, Nate Almont, he intends to set out to find an Elder Cache (containing high-tech gadgetry) which Nate has told him about, and sets off to butter up the representative of First Solar Bank in order to get a loan to cover the equipment they'll need to get in and out of the well-protected cache. But he's reckoned without that representative's canny ways; she insists Pelquin take along Drake, a mysterious agent of the bank, in order to oversee progress and protect the bank's investment.
Drake isn't quite what he seems. In the very first chapter he's introduced as a man of action, as he gets a previous bank customer's promise to pay following reneging on a business agreement. But he doesn't work alone; his telepathic partner is Mudball, whom everyone takes to be a Genpet (though the term's never explained, I interpreted this as an artificial pet). We quickly learn that Mudball is very much an active member of the partnership. But so is Drake…
Drake isn't quite what he seems…he doesn't work alone;
his telepathic partner is Mudball
A rival bank agent and a major corporation add conflict, of which there's also plenty between Pelquin and Almont within the crew. Almont was previously a member of the crew but left due to a disagreement with Pelquin. When his new crewmates are wiped out one by one by the cache protections, he seeks reconciliation with Pelquin. And Leesa joins the crew to replace Monkey (the ship's mechanic), injured in a contretemps with the corporation, which results in a hasty take-off as the Comet and its crew make a run for a planet where spares and supplies can be picked up. At first glance this seemed like a chance encounter, but I quickly realised that the corporation was behind it in order to get the cache before the crew of the Comet do.
Pelquin's Comet is a brew of conflicting factions, and just the thing to keep you reading. I'm intrigued enough to want to follow this up when the next one comes out.
November 2015
*
Review of Jinx Town by Sam Stone
(Dark fantasy)
I PICKED THIS BOOK UP at Eastercon. I went into the Telos Publishing room out of curiosity, and bought it because it looked intriguing.
Jas has just left teacher training and is very much trying to prove herself at her new school. She takes a class of kids, who are a bit of a handful, on a theatre trip, during which a mysterious vortex opens up close to the theatre. A troop of huge warriors in ornate antique armour of baroque appearance piles out, kills all the men in the area, and kidnaps all the women there – except Jas. She isn't sure why she and one of the boys weren't spotted, but the ruined theatre becomes their base for several months.
A troop of huge warriors in ornate antique armour of baroque appearance
…kills all the men…and kidnaps all the women there
Meantime, Captain Arch Taylor and his troop have been sent to England to counter the attacks. More raids occur at various times, and it becomes clear that the Jinx (as the humans name them) have some weapon which incapacitates the high-tech gadgetry of the humans. There is no way the humans can fight the Jinx or win.
Jas and Andrew meet Arch and his men, and later, the need for food drives them to a Manchester shopping mall to join another group of survivors. They must function and mesh as a group, but the interplay between the characters on the surface reflects their desperate circumstances, highlighting the undercurrents and tensions between them. Jas discovers some hidden talents, the existence of which she'd hardly suspected, but which prove helpful as well as surprising.
More raids occur at various times, and it becomes clear that
the Jinx…have some weapon which incapacitates high-tech gadgetry
This is definitely a book of two halves, the first as brutal and savage as you'd expect a dystopian future novel to be – particularly one where two different worlds suddenly collide – and the second quite different. Yet from the start Jas displays hints of the strong character she becomes from necessity. I enjoyed the multiple shifting viewpoints and the insights into the characters' thoughts and motivations. There's some strong writing in it, though at the juncture of the two halves of the book I got confused by the abrupt transition. But I really enjoyed it and am looking forwards to following more of Jas's adventures.
November 2015
Out Now

UPCOMING EVENTS

WORKSHOPS

Latest Blog

Starmap Quadrants