Upcoming Events
It's been a while…
While there are no physical upcoming events, partly due to me having to self-isolate and partly because the libraries and other venues have had to close temporarily, and because I have been unable to update this site while it underwent maintenance, do watch this space for information about Skype workshops. I hope to offer them very soon, so please keep a look-out on here and Facebook and LinkedIn.
April 2nd, 2020.
*
And the next Peterborough workshop is on January 7th, starting at 11.00 am.
Please note the change in timings which should be better for everyone concerned.
We begin at 11.00 am and finish at 1.30

– a half an hour later start and finish, but with no loss of quality in the training! There will still be the traditional

PowerPoint presentation with handouts

,

writing assignment

s and the same

friendly and encouraging learning environment

you've come to expect from me. And while you can book and pay in advance through this website, if you prefer you can still pay on the day – just let me know you're coming so I can bring enough copies of the handouts. The number's on the poster above.
See you there at
Samm's

!
Next Fiction Fix is on January 5th, 2020.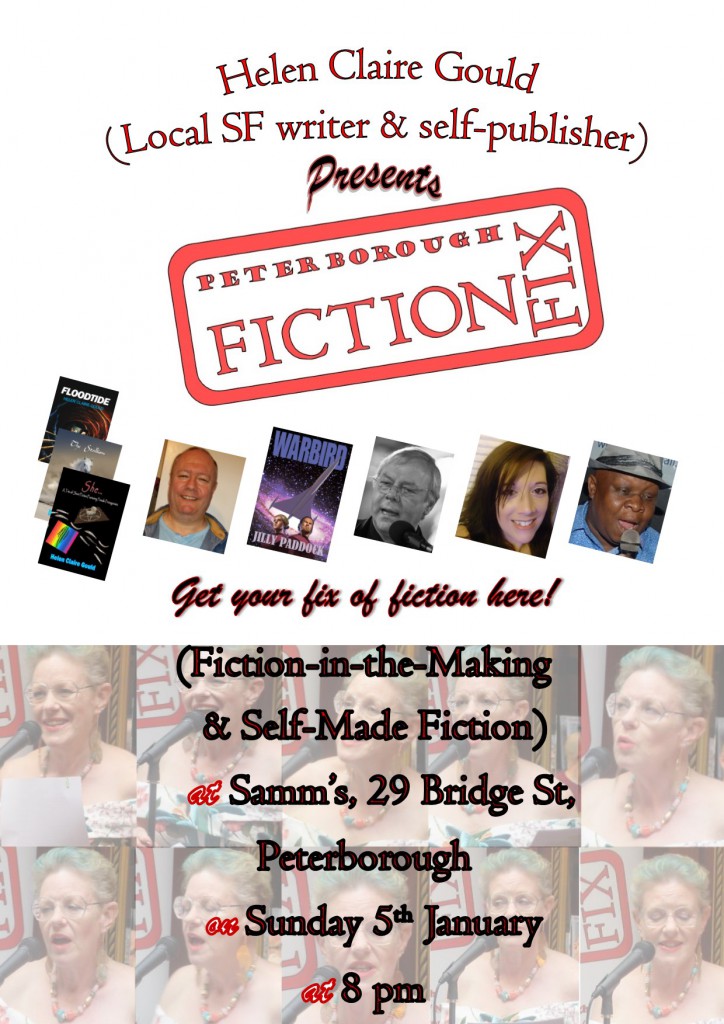 The details will be updated in the next couple of days, but in the meantime,
I still have one reading slot

, so if you'd like it, please either

message me on Facebook

or e-mail me at

helen.gould7@ntlworld.com,

preferably by

Wednesday

when the schedules go out to readers

. We are still at

Samm's

as the

renovations at the Draper's Arms are ongoing

, and we hope to see all of you lovely listeners next Sunday!
Next Spalding Open Mic Night (5)

– including

Stars in their Eyes

session after the break!
This is going to be a rather special night. There will be the usual performances from various musicians, poets and fiction writers (including yours truly); Louise, whose brainchild the open mic night was, will be performing her
children's fiction poems

with a host of helpers, and the second half will be a session of

Stars in their Eyes

. Fancy dress is optional and there will be a charity raffle. So come and join us for a Christmas celebration with a difference – it'll definitely be a fun night! And if you'd like to perform in the first half or take part in the Stars in their Eyes part of the night, call the number at the bottom of the poster – but don't hang around or the slots will have gone to other performers!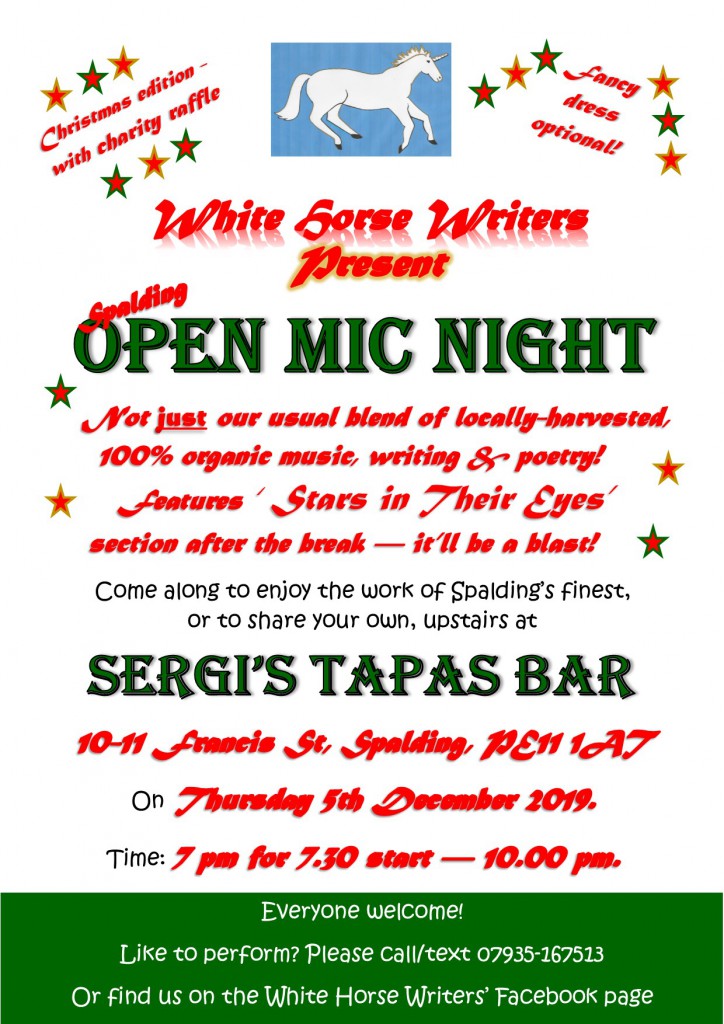 Also a really good night, with 3 intrepid performers, including the fabulous
Colin Barkworth

, who probably did the longest ever impression of George Formby singing When I'm Cleaning Windows, and our very own

Ross McGivern

, stepping out of their respective comfort zones to perform for our collective delectation, plus the wonderfully mellow

Jane Tarrant

. We had quite a lot of donations for the raffle, which turned out to be a hilarious event in itself, and raised

£23

for local Spalding charity

Safe Places

, so a good effort everyone!
Poetry reading
I will be the cherry on top of the cake on
Thursday November 28th

(coincidentally also my birthday) when I bring my own brand of poetry to the

Peterborough Rape Crisis Care Group gig

at

Samm's

at the invitation of the organisers. It's a bit of an experiment, but I think it will be a good one, and I'd actually been looking into doing something similar at music festivals myself when the accident mucked things up a bit! So please do come and join us for this event in aid of a very good cause, and there will be a

charity raffle

to raise money for the group. I will be appearing along with

Diabla

,

Rebecca Warn

, and (organising and topping the bill, so please do stay till the end)

the Fyzz Wallis Band

: Fyzz, Zoe and Chris. The gig starts at

7.30 pm

and takes place at

Samm's, 29, Bridge St., Peterborough

– next door to the Town Hall. Here's the poster: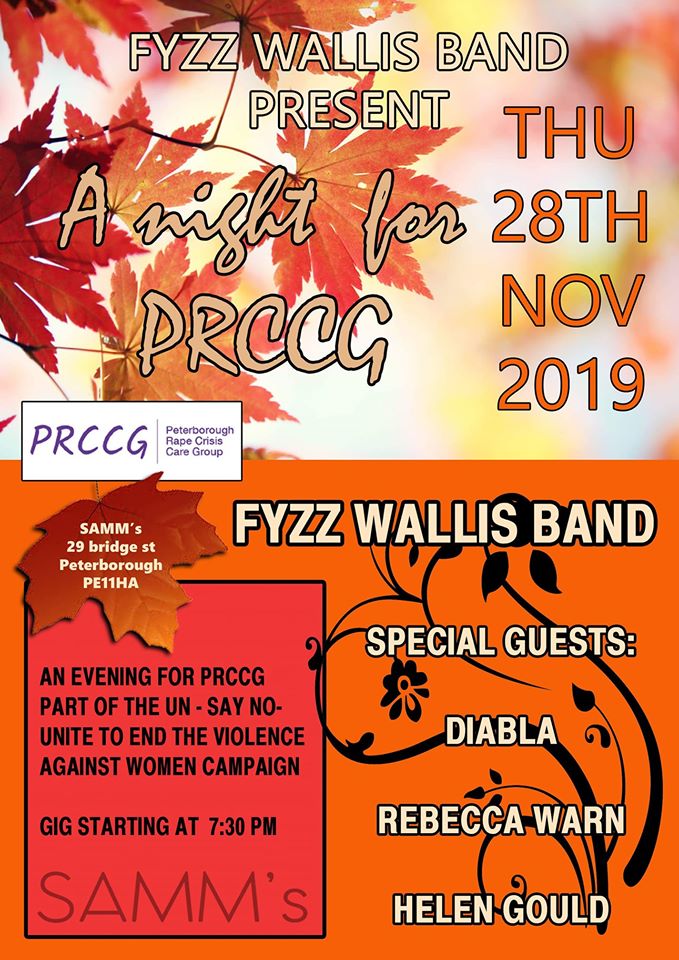 This was a very good night, with a fab blend of music and poetry on offer. I'd like to thank
the Fyzz Wallis Band

for inviting me to be part of it, and give them and the other artists,

Diabla

and 

Rebecca Warn

, a mention, as it provided a harmonious mix. My poetry went down very well (a ripple of laughter or two ran round the room as I read Pound o' Peas at the end) and I was very happy with the results of the night. The raffle and collection raised over

£105

for a very good cause, the

Peterborough Rape Crisis Centre

; unfortunately also a very necessary cause.
Next Boston Workshop
The next workshop at
Boston Library

will be on

Wednesday 27th November

, from

2 pm to about 4.30 pm

. It continues the self-publishing series and will focus on the administrative side of uploading your work to Kindle. The workshop is

£10

to attend, and includes a PowerPoint presentation, handouts (no need to take notes if you don't wish to) and self-publishing assignments. Refreshments, provided by the venue, are available

(tea, coffee and biscuits)

at

20p/cup

. You can book for it and pay through this website here. Use the drop-down menu to select the workshop you want to book for – the dates are shown. You can also book directly with the library – details are shown on the poster below.
For more information please phone 01733-232127 or e-mail
helen.gould7@ntlworld.com

. Here's the poster: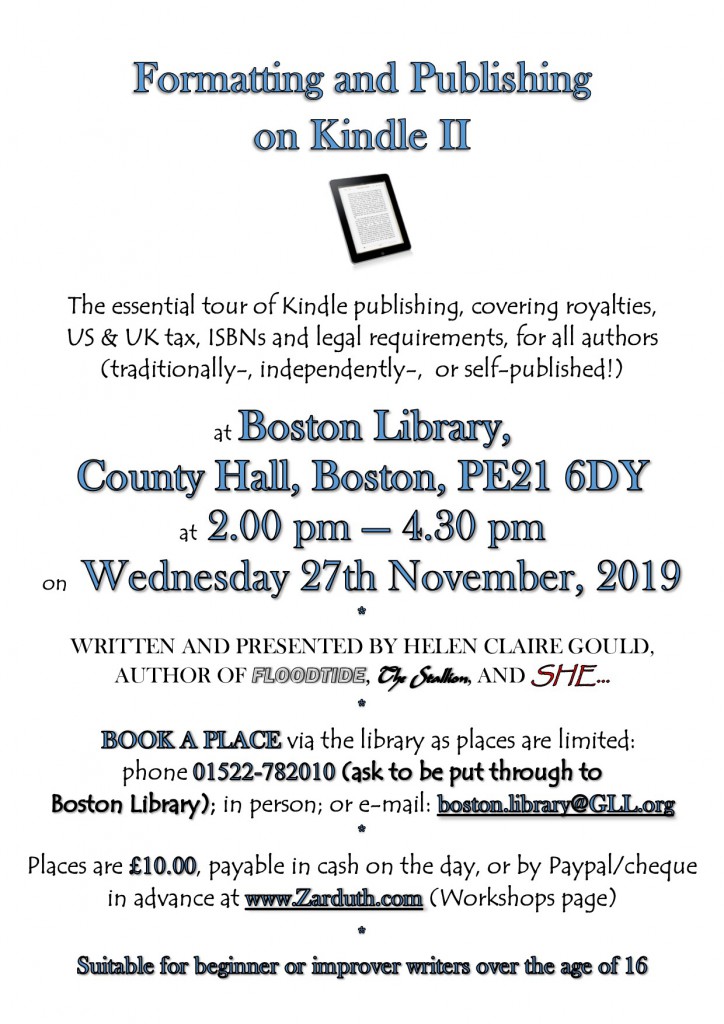 Next Fiction Fix
The next
Fiction Fix

is on

Sunday 1st December

at

Samm's, 29 Bridge St., Peterborough

. It

starts at 8 pm

and

finishes at around 10.30 pm

, when the pub closes. It's a

free night out

, folks, and features local writers in any genre reading their work

live

for your delectation! Readers this month are

Colin Brett

,

Candy Nettles

,

Ron Graves

,

Leanne Rogers

and new reader

Debbie Daley

– and there will be a special Christmas celebration game on the night. Yours truly is hosting and will kick off and close the proceedings, so come on down and join us for a fun evening!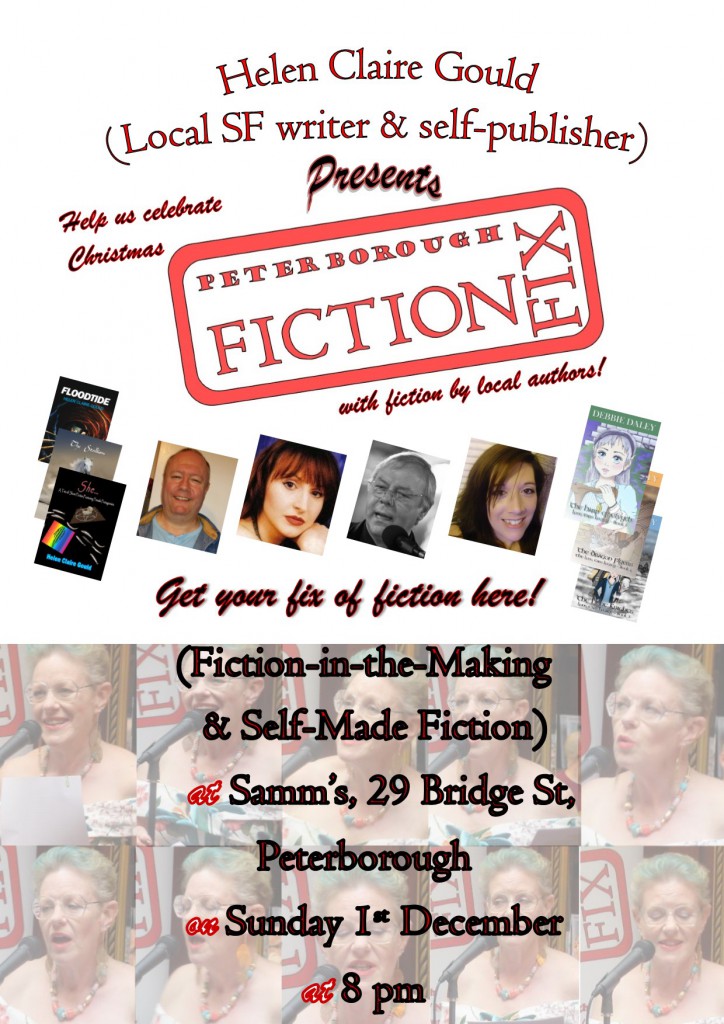 Next workshop at Samm's, Peterborough.
And finally, the other
writers' workshop

before Christmas is Story-Telling for Writers II, on

Tuesday December 10th

, at

Samm's, 29 Bridge St., Peterborough

. We

start at 10.30 am

and

finish at about 1 pm

, and will be looking at more transitions between scenes and chapters, how to avoid repetition, ways to start a new scene, how to use characters' plans to shape the story and more ways of controlling the flow of information to the reader. This is not to be missed – it's essential information for budding and "improver" authors! The workshop is 

£10

 to attend, and includes a PowerPoint presentation, handouts (no need to take notes if you don't wish to) and writing assignments. Refreshments, provided by the venue, are available 

(tea, coffee and biscuits)

 at 

£2

. You can book for it and pay through this website here. Use the drop-down menu to select the workshop you want to book for – the dates are shown.
For more information please phone 01733-232127 or e-mail 
helen.gould7@ntlworld.com

. Here's the poster: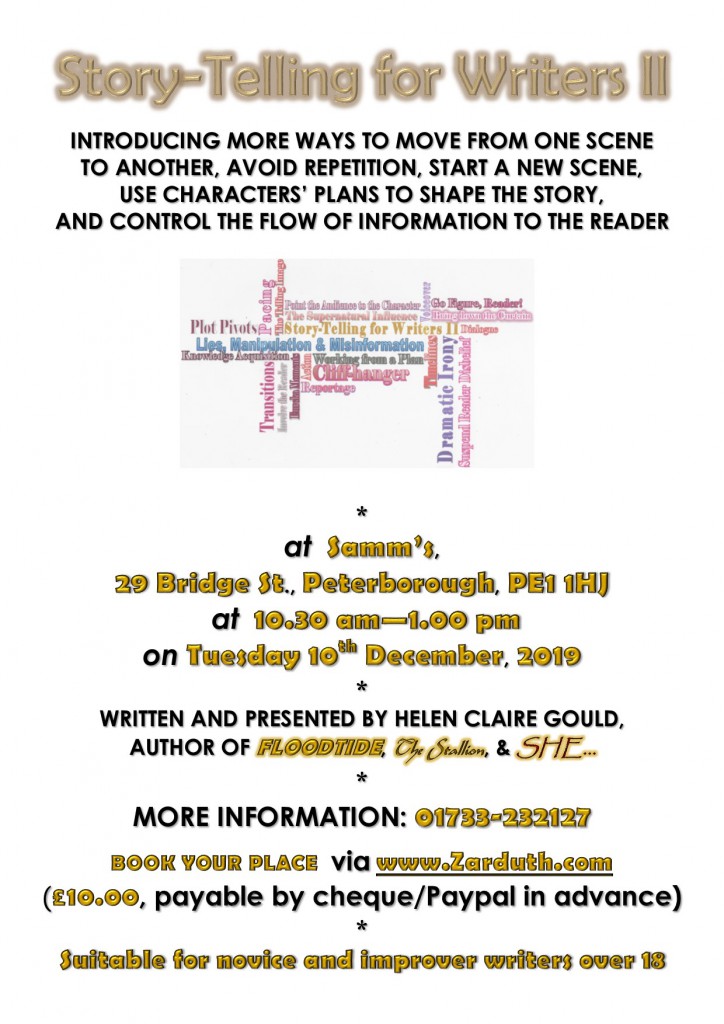 Spalding Open Mic Night 4 – Thursday 10th October.
Here's something else I'm involved in. The White Horse Writers are a Spalding-based group started last year by one of my learners at the library workshops – and this is what she's been up to this year! There have so far been 3 very successful open mic nights at Sergi's Tapas Bar, two of them upstairs on the first floor, and the most recent one in the garden area at the back of the restaurant on the ground floor. To view a short video of part of the last night, go to the White
 Horse Writers' page on Facebook. There you can join the group and book a slot if you're a poet or fiction writer or a musician/band. To ensure a blend of these three genres the slots are booked in advance – details at the foot of the poster. If you want to perform and aren't sure if you fit into the above categories, ring for advice – last time we included a mind reader and a sword swallower in the performers, and it was a fab, fun night!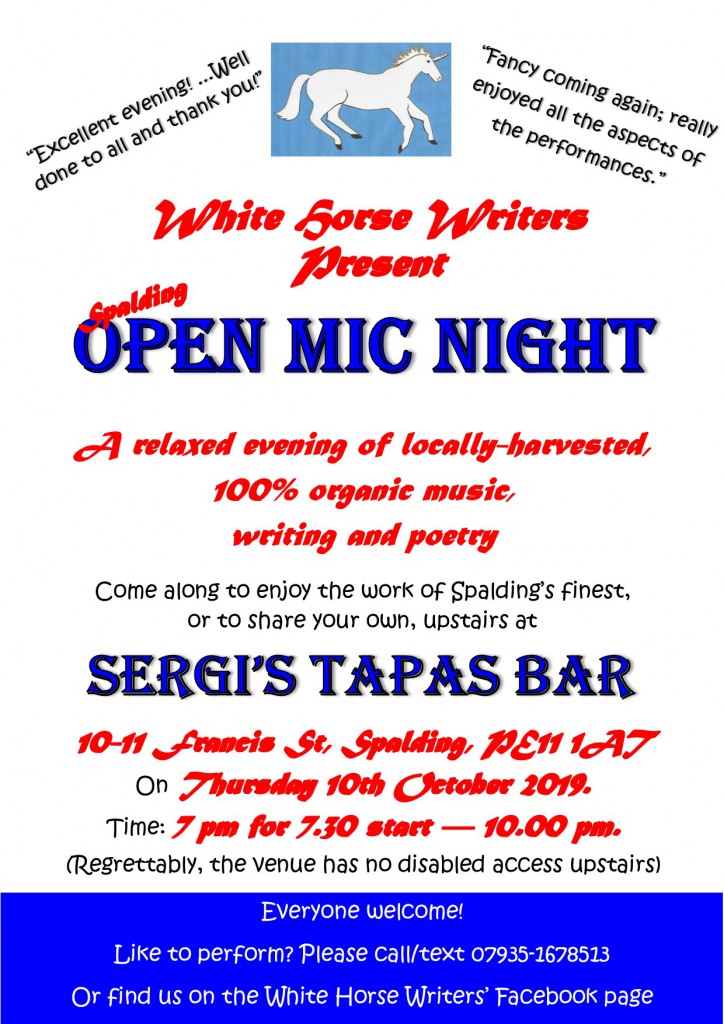 While over at Wisbech in Fenland

the previous week we have Wisbech Words at Wisbech Castle…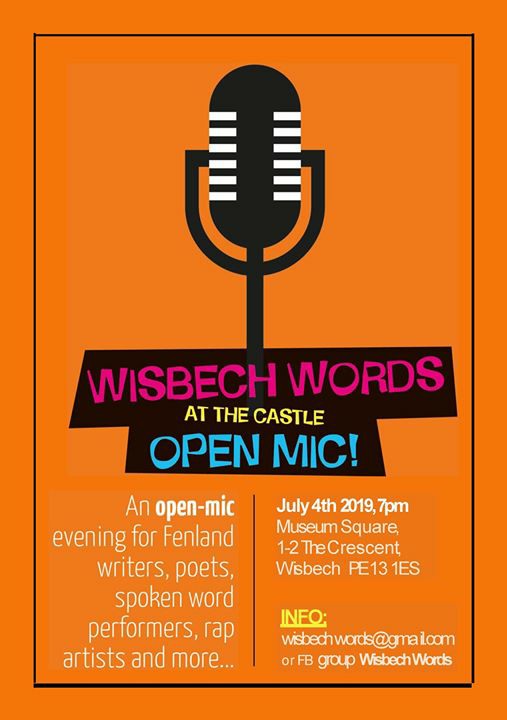 Next Spalding Library Workshop
T

he next 

writers' workshop

 to be held at 

Spalding Library

 will be 

Story-Telling for Writers II

, on 

Saturday 14th April

, starting at the usual time of 

10.00 am

. Here's the poster for it.
Fiction Fix celebrates International Women's Day
You've probably seen that, due to the weather and my illness, we've had to move
Fiction Fi

x to

Sunday the 18th March

. We're still celebrating

International Women's Day

with readings about

female protagonists

. So please do come and join us at our usual venue,

The Draper's Arms

, and join in and enjoy the evening. Here's the updated poster with all the details on.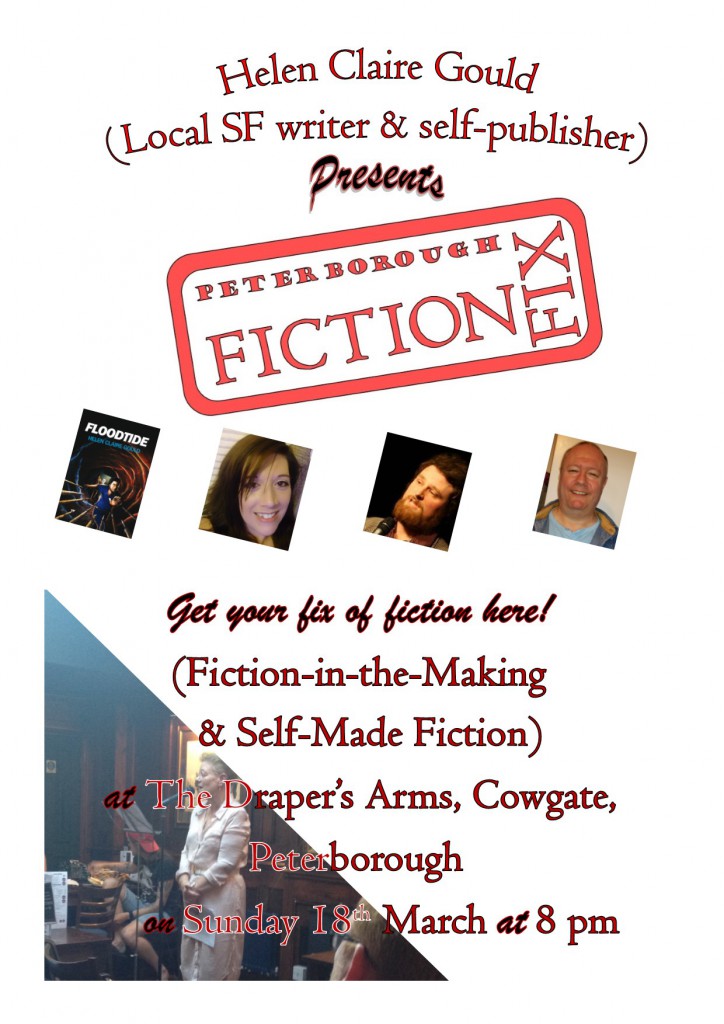 Up-Coming Event: The Stallion Book Launch
'IT WAS ON THE OUTSKIRTS OF THE SOUK that I first glimpsed it: pure white, a stallion, flared nostrils exhaling steam. Elemental, a figure out of the foundry of hell itself.
'It trotted past the great trunks of the Caliban trees, weaving a pattern between them that paralleled their movements. Its eyes glinted red and wild in the sunlight, meeting mine with a knowing gleam and innate insolence. My pulse flared and the blood trembled in my veins, yet I couldn't look away. Despite my fear the horse's beauty caught at my heart.
'The grey disappeared around the edge of the forest where the Calibans grew more thickly, and for several moments I stood staring after it.
*
'I remember that morning well…'
My new book The Stallion probably isn't even long enough to qualify as a novella – more of a long short story – but it's being launched next Wednesday (21st March) at local bar, Puzzles? which is on Bridge St, Peterborough, nearly opposite Waterstones. The event starts at 8 pm – 10 pm, and includes readings and activities with the accent on fun, so if you're reading this, do come along and join in, and in case you live too far away, we hope to live-stream the launch to Facebook. If we have the opportunity to film it, it will go up on YouTube and Vimeo.
This is the story I got up in the middle of the night to write, after an extraordinarily vivid dream. About an hour and a half later, Mike woke up and realised I wasn't in our room, and eventually found me typing away like mad in the Study. I'd written about half of an initial draft, and immortalised the source dream in the process. It's an ecological fantasy (I could have invented a genre there), an Arabian-Nights-styled SF/fantasy with the main character a young colonist of a frontier planet in the universe I write in. Not forgetting his beautiful white horse.
We hope to live-stream the event to Facebook, and perhaps post it on YouTube, so if you can't make it there in person, you should be able to see what's going on, either on Facebook or on YouTube. If you're reading this, I hope to catch up with you there.
Update on January Fiction Fix:
What a great night at the Draper's Arms last night! Many thanks to all the people who turned up and either read or listened. I managed to speak to most people and know that they enjoyed themselves, but for anyone I didn't get to speak to in the break or afterwards, I look forward to catching up with you next time.
Readers were Jilly Paddock, Mark Fryday, Morgan Fitzsimon and myself. We usually start with work that is already self-published or independently published, but last night, as there were quite a few pieces which fell into the not-yet-published section, we reversed the order and started with the Fiction-in-the-Making section. Jilly read from her next novel, Warbird, Mark gave us a sneak peek into his forthcoming novel The Innocence Machines, after which I interviewed him about the differences between his current and next work, and I read from my next novel, The Zarduth Imperative – Discovery. After the break Jilly continued the section with her latest fantasy story, Ladder to the Moon. We continued the readings with the Self-Made Fiction section, with Morgan reading from The Last Enchanter and a reading from Floodtide by yours truly. But the evening didn't really end there, because there was quite a bit of discussion going on for a while after that. I enjoyed the night very much and the others seemed to as well.
The next Fiction Fix will be at the Draper's Arms, Cowgate, Peterborough, (post code) on Sunday 5th February. We look forwards to seeing you there!
It looks as if the first month of the New Year is going to be just as busy as most of 2016 was.
For a start, there's another Fiction Fix on Sunday 8th January. If you're a writer and want to read your work aloud, or if you just fancy coming along to listen, keep in touch via The Finger on the Pulse, my private Facebook group for this regular monthly event at The Draper's Arms on Cowgate in Peterborough. PM me on Facebook to join it. the meetings are usually on the first Sunday in the month, but as this happens to be New Year's Day that seemed a bit impractical as the pubis unlikely to be open.
 The pub is a few minutes' walk from the bus and train stations and the nearest car park is the Trinity St. Car Park, round the back of Peterborough Museum. Parking is £1.50 all night (literally – till 6 am!) Here's the Google map link: https://www.google.co.uk/maps/place/Peterborough+Cathedral/@52.5717814,-0.2461277,18z/data=!4m5!3m4!1s0x0:0xcd53906a57999a5!8m2!3d52.5724834!4d-0.2392101
Secondly, the following weekend I'll be running the next of the series of writers' workshops at Spalding Library. This is Story-Telling for Writers II. Last time we looked at the structural devices that can be used in telling your story. This time we'll be looking at the story-telling devices you can use to control the flow of information to the reader and ensure you don't repeat yourself. Contact the library to book, there may still be a few places left. 
This Weekend's Public Engagements 
(Don't worry, you can still buy the paperback (contains all the countdown stories plus the wider anthology to which I contributed) or download any of the 12 countdown stories individually, or buy the 12Days Kindle version, which doesn't include the countdown stories. Check Amazon out for the latest prices. Here's the link: https://www.amazon.co.uk/s/ref=nb_sb_ss_c_2_6?url=search-alias%3Dstripbooks&field-keywords=12days&sprefix=12Days%2Caps%2C137&crid=3U93DHFSIWMGO) 
I have a busy weekend ahead with the online launch party (on Facebook) this evening for the 12Days anthology, in which I have a story called Avenging Angel. this is a private launch party for the contributors, but should be both educational (never done an online launch party before!) and fun. This mainly horror anthology is in aid of the Cystic Fibrosis Trust, and has been the brainchild of Matty-Bob Cash. I'm proud to be part of it, especially as it's raising money to help others less fortunate than myself. Here's the cover:
I also have an appearance tomorrow morning at Huntingdon Library with the Telling It group. This is part of Huntingdon Library's Author Festival, and is the first time I've read with them, but I'm looking forwards to it. I will be reading a new childrens' story I've written. I don't normally do childrens' fiction, but I thought I'd have a go as the library wanted something Christmassy/wintry and the Naxadans don't celebrate Christmas! This is the poster for the latest Telling It public meeting.
And on Sunday there's another meeting of the Peterborough Fiction Fix. The poster is below. There will probably be some open-mic slots available during the evening.
Next workshop at Spalding Library will be on Saturday 10th November:
(Part 2 of the Story-Telling for Writers will take place in January.)
Next workshop at The Deepings Library will be on Monday 28th November:
This workshop has up to 15 places available and will be FREE again as it's my free taster workshop, Getting Started. You will still need to book a place, so contact the library for this, details of opening times if you're phoning them above in the poster, and the e-mail address for use at any time is also shown. Please don't expect an immediate reply if you're e-mailing, as the library's opening hours are a bit limited – but at least they are still there, and the library itself is thriving!
Next writers' workshop at Spalding Library
The next workshop for writers at Spalding Library is on Saturday 5th November, at the usual time of 10 am, and it's already almost full! There are 12 places and it's £5 to attend, payable in advance at the library. I hope to see you there!
Next Peterborough Fiction Fix meeting
will be at 8pm at The Draper's Arms, on Sunday November 6th. Further details to follow. We hope to see you there!
Getting Started workshop at Spalding Library
This workshop ran on Saturday 8th October, and was probably the most successful workshop I've ever run. I've since heard from several people that it was a lot of fun, as well as teaching them ways of getting their work started off.
This event is next Saturday but all the places are now filled. However, I am running it again at The Deepings Library soon – we know it'll be in November, and that it will also be a free event, but we just haven't yet worked out when it will be. Watch this space!
Never Mind "Four Weddings and a Funeral", there are Two New Workshops and an Author Event! 
That's not to mention another Peterborough Fiction Fix. The first workshop is at The Deepings Library, and celebrates the takeover of the library by GLL – and, of course, its continuance as a proper library. The Friends of Deepings Library fought legal battle after legal battle to stay open and serving the public in the Deepings, and as soon as I heard that Lincs. County Council wanted to close them, I contacted them and offered to run a free workshop – I thought it might help bring local people onboard for the fight. My reason for doing so was that I feel quite a connection to the library, not just because I'm now an author, but because between 2000 and 2005 I taught Geology and Creative Writing at The Deepings School, and I used to drop in to the library with leaflets and posters, and they always displayed them for me. I went to a couple of their events to raise local awareness and enthusiasm, and encountered at one of them a gentleman who used to be in my Geology class – which was great! However, FODL decided that they'd prefer it if I ran that workshop for them after the takeover…so that time is – well, if not now, then very soon!
So if you're reading this and would like to come to the workshop on Thursday evening the 29th September, we'd love to see you there. It starts at 6.45 pm, and finishes at 9 pm. Just remember to book a place, as they're limited, by calling 01775-346528 during opening hours (or leave a message and they'll get back to you) or e-mailing deepingscommunitylibrary@gmail.com. Opening hours at The Deepings Library are:
Monday             13.30-16.00
Wednesday       10.00 – 15.00
Friday                13.00 – 17.30
Saturday           10.00 – 13.00.
And because I'm doing that for them, they're putting on an author event for me, which is why there are 2 posters below! I will be reading from my current novel Floodtide and from my next novel, The Zarduth Imperative, and will have my usual display of rocks and minerals that the hero of Floodtide, Jordas, would see in the lava tubes of Naxada. Copies of Floodtide will be available to buy and have signed as well.
This workshop was pretty successful, and drew together a lot of very different people who are involved in writing plays, novels and short stories. Here are some photos:

Poster for Author Event at Deepings Library for Helen Claire Gould on Saturday 1st October
But that's not all that's happening! It's an exciting time, because there's the next meeting of Peterborough Fiction Fix on Sunday 2nd October, with a mixed genre line-up, and I'm also running a new workshop, "Getting Started" at Spalding Library, a week later (Saturday 8th October). Spalding Library is open every day, so you can phone to book a place on the workshop between 9 am and 5 pm Monday – Wednesday and Friday, and between 9 am and 6 pm on Thursday, and 9 am and 1 pm on Saturday. (There are 12 places on the Getting Started workshop, which is particularly aimed at budding writers.)
Here are the posters: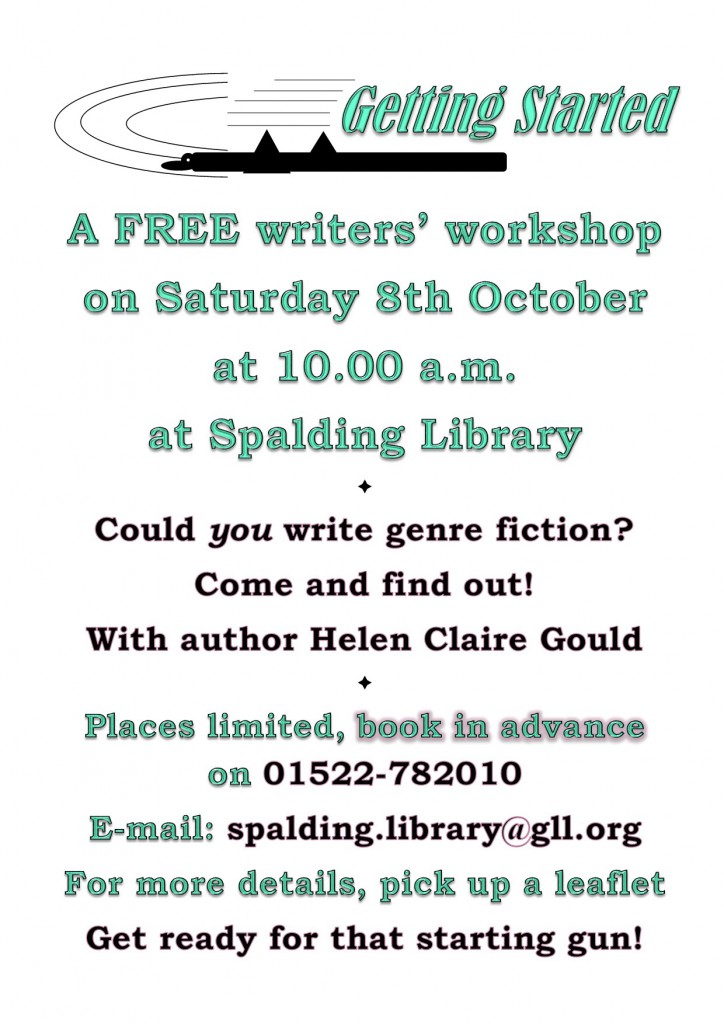 Poster for "Getting Started" FREE workshop at Spalding Library, Saturday 8th October
So get your diary out, make an entry, book a place on the workshops, and we'll see you there!
Live Readings of Fiction – Self-Made Fiction & Fiction in the Making
Starting next month there will be a series of meetings in pubs, bars or cafes, where fiction will be read aloud to an audience, by the writers. This is Fiction in the Making (i.e. it's not finished yet, but the writers want to dip their toes in the water and see how it goes down) and Self-Made Fiction (it's been self-published). So come along to the first meeting at The Draper's Arms on Cowgate, Peterborough (just round the corner from the bus station) details below – and bring your ears! The pub has food available, the usual (beer and so on), and for anyone who doesn't drink alcohol, coffee and tea and soft drinks are available through the evening.
*
Cancellation
Regrettably, I have had to cancel the two workshops below, due to unforeseen circumstances. I hope to be able to run them in the near future.
2 new Workshops
On Wednesday, 6th July, at 6.30 pm – 8.30 pm, I will be delivering a Self-Publishing workshop at City College, Brook St., Peterborough, OE1 1TU. The title is: Print vs. e-Publishing: Which Should you Choose? This is a preliminary look at the differences between getting your novel printed and having it formatted for e-publication.
 And on Thursday 14th July (the following week) I'll be delivering a Creative Writing workshop at The Goldhay Centre, 105, Paynels, Orton Goldhay, Peterborough, Cambridgeshire, PE2 5QP. This workshop is entitled "Dialogue", and covers as many aspects as possible of writing dialogue. There will be lots of writing exercises, and some de-mystifying of myths related to writing dialogue! This workshop runs from 6.45 pm – 9 pm and it's also priced at £15/person.
*
New Geology Talk at Ayscoughfee Hall Museum, Churchgate, Spalding, Lincolnshire, PE11 2RA.
To celebrate Tim Peake's return to Earth from the International Space Station, the museum has organised
Space Weekend

for the

4th and 5th June

. I will be giving a talk on Asteroids, Comets & Meteorites on

both days

, the

Saturday and the Sunday

,

at 10.30 am and 1.30 pm

, so you have 4 chances to see it. I have already put this up on my Facebook account, so you may be familiar with the poster below:
* 
Geology Workshop at Ayscoughfee Hall Museum, Churchgate, Spalding, Lincolnshire, PE11 2RA.
I'm pleased to report that this event had an appreciative, if small, audience. One gentleman told me he'd never look at rocks in the same light, having spent 20 minutes or so looking at a selection of representative rock types through a hand lens. I have to agree – I do think that even the slightest of nodding acquaintances with geology can change the way you view rocks. You start off by thinking they're all either grey, black or brown, and end up realising that in fact, due to the minerals that make them up, they are composed of many different colours and textures. It was as much of a revelation to me when I started researching rocks to get the background to Floodtide right.
And I've never looked back.
*
On Friday, 26th February, at 2 pm, I will be running a geology workshop at Ayscoughfee Hall Museum. This fine building, recently renovated, will provide a magnificent setting for the workshop, which is on Plate Tectonics and the Rock Cycle.
The workshop will start with a PowerPoint presentation on how the rock cycle interacts with plate tectonics, a summary of the evidence for both of these Earth systems, and an overview of the theories for the formation of our Moon, one of which may well have kick-started plate tectonics on Earth. This will be followed by a closer examination, using rock samples and hand lenses, of some major types of rock which form part of the rock cycle.
The workshop is free, but you'll need a ticket, which can be obtained from the Museum from next Thursday on. There are 40 places available. Pop into the museum for a ticket or book by phone on 01775 764555.
We hope to see you there!
Out Now

UPCOMING EVENTS

WORKSHOPS

Latest Blog

Starmap Quadrants