Floodtide Alert!
Christmas Floodtide e-book price promotion
Hi everyone, just to let you know that I am running a price promotion on the Floodtide e-book from now until December 24th. In the UK the price has been reduced from £4.99 to £1.99, and in the US it has been reduced from $7.99 to $2.50. Around the world the rest of the currencies are adjusted according to the dollar exchange rate. The price of the print book is currently unchanged at £9.99 GBP.
Here's the blurb:
ON ICY NAXADA, THE SHIRANU FARM IN LAVA TUBES under a dormant volcano, avoiding hunter tribe the Sargussi. But the mutually-hostile tribes' world will soon be torn apart by natural forces.
Planetary geologist and astronomer Jordas Krata, part of a team observing an incoming asteroid, becomes telepathically linked with Yado, a Sargussi man, as he cements a relationship with the lovely Shiranu female runaway Soolkah. Jordas enters this precarious balance of nature to rescue both tribes from the destruction about to rain down on them and help resettle them on a safer planet.
But as a consequence of the brothers in each family group being telepathically linked, and a shortage of females, the social structure of both tribes forces them into polyandry. How can Jordas avoid emotional involvement when he and Yado also share the physical senses – including both painful and pleasurable sensations?
The Premiere of Peterborough Fiction Fix
We (I'm talking collectively here!) held the first Peterborough Fiction Fix on Sunday 4th September, at The Draper's Arms on Cowgate in Peterborough. "We" consisted of myself (and my husband Mike came along to help), guest author Mark Fryday, local author Jilly Paddock, Ron Graves, poet extraordinaire and the founder of The Draper's Arms Sunday night Poetry Gig, and Pete "Cardinal" Cox, poet and Peterborough SF Club main man. A further contributing author was Brian Jones, but as Brian was unable to read – he had to look after his wife who was poorly, but did pop in briefly before we got going – Ron and I each read one of his short stories.
The idea is that each author will get a 20-minute slot, either in the Self-Made Fiction section (self-published fiction) or in the Fiction-in-the-Making section (unpublished fiction). Twenty minutes is about the length an author would get to read at a science fiction convention, or at an author event, so it allows unpublished and self-published authors a chance to get practice in reading aloud to an audience.
I opened the evening with an extract from my current novel Floodtide. Mark Fryday then read a short extract from his current novel, Collapse of the Wave, after which I interviewed him about his inspiration for the book, which is largely set in a pub and features a number of characters whose back-stories include the main character's father suffering from Alzheimer's disease. The interview seemed to work quite well, so I'll probably make it an occasional feature of the evenings. Mark is from St. Ives, so still fairly local to the Peterborough area; he himself runs a reading group, consisting of actors and authors, called Telling It. I am also a member of that, but because meetings are held quarterly I've yet to attend one. Next up to read was Jilly Paddock. She's a local SF/fantasy author, like myself, and has five self-published books to her name. She read from her novel With Amber Tears. Read more about her work at her blog Little Cat Feet. I believe that at one point Jilly owned more cats than we did (we had four, she had six). I have to say that she did really well, reading from her Kindle in the low light in the pub! However, they have been most welcoming to us, and didn't try to put us in a room away from the public – instead, members of the public were able to eat near us, or join us if they wished. The readings didn't seem to put anyone off sitting nearby.
After a short break, we started again, with me reading Brian Jones' short speculative fiction story Green Eyes, followed by Ron Graves reading another of Brian's short stories, The Tudor House. Ron then read his narrative poem, River Noir, an insightful modern ballad/rap. The tight rhythmic lines bring vivid mental pictures each time I hear it. Ron is also part of ReidGraves, a duo formed when Ron asked David Reid to compose some music to one of his poems; however, Ron himself acknowledges the contributions of many more talented people on the project website, www. reidgraves.com. River Noir will feature on the next ReidGraves album (working title: Dreaming about Lions). Pete "Cardinal" Cox, well-known poet and SF personality, arrived part-way through the evening and asked during the break if he could read. I've known the Cardinal as long as I've known my husband (I met Mike at the SF Club) and was happy to squeeze in a reading slot for him. What he read was very short: a children's version of Beowulf. Pete is currently Poet-in-Residence jointly with Peterborough arts organisation Metal and The Dracula Society, and has a one-man show, High Stakes – a "spooken" word show. This premiered in May, but there is another chance to catch it at Stamford Arts Centre, at 7.30 pm on Wednesday 19 October (tickets £4). I finished off the section with a reading from my next novel, The Zarduth Imperative, which is close to becoming a finished first draft – it's taken me long enough!
Yes, it would have been great to have had a few more people in the audience, but hey, it was the first meeting! The next Peterborough Fiction Fix is on Sunday 2nd October, and in the meantime, here are a few photos to give you a flavour of last Sunday. Apologies for their quality, but I think you can see everyone's smiles!
                                                                                      Mark reading from Collapse of the Wave                                                                          Helen interviewing Mark after his reading                  
Calling all Writers Living in Peterborough
 Are you a writer living or working in Peterborough?
Have you self-published your novel(s) or short fiction?
Are you not yet published, either traditionally or independently?
I self-published my science fiction fantasy novel Floodtide on Kindle in 2014 and as a print book in 2015. I've been on local radio, and done readings at science fiction conventions, but it wasn't long before I realised that there's very little in the way of public exposure for fiction writers in the Peterborough area, so I decided to do something about it.
I'd been to several Pint o' Poetry sessions and enjoyed them, and wanted to use a similar model, but without the get-out clause that says you can read something by someone else who is already published. To me that seems a waste of a reading slot in this context, especially if the actual author published their work some time ago (though also good to hear in other settings, and good to learn from).
So this venture is about something different. It's all about Fiction-in-the-Making, or Self-Made Fiction (which has already been published independently). It's about polishing your work until it's the best it can be, if it hasn't already hit the shops or publishing platforms. And it's about bringing your work to the public.
The intention is to run sessions once a month, with three approximate 20-minute slots, followed by a break, then another three slots. This means that you'll read about 2-3 pages maximum in a slot. The idea is that there will also be an audience there to listen, and members of the public can join the audience at any time. Meetings will be publicised in advance on social media, my own website, and arts-related sites.
So if you've written something which you'd like to read aloud in pubs, bars and cafes (remember that many of the best-known and loved writers would meet in the coffee houses of the 18th century to discuss and support each other's work) please contact me either through this website, my Facebook page, or on my e-mail helengould.zarduth@rocketmail.com and tell me about yourself and your writing. I'm currently organising venues for us to read in, and would love to hear from you.
Floodtide: My 40-year Journey to Publication
Something I get asked a lot, especially when I do a radio interview and reading, is how I came up with the idea for my novel Floodtide. The other thing I'm often asked is, "How long did it take you to write?"
The answer to the first question is easy. I had a dream. In the dream, I was two people at once, and it was the most emotional dream I have ever had. Specifically, I was two men at once (well, everything's fluid in dreams!) and both of the men loved the mysterious third person in the dream, a female. The dream took place underground, but in the caves where it happened, there was both heat and ice. And the emotion I felt was passion, and it was the most passion I have ever felt in my life. It was more than passion. It was everything.
When I woke up, the dream was so vivid that it stayed with me. I kept thinking about it through the commute to London, jotting down ideas as the train swayed and clacked over the rails. We didn't have a typewriter at home, so it was either handwrite everything or borrow someone else's. I went to work, and asked my boss, Chris, if I could use the typewriter at lunchtime to jot down some ideas. He was fine with that. So I used to type a little of the novel up each day after that, from my handwritten notes done at home the previous night. I didn't know why Jordas and Yado both loved the same woman (Soolkah), but it seemed like an important ingredient for the story, so I ran with it. It also seemed important that Yado was from a different, and opposing, tribe from Soolkah. As I worked on Chapter 1, it came to me that there had to be some important reason as to why Soolkah was risking her life away from her own tribe, and why Yado had left his tribe. Then I got it: Soolkah was being forced to marry someone she loathed, and no female in her tribe had ever stood up to her family and tribe before. As for Yado, he was on his initiation quest. The story developed, and I had a plan for what would happen, having just started writing to see where it would go. But I still didn't know why both Jordas and Yado loved Soolkah. Nor did I know why, or how, Jordas and Yado had become telepathically linked; but I'd reasoned that was why, in the dream, I'd been both of them at the same time.
In those days we didn't have computers in most homes, and even if that had been so, we wouldn't have had one because my mum was a single parent. Life was quite difficult, and I'd had to leave school and get a job, so as to help out with the housekeeping. I never finished anything that I started writing, so the story eventually got put aside and I got on with the business of earning a crust.
I was 21 when I had that dream. When I was 33 I met my husband Mike, and when I was 35 we got married. We'd been married for a couple of years before we thought of starting a family, and of course, the pressure was on because I was getting older. I remember often thinking of some lines from a poem by Andrew Marvell:
'"But at my back I always hear
Time's winged chariot hurrying near…"'
I ended up having four miscarriages before I eventually produced a live baby, my son Jason, at the ripe old age of 42. From October 1992 to September 1995 I was out of work and stayed at home, writing furiously on the first computer I ever actually owned. The pressure of time was as much for getting the writing done as it was for having a baby.
In 1993, having finished one novel, joined a BSFA orbiter and sent it round for feedback, I started a rewrite of Floodtide. I started by typing in that 23,000-word draft from when I was 21 – and proceeded to gradually throw most of it away! The novel moved onto a new footing, and started to work much better, once I found out why Jordas and Yado loved the same woman: the Naxadans' society, instead of being based on the nuclear family, was based on polyandry. I realised this after watching a TV programme on a tribe in either northern India or the Himalayas who practiced fraternal polyandry. The brothers in each family group were telepathically linked, and the link was so deep that they even experienced each other's sense impressions – constantly. Furthermore, they could share information if necessary, simply by opening their minds to each other. Also, the all-enveloping nature of their form of telepathy required that they have a built-in safety net, the privacy shield. And of course, Jordas doesn't have this at the start, despite (or perhaps because of) being highly empathic and sensitive to the emotions of others; though he does develop it later.
I also started doing a lot of research into geology and astronomy. I have always been interested in them, but first I did an evening class in geology and took the GCSE at the end of the year. I came out with an A*, the highest mark possible. By this time I knew I wanted to study geology at university (I'd never been due to not knowing what I wanted to do and the circumstances at home). Several of us wanted to do the A level, so the next year the college laid it on. I was actually the first person to do this course, and I became pregnant with my son during that time. I always say I must be the oldest person in the country to be a student and have a baby at the same time! Despite that and dyscalculia (the maths version of dyslexia), I passed my maths GCSE with a B, I came in the top 5 in the country for my English A level, and went to university on a raft of As and Bs to study geology. When I got to university I found I could study volcanology and planetary science, so that was just up my street! I came out of university with a 2:1, and came top in the dissertations. For that I compared volcano groups on Mars, Venus and the Moon with volcano groups on Earth.
Once I had introduced the idea of fraternal telepathy and polyandry, it affected the whole story. I developed a whole life system for the alien tribes: they lived in lava tubes, and the rock can be very sharp, so they needed tough skin, which evolved, making their initiation ceremonies for both males and females very necessary. The telepathic link between brothers is so deep that if one of them dies, the others feel it, and go through a trance-like state for about a month as they adapt: the maaj'nag'ur. And yes, I had to invent a language – English didn't have the words I needed to describe these new concepts. Sajamu is the Naxadan word for the sharing of the physical senses. Sometimes I had to use English words in a new way: day is represented, in an alien point of view, by 'lighttime', and night by 'darktime'. Although I explained such words in the text as needed, on my website I published a glossary of the language. Of course, the computer threw a wobbly every time I typed "her fathers" or some variation, but eventually I sorted that out. Now it was time to send this novel around one of the orbiters I was in. I had encouraging feedback, but also had quite a lot of suggestions, all of which were either useful per se or which started me off in a different direction and led to the book evolving again. I still had some problems to solve, but eventually did so, and in a way which felt as if it were in keeping with the internal logic of the story, as well as in a way which is satisfying for the reader.
So Floodtide is very much a novel of first contact, but Jordas's journey as he tries to rescue the tribespeople from their dire situation and safely rehome them elsewhere also parallels the journey I went on in writing it and publishing it. I had sent it off to various publishers in the 90s, (and received some useful feedback) and again when my health nosedived in 2008 due to me developing rheumatoid arthritis. The second time around there were fewer publishers and they all wanted submission via an agent. One of them kept the submission for a long time, but didn't bite in the end, and I was becoming too ill to work at a job outside the home, and there was another recession, so my husband suggested I stay at home and concentrate on my writing. I'm not sure if he expected me to publish Floodtide myself, though. I eventually realised I wasn't young enough or fit enough (at one point I could hardly walk) to wait for a publisher to take me up, and decided to publish the novel myself. As I began treatment and my health improved, I started looking into publishing on Kindle, and having done that I decided I needed a print version too.
The novel's title went through several changes. It started off, in 1975, as Survival of the Fittest. At that time I was going to kill Jordas off at the end of the story, because I figured that he would prove not to be the fittest to be with Soolkah. That was before the polyandry idea. David Gemmell, whom I went on a course with whilst writing draft 2 of the novel, suggested that it wouldn't be a good idea to kill Jordas off in case I wanted to bring him back later. Then later I toyed with the idea of calling it Calyx. The calyx in a flower is the outer part that protects the petals, so the idea was that as Jordas finds out more about the two tribes and their society each layer is stripped away. Then, because the approach of the asteroid to Naxada will eventually lead to the flooding of the underground tunnels they travel and caverns they live and farm in, I came up with the title Floodtide. I rejected Highwater Impact as too complex, although very much reflecting the alien point of view (the Naxadan term for a flood translates as "highwater") and Jordas's point of view (he is a geologist, astronomer and planetary scientist). Floodtide the book became, despite the fact that it's not a unique title. And because the tribes practice polyandry, I had a way of keeping Jordas alive, and the means to bring him some relief from the jealousy and discomfort he feels as a result of having to share the woman he loves with the man he is telepathically linked to.
Floodtide isn't just an SFF novel of first contact, it is also a story of mistaken jealousy, action adventure, a road movie, a disaster movie, and the alternative romance. If you think you'd enjoy all of these things rolled into one, you could take a look at it on www.Zarduth.com, my website, where it is currently being serialised. Chapters 9 – 11 are up there to read now. It is available to buy in print via Paypal from the website or on Kindle as an e-book. I felt the postage overseas would be prohibitive so suggest the Kindle version for anyone outside the UK wishing to read it.
So, how long did it take me to write Floodtide? A mere 40 years. I had the dream when I was 21 and I published the print version last September, when I was almost 61. I have lived, breathed, eaten and slept Floodtide for so many years that it is an irrevocable part of me. It has guided my life for a number of years, and I hope you enjoy reading it as much as I have enjoyed putting it together.
Novacon Geology Workshop
This was successful, although I thought the images were a bit small for people to see well on the screen – I think the projector was rather close to the screen, but it was how it was set up, and without removing a swathe of seating it couldn't be changed. But the thing that worked best of all was that I had mocked up a large copy of one of the slides and laid out the labelled rocks on it, and after the presentation, I got everyone to come over to where it was so that they could look at all the rocks. As I passed each one round, a hand lens went with it, so that whoever was looking at the rock at any one time always had a hand lens to use. Everyone seemed to really enjoy this part of it, perhaps more so than the presentation part, because it was practical geology and something they don't get a chance to do all the time.
Here are a few photos from the workshop: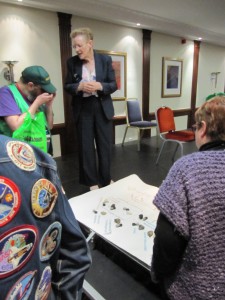 Something I was quite pleased about was that the timing worked out perfectly; I had a one-hour slot in which to deliver the workshop and we got everything to fit in just perfectly. My thanks to my husband, Mike, who acted as my assistant and learning support assistant. I also received useful feedback from Alex Storer and David Hardy – they suggested I might think of using illustrations, rather than text, to give details of the evidence for the existence of plate tectonics – and I know just how I can do that for when I next run that workshop!
Book Launch for Floodtide!
If you're local to Peterborough and the surrounding area, and not busy on Thursday evening, pop in to Waterstones, Bridge St., Peterborough, where my book launch for the print version of Floodtide is taking place from 7 pm to 8.30 pm. Refreshments will be available, there will be a display of rocks and minerals which could be found in the geological setting of the novel – the lava tubes of Naxada, and you'll be able to see the teaser, the trailer and the short promotional video, which gives an insight into the story. I will be giving a short talk, and then reading from the novel, and copies of the print version will be on sale. And whether you already have a copy or you buy one on the night, you'll be able to get it signed. Hope to see you there!
A Lovely Surprise
I had a fantastic day last Saturday at Peterborough Central Library, on Made in Peterborough: Authors' Day. I arrived about half an hour before the event was due to start and set up on my table. I had a display of rocks and minerals which might be encountered in the lava tubes on Naxada, (the hero, Jordas, is a geologist and the novel has a geological setting) and my laptop, open on my website so that I could show it to visitors, along with leaflets about Floodtide (an e-book isn't quite the same as a physical book!), and my iPad and Kindle so that I could show visitors.
One of the first people through the door was a lady who marched over to me and asked if I was Helen Gould. When I said yes, she said, "Oh good!" and proceeded to invite me to be a judge on a Creative Writing competition panel. It was a fantastic, but lovely, surprise. They wanted me because of my background in teaching creative writing.
The competition has been organised by Stamford Civic Society, The Burghley House Preservation Trust and Stamford Living Magazine. The two or three other judges are currently being finalised. The brief is for 14-16-year-olds living or at school in Stamford to write about what their town means to them – but in the most creative way possible. The winner will get £100-worth of book tokens and have their story (750 words maximum) published in Stamford Living Magazine, and the runner-up will get £50-worth of book tokens. There will be a prize-giving day at Burghley House in early May. The deadline for submissions is Friday the 27th March 2015.
As if that wasn't fantastic enough, in the afternoon my Formatting and Publishing on Kindle seminar brought 17 people through the door. Everyone said it was really helpful, so both the librarian and I were well chuffed. I have posted some photos to go with this.
As a result of the competition I am going on BBC Radio Cambridgeshire to publicise both the novel and the competition, plus all my usual radio contacts, so keep looking as I will post the dates and times of the various shows on the site. And do listen in!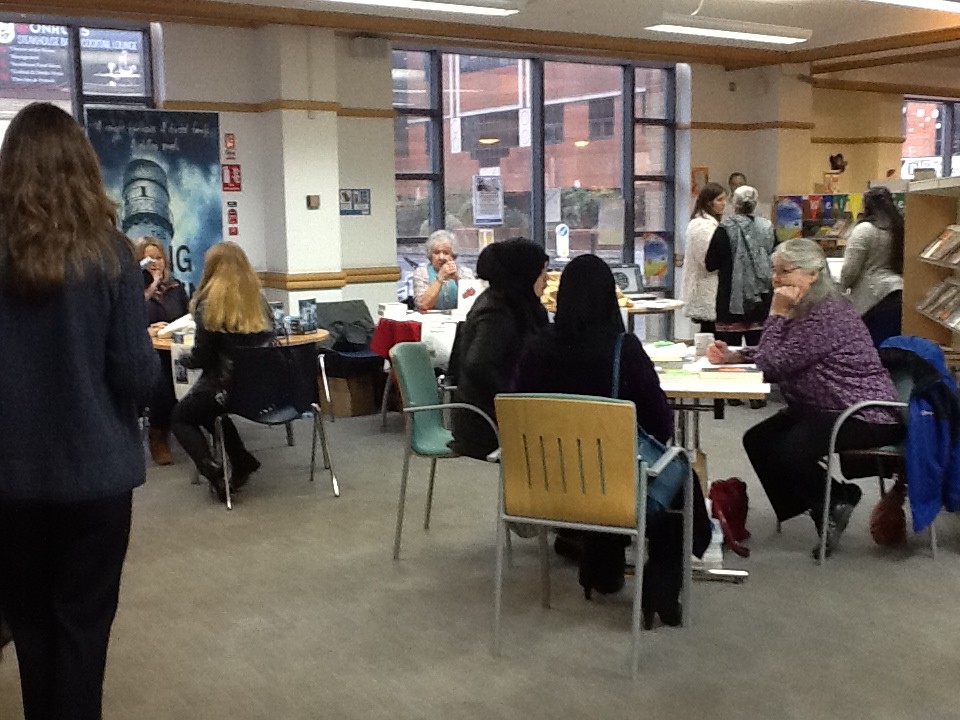 An overview.
Dave Brzeski, publisher extraordinaire!
*
Story-Telling for Writers workshop, Saturday 28th November

 
This Saturday's writers' workshop at Peterborough Central Library was very successful. I actually had to turn one person away because we were over-subscribed for the number of people who wanted to attend, and the general feeling was that it was a helpful summary of story-telling techniques which would make writing more interesting to readers and help writers to avoid common pitfalls. I have been in contact with everyone who attended, connected with some on Facebook and Twitter, and given some (hopefully helpful) feedback on a story which was developed at the workshop and sent to me afterwards. The PowerPoint worked well, and the (very cheap) HDMI cable I bought gave brilliant reproduction of the charts and diagrams I'd included as examples.
I plan to run more workshops in the New Year, on the subjects of Creative Writing, Geology and Self-Publishing, and am just looking into the logistics and locations for this.
Update on Stockists of Floodtide/Novacon report.
I haven't been idle while the website was down for maintenance. I've been contacting shops, carrying out various events, and I've even been on TV, promoting the book, talking about writing and doing a bit of geology. That should be released later on, but in the meantime you can catch up with me on Cambridge TV on their website at: www.cambridge-tv.co.uk/The-Mac-episode-4/ This will take you directly to the programme I was in, although I was on right at the end of it, and it was heavily edited.
I have also run a workshop on Plate Tectonics and the Rock Cycle at Novacon, the SF convention which is run every November, which included a PowerPoint showing the relationship between plate tectonics, the rock cycle, the atmosphere and surface processes of the Earth, and a possible connection between the Moon and the origin of plate tectonics. The session was for just an hour, but also included was a selection of rocks, and I was able to show how they fitted into the various rock types on Earth, and show workshop participants how to use a hand lens to view rocks up close and personal. As the hero of Floodtide, Jordas, is a geologist, rocks are a major feature of the promotion of the novel, so it seemed logical to run a workshop as part of the convention.
I also did a reading from Floodtide on Saturday evening at a book party with several other authors. I think my biggest impression of that was that when I stepped forwards to read first, I got an enthusiastic round of applause, which I didn't actually realise was for me – I thought it was for Alex Deacon, of Boo Books, who was MC for the evening. They clapped a lot at the end, too. When I went to Novacon last year, I didn't manage to get in a reading, as it was a last-minute thing to even get myself there for the day, so I feel I have learned quite a bit and gained some confidence in reading live. It is quite different from reading over the air on the radio, where you don't get any audience feedback. I feel I will now be confident to do a reading on my own another time.
I also met a lot of other authors, some of them published several times, and some newbies like myself.
We did have an amusing thing happen at the end of the convention. Alex Storer, who painted the front and back covers for Floodtide and assembled the promotional videos, had put the two covers up for sale in the art auction. The back cover artwork was bought by a chap who apparently buys quite a lot of artwork. I met him on the way back to the car, ready to go home, and recognised him, so I said, "Oh, you bought the back cover artwork from my novel, Floodtide!" He seemed surprised by this, although it had been marked up as such, but Mike held up one of the copies of the book we'd collected from Porcupine Books which we were taking back to the car, and then showed him the back cover, and he recognised it straight away. He said, "Oh, well I think I'd better have one of those, then!" I duly signed his copy and thanked him, and we went back to the car, put the books in it and went home. In the auction, I'd been wondering if I should bid for the artwork, as I'd sketched what I wanted for Alex (initially, on the back of an envelope), but I'm glad I didn't!
So here's an update of the latest stockists of Floodtide:
Waterstones, Bridge St., Peterborough, PE8 4BA;
Waterstones, 22, Sidney Street, Cambridge, CB2 3HG;
The Oundle Bookshop, 13, Market Place, Oundle, Nr. Peterborough, PE8 4BA;
Walkers Book Shop, 10, High Street, Stamford, PE9 2AL;
The Bedford branch of Close Encounters comics shop, at 59, Midland Road, Bedford, Bedfordshire, MK40 1PW;
Bookmark (Spalding), 20, The Crescent, Spalding, PE11 1AF;
Red Lion books Ltd., 125, High St., Colchester, CO1 1SZ;
Wilgress books Ltd., Newton House, 38, Grantham Street, Lincoln, LN2 1LW;
And the latest stockist to be added to the list is: Beccles Books, 1, Exchange Ho., Exchange Sq., Beccles, NR34 9HH. Books will be there in a few days' time.
Speak soon!
Out Now

UPCOMING EVENTS

WORKSHOPS

Latest Blog

Starmap Quadrants